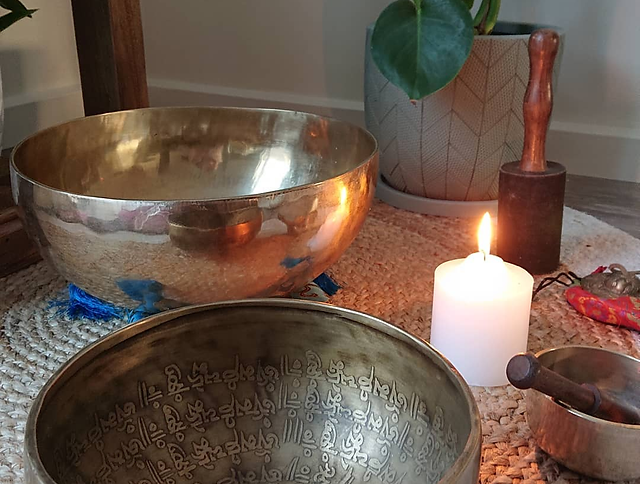 Soul Nourish Wellbeing
About
A deeply relaxing session to release stress and connect with your Soul
Feel cocooned in the beautiful, deep and resonant frequencies of the Crystal & Tibetan singing bowls and connect with the healing power of crystals. I'll gently guide you into blissful relaxation and nourishing peace to help you release stress and open your heart to self-compassion and inspiration.
A perfect way to start your weekend with ........
* better sleep and feeling balanced
* relief from headaches,muscle tension and pain
* better concentration, creativity and motivation
Bring your favourite Crystal and experience floating in beauty with the flow of Healing energy and Sound Medicine.
This Soul-Nourishing Circle is an intimate space to discover self-healing techniques, share and and dive into the Oracle Cards for extra guidance and insight.
Please bring;
journal, pen

your favourite Crystal

a blanket to be cosy
​Samantha is a qualified Holistic Practitioner and Intuitive Artist.
She offers Soul Nourish 1-1 sessions of Crystal Reiki, Sound Healing, Past-Life Hypno Journeys, Private and Corporate Sound Healing Circles and Intuitive Art workshops at 'Clover Wellness' and her studio in Cockatoo.
Visit www.soulnourishwellbeing.com for more details.
Dates
Thursday 19 October 2023 - Thursday 14 December 2023 (UTC+11)
Location
Clover Wellness Centre
1/4 James St. Pakenham Victoria 3810
Sessions
SESSIONS
DESCRIPTION
STATUS