Destination Redlands - Stories to Share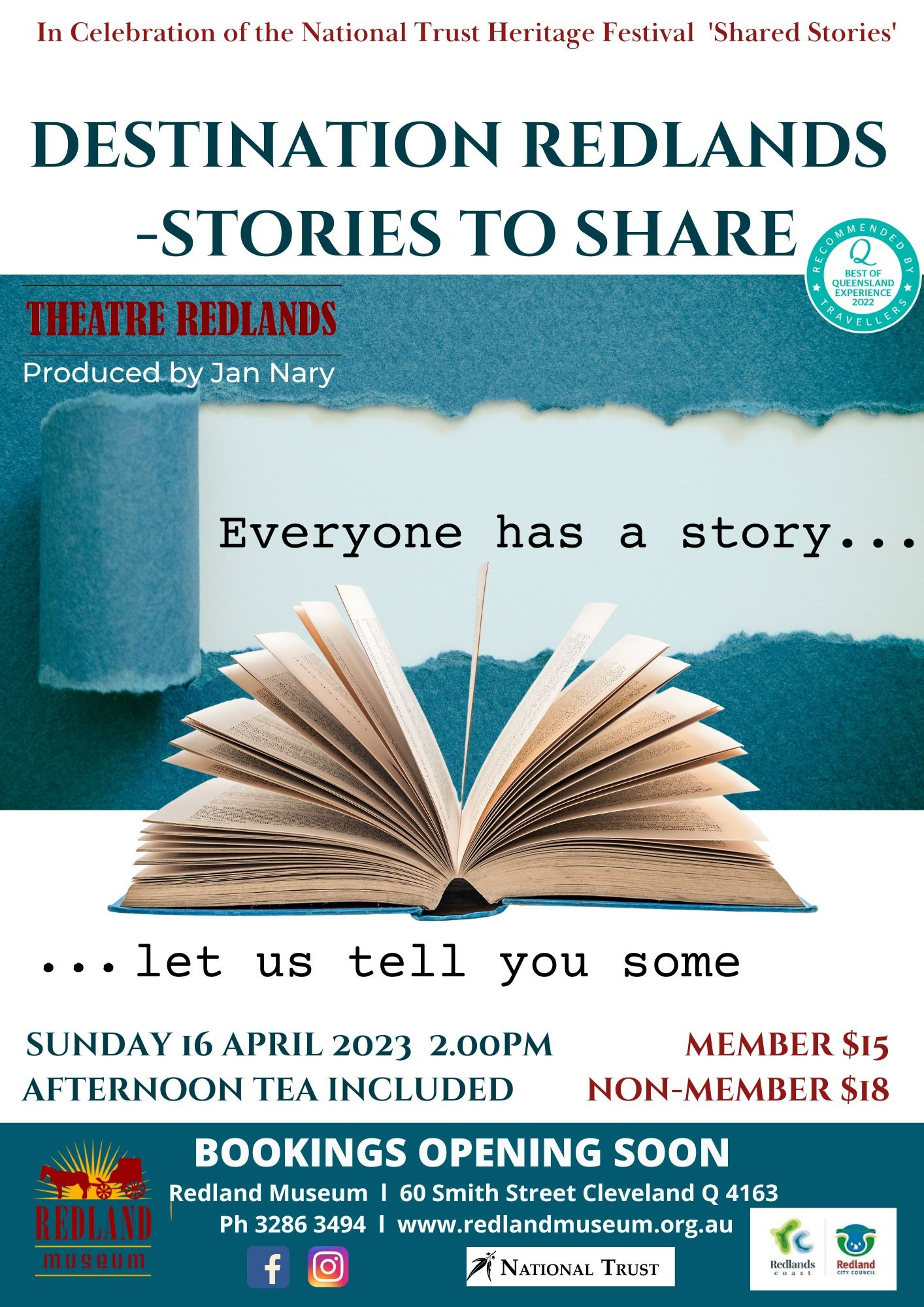 Celebrating the National Trust Heritage Festival 'Shared Stories'

Everyone has a story...
...Let us tell you some

Produced by Jan Nary - Theatre Redlands
Destination Redlands Stories to Share
The Stories We Share is an event presented by Redland Museum and Theatre Redlands, in celebration of the National Trust Heritage Festival, theme 'Shared Stories'. This special event will explore the stories of the Indigenous people and the immigrants who settled in the Redlands and are now part of our growing multicultural community.
Presenters from different ethnic backgrounds will each give a ten-minute talk about their place and history in the Redlands, including anecdotes and memories that make this area so significant to them and their descendants. Quandamooka, Sicilian, German, Indian, Irish and Ukrainian presenters will share their stories, with some giving presentations and others being interviewed "on the couch" by Jan Nary.
Following the event, audience and presenters will have the opportunity to mix and mingle over afternoon tea. Destination Redlands –Stories to Share promises to be a heart-warming and inspiring celebration of the Redlands and the people who call it home. Don't miss this unique opportunity to hear the stories of Redlands people.
Seating for the Show
Upon booking your tickets, please choose your seat row and number carefully. Single Tier theatre-style seating, in our air-conditioned theatre is allocated and confirmed upon payment, therefore cannot be changed.
*Booking fees apply
Location
Redland Museum
60 Smith Street, Cleveland QLD 4163
Contact Details