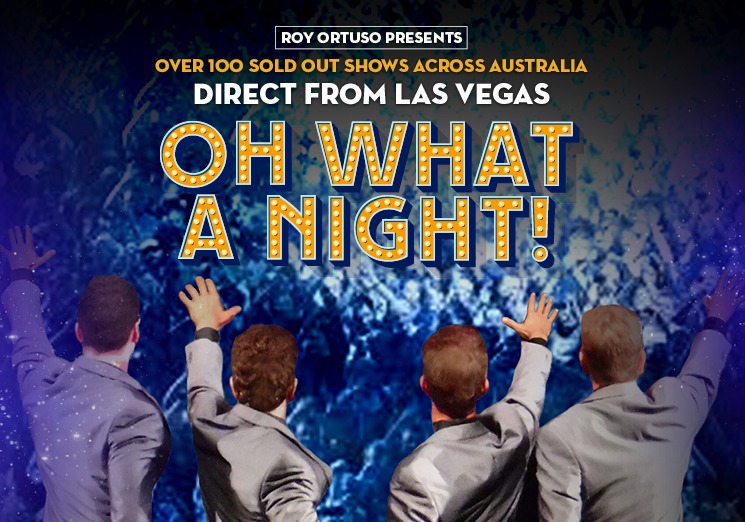 About
OH WHAT A NIGHT! is a blockbuster musical revue conceived and directed by award-winning Broadway producer/director Michael Chapman, written by Motown producer George Soloman, with choreography by Paul Holmquist. 'Sherry', 'Big Girls Don't Cry', 'Walk Like a Man', 'Can't Take My Eyes Off You', 'My Eyes Adored You', 'Working My Way Back to You', 'Let's Hang On' and 'Who Loves You' are just some of the many hits you'll enjoy from the dynamic songbook of those boys from Jersey, FRANKIE VALLI & THE FOUR SEASONS.

While the smash hit JERSEY BOYS is a scripted musical biography of the group, OH WHAT A NIGHT! is a loving concert and tribute, which features all the original hits as well as many Top 10 releases not in the Tony award winning hit. This includes Frankie Valli's biggest solo hit from the movie GREASE!

OH WHAT A NIGHT! has played to sold-out theatres since it's sold-out premiere in Las Vegas 2008.

Back by popular demand, don't miss this exhilarating, family-friendly musical revue.
Date
Sunday 17 September 2023 6:30 PM - 9:00 PM (UTC+10)
Location
Get directions
Soldiers Point Bowling Club
118 Soldiers Point Road, SOLDIERS POINT NSW 2317