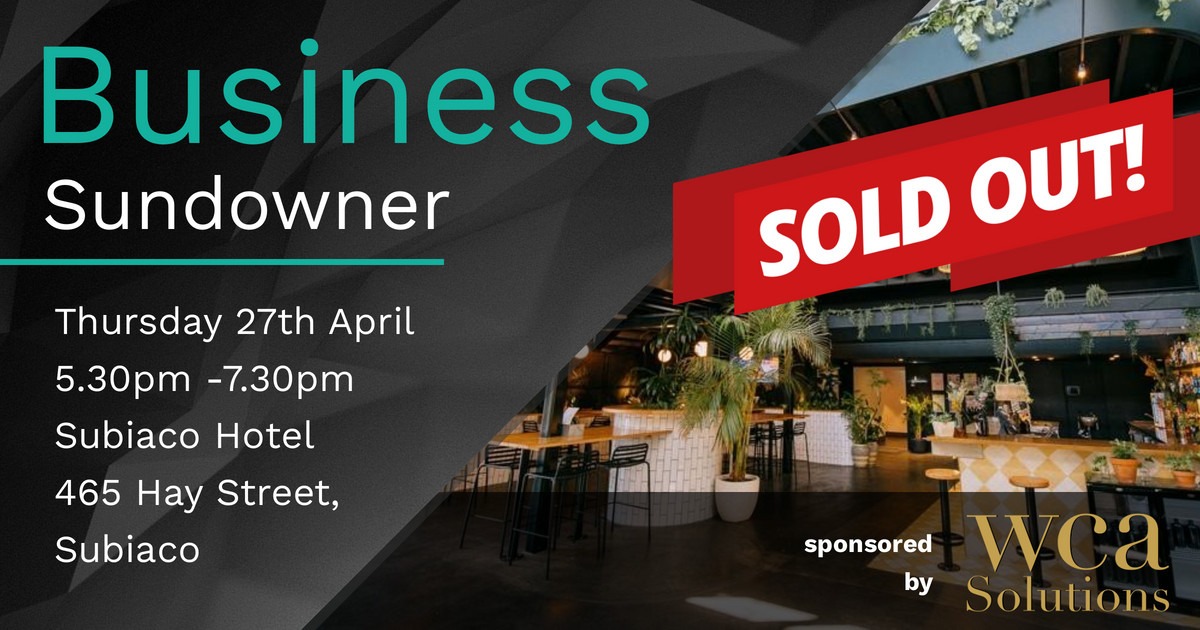 WSBA Business Sundowner
Sponsored WCA Solutions
Subiaco Hotel
Thursday, 27th April
This event is sold out, the waitlist is enabled
Amazing uptake on early ticket sales -

remaining tickets are available for WSBA Members!
Our waitlist is available.





Thank you for your continued support, WSBA community and our sponsors Debbie and Bernard.



After the Easter break and school holidays, we'll be ready for a catch up, thanks to our generous Gold members, Debbie and Bernard Mackin from WCA Solutions, we invite you to join us for an evening of relaxed networking, delicious food, and refreshing drinks as we connect and engage with like-minded professionals.

We're meeting at one of our favourites, the Subiaco Hotel, where you'll be treated to a selection of delicious canapés, and beverages to enjoy while mingling with fellow guests in the hotel's gorgeous back courtyard.

We also have a fantastic bonus networking activity organised with Bethan from Bethan Winn- Critical Thinking for a little something extra.

Numbers for this event are capped, so please get in early to secure your place.

Location: Subiaco Hotel
Corner Hay Street & Rokeby Road
Subiaco

Date: Thursday, 27th April
Time: 5.30pm - 7.30pm

Tickets:
WSBA Member: $70.00 (inc GST)
CLOSED Non Member: $100.00 (inc GST)
CLOSED First Time attendee $80.00 (inc GST)

Cancellations must be received in writing seven days prior to the event for a full refund.


*Your booking information will be added to the WSBA database for notifications regarding this event and for future event invitations.
Location
Subiaco Hotel
465 Hay Street , Subiaco WA 6008