GET YOUR ARTISTIC LICENCE with Amanda Brett (NZ)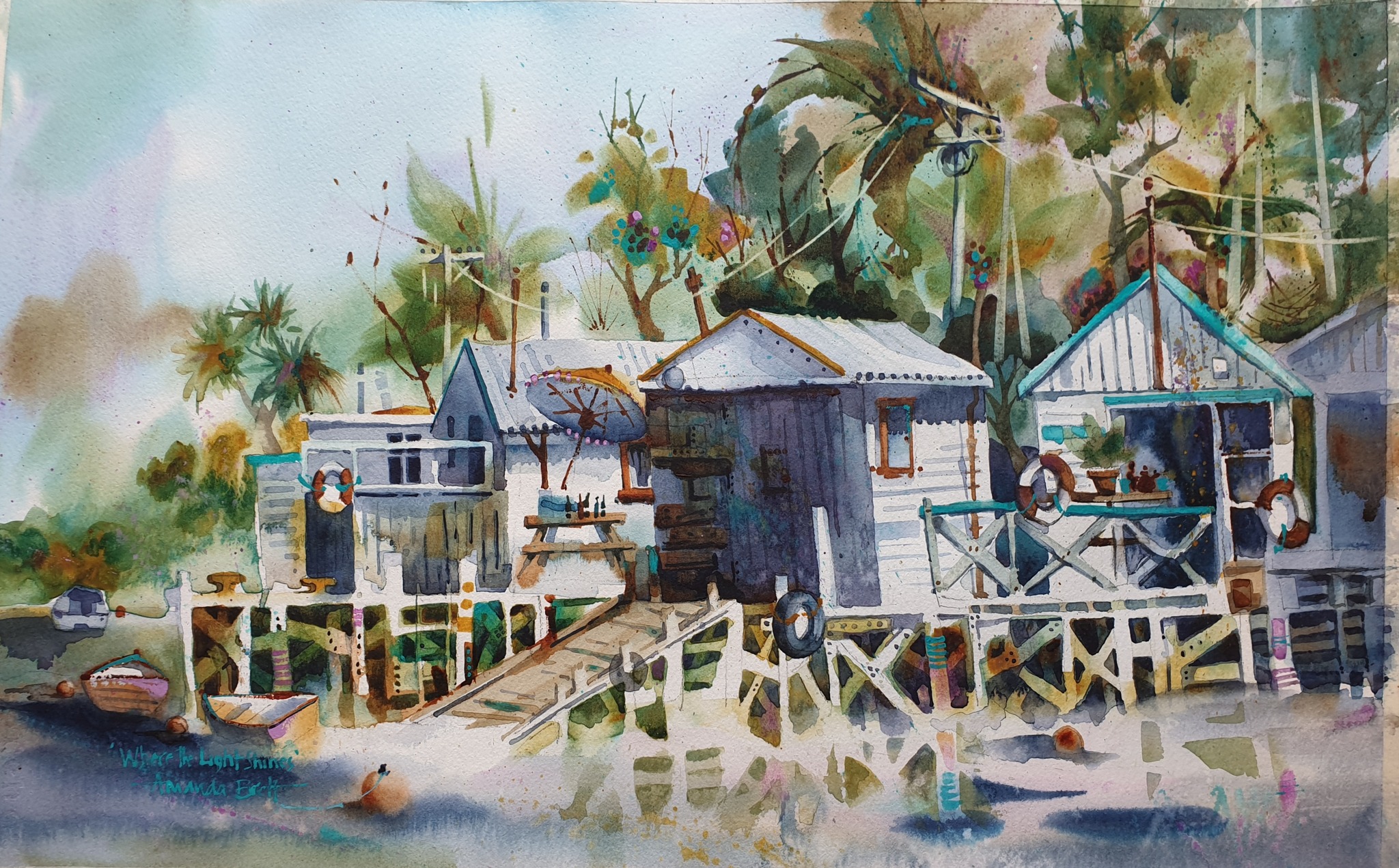 ABOUT THIS WATERCOLOUR MASTERCLASS
Amanda will be teaching and demonstrating with an emphasis on design principles, composition, colour, ​value and relationships. By helping you to simplify what you see and how you think, Amanda will work with you to develop quick and energetic painting ​skills whilst focusing on your painting 'idea'. ​ A wonderful opportunity to paint with a ​contemporary watercolour master.
In this three-day Watercolour Masterclass, Amanda will also be teaching:
Quick sketching for plein air painting, with an emphasis on architecture

Three types of perspective: atmospheric, colour and linear

How to work with a limited palette

Dominance of value contrast

Learning how to simplify the drawing and painting process

How to capture a dynamic street scene
PLEASE NOTE: This Masterclass is for artists registered to paint at Plein Air Down Under 2023. If you havent registered, please register here: Plein Air Down Under -
ABOUT AMANDA BRETT
Artist Statement
I create paintings that are atmospheric, with interesting shapes. I let colours run into each other creating a unique underpainting, telling my story through a detailed focal area. I want you to see something new every time you look at my paintings.
Watercolour is for the minimalist; less is definitely more! I love creating odd funky shapes - they still say 'I'm a bottle or a teapot' but nothing is straight - a long line has a kink or something to destroy it'.
Amanda is an award-winning, internationally reognised plein air watercolour artist, with works held in collections in Italy, UK, Ireland, Canada, USA, New Zealand and Australia.
Amanda loves watercolour painting, more than that - it's her life!! She's totally addicted to the chemical reactions produced by the combination of organic watercolour pigments, traditional watercolour papers and water - she loves watching paint dry!! In conjunction with Amanda's Auckland watercolour classes and workshops, she also lives in Lucca (Italy) for her annual painting and workshop residency.
WORKSHOP FEEDBACK
"I had always avoided landscapes or buildings but now I'm finding it fun. I suppose I just didn't know how to proceed so the five big shapes lesson has been invaluable. Also, your critique of your own paintings was really helpful for me.' Marie Buchan
BOOKINGS & INFORMATION
Dates: 19, 20 & 21 September 2023
Fee: $570 (3 day Masterclass)
Times: 9.00 am to 4.00 pm
Includes morning tea
Please bring your own lunch
Day One 19 September, STUDIO: inside the Mandurah Performing Arts Centre
Day Two and Three 20 & 21 September, PLEIN AIR: Mandurah CBD, exact location to be confirmed