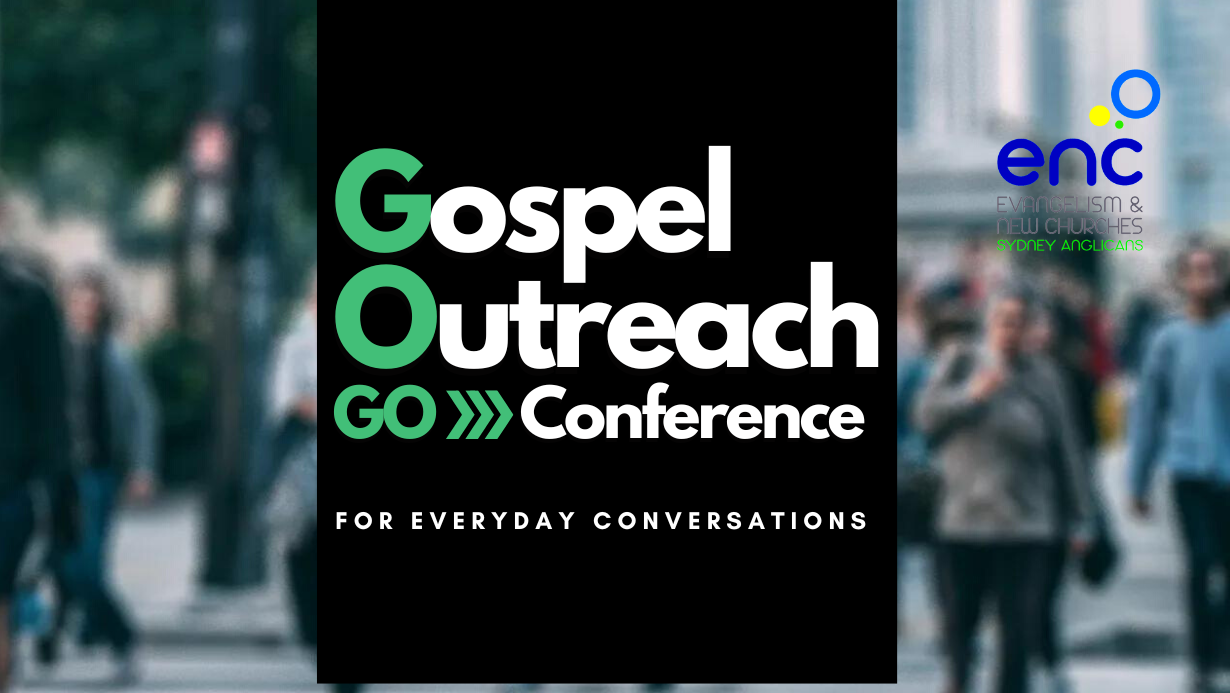 GO Conference: Saturday 3 June 2023
Come along and hear from our keynote speaker Dave Jensen as he leads us in thinking about Evangelism in a Post-Christian world.
The world around us seems to be growing in hostility and apathy towards the gospel. In many ways it can feel as if it's never been harder to be a Christian in modern Australia. However, all is not as it seems. What can we as Christians learn from the way Jesus viewed and interacted with the world, and in how we his disciples are equipped for the same task?
God is not finished in Australia!
Choose two seminars for the day to equip you in answering questions, your hospitality, keeping evangelism in your everyday and more.
The conference will run from 9am to 4pm and the cost will include morning tea and lunch.
*New speaker annoucement*
Gordon Menzies, Economics Associate Professor at University of Technology, Sydney
Lizards in Kings' Palaces: Making the most of where you are
In Sydney, the local mission field is very different from the slums of poverty-stricken nations, or the dystopian conditions of an oppressive anti-Christian government. The mission fields are schools, hospitals, corporate offices, shops, sporting associations, playgroups; anywhere there are people.
What does it looks like to be a Christian wherever you are, especially when you spend a lot of time in a workplace focusing on the work in front of you? How can we be not just Christians in the workplace, but Christians in our work?
We will also hear how Professor Gordon Menzies approaches sharing faith with his academic peers through discussions on economics and how being a Christian has shaped his unique insights into finding God in economics.
Gordon has recently published a book on Western Fundamentalism: Democracy, Sex and the Liberation of Mankind, which will be available at the conference.
Seminars:
David Robertson: Questioning Christianity
If the Gospel is the answer, what is the question? If the Good News is the antidote, what is the sickness?
In this seminar we look at how the book of Job helps us link the big questions that people have to the Good News of Jesus – with the aid of a new film on Job.

Sarah Seabrook: Everyday Evangelism
Want to be more confident sharing the hope of Jesus naturally within your circles of connection?
This seminar looks at how we can reflect God's heart to our different communities with grace, truth and curiosity.

Wendy Potts: Taste and See (limited to 15 people per seminar)
We want people to taste and see that God is good!
We all know how good it is to have a meal together with friends. Taste and See creates an opportunity to explore the timeless message of Jesus over 4 symbolic meals, good food, good company and good conversation.
Taste and See is a new 4 week evangelistic course with a foodie edge. In this seminar, Wendy Potts will give you a sneak peak at the soon-to be released material. You will hear an overview of the course, the philosophy, the practicalities and have a 'taster' of session 1.

Phil and Bec Lui: Evangelism Coaching
Ephesians 4:11-12 describes evangelists as people who are gifts to the Church to equip the saints.
We believe activating people to be local Evangelism Coaches raises the temperature of evangelism in our Christian communities. Come join us if you want to see more evangelism in your local context!

Elliot Temple: A Year of Mission in your Church
Why are Christians so slow to get involved in mission? Why is the success of evangelistic courses so hard to sustain? How do you lead evangelism all year when people are reluctant to get involved?
Come join me as we workshop a sustainable year of evangelism in your congregation which increases fruit amongst the friends and connections we already have.
Description
A conference for those in Sydney and surrounds to encourage you in speaking the gospel everyday to those around you!
Venue
St Anne's Ryde Anglican Centre
42 Church St

Ryde NSW 2112