Queensland Day Play 2023 |The Other Diggers (SOLD OUT)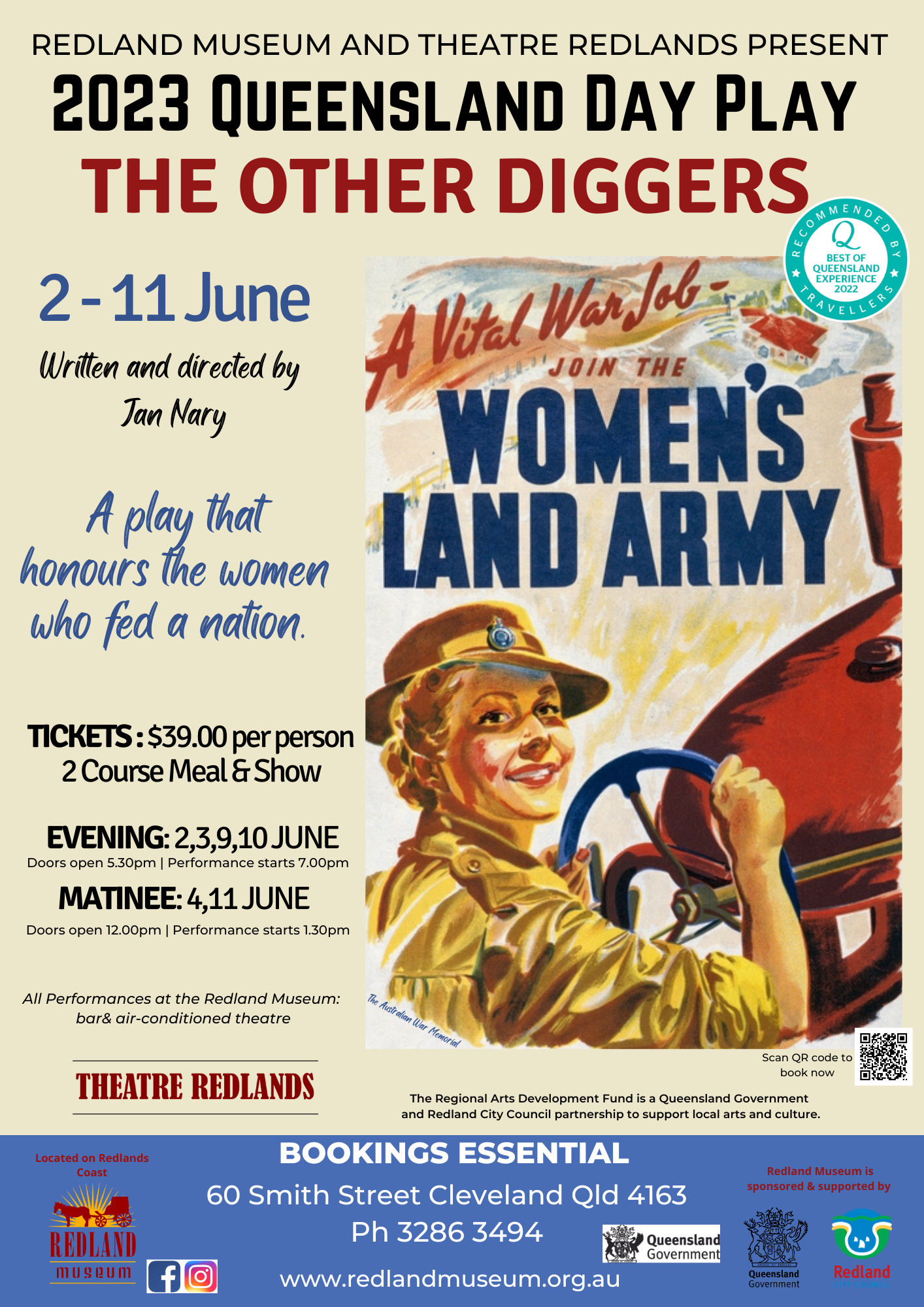 The Other Diggers is a theatre tribute to the Australian Women's Land Army, the women who worked the farms and fed the nation during the dark years of World War Two. Hardworking, game and resolute – this homage is a small part of their story.

The Regional Arts Development Fund is a Queensland Government and Redland City Council partnership to support local arts and culture.
1942. Australia was at war. Singapore had fallen, Darwin, Katherine and Sydney had been attacked and most able-bodied men had been drawn into the armed forces.
Which left no-one to work the land, to produce food and fabric for the population, our forces overseas, allied forces in Australia and England's embattled population.
The call went out for women to join the new Australian Women's Land Army. And the women responded – women whose experience was in offices, shops, homes, restaurants and factories threw themselves into rural work with a determination that was breathtaking – digging, planting, harvesting, milking, slaughtering, butchering, tractor driving, baling, shearing and crating… they did the lot. And after the war they began to fade from the history books…
This play, The Other Diggers, is a humble acknowledgement of what they achieved.
Ticket Price From $39 pp*
Your ticket includes a delicious meal, the show and entry into the Museum to browse through our fascinating displays.
Menu: Spicy Pumpkin Soup topped with crispy bacon and a warm dinner roll, followed by Apple Pie and custard with a dollop of cream for dessert.
*Booking fees apply

Evening Performances - 2nd, 3rd, 9th & 10th June 5.30pm
The Museum will open at 5:30pm | Dinner will be served promptly at 6.00pm | The Curtain will rise at 7.00pm | Conclude 9.30pm
There will be a 20 min interval where you can purchase wine, beer, soft drink or tea/coffee.
Matinee Performances - 4th & 11th June 12.00pm
The Museum is open from 10.00am so you are welcome to arrive anytime. | Lunch is served promptly at 12.30pm | The Curtain will rise at 1.30pm | Conclude 3.30pm
There will be a 20 min interval where you can purchase wine, beer, soft drink or tea/coffee.
Seating for the Show
Upon booking your tickets, please choose your seat row and number carefully. Single Tier theatre-style seating, in our air-conditioned theatre is allocated and confirmed upon payment, therefore cannot be changed.
Seating for Lunch / Dinner
You and your guests will be seated together inside the Museum for afternoon tea and dinner. If you have a group of friends attending that you would like to be seated with for afternoon tea / dinner, you can make a request, however we cannot guarantee we can always accommodate all requests.
This is one of our Major Fundraisers therefore we appreciate your continued support.
There will be raffle tickets for sale with some wonderful prizes to be won on the day!
Friday 2 June 2023 - Sunday 11 June 2023 (UTC+10)
Location
Redland Museum
60 Smith Street, Cleveland QLD 4163
Contact Details