🌞A DAY of SOUL NOURISHING BLISS🌞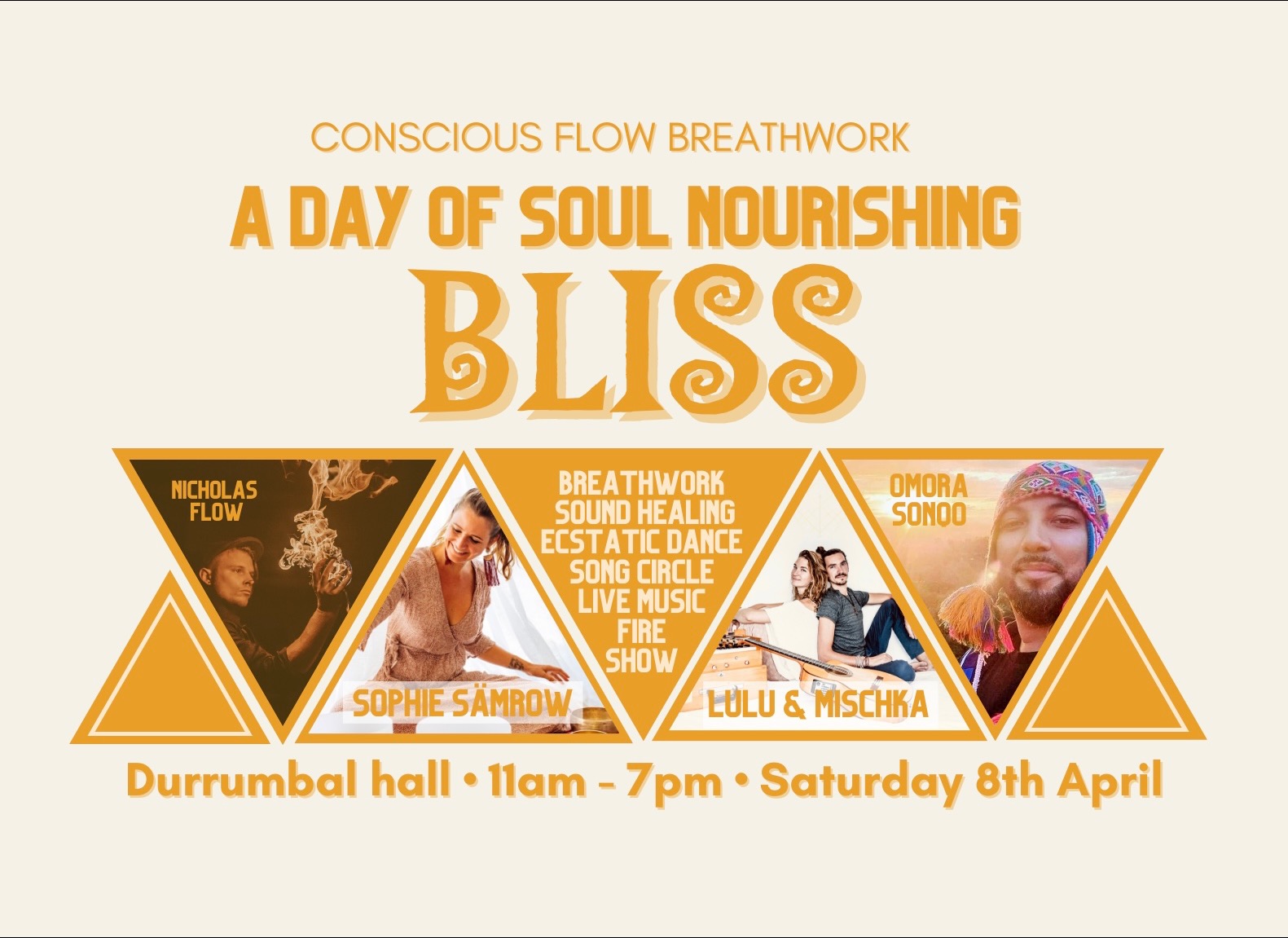 About
Join us for a deeply nourishing co creation of sacred ceremonial space, combing
⫸ BREATHWORK
⫸ MEDITATION
⫸ SOUND HEALING
⫸ LIVE MUSIC
⫸ SACRED CACAO CEREMONY
⫸ ECSTATIC DANCE
⫸ VOICE ACTIVATION
Get out of your head and connect deeply to your body. Tap into that limitless source of joy, bliss, and unconditional love that is your true nature and essence, and resides within us all. Explore potent practices to experience profound transformation. Leaving you feeling revitalised and rejuvenated on all levels. A journey to connect to your creative life force, create feelings of openness, love, peace, gratitude, clarity, and connection.

⫸ YOUR FACILITATORS ⫷
🤍 Sophie 🤍
Sophie, the founder of Conscious Flow Breathwork, is a passionate Breathwork facilitator, Meditation, Mindfulness teacher, Reiki Practitioner, Cacao ceremonialist, NLP, Timeline Therapist , Hypnotherapist, Holistic Health Coach and offers sound journeys.
Opening your heart, connecting to your highest self, raising your vibration, and awakening the healer within you, are at the core of the practices she lovingly shares.
🤍 Omora Sonqo 🤍
Omora Sonqo Medicine men From South America comes from a long lineage of healers in his family, He has been working for more than 15 years with the indigenous traditions of North, Central & South America.
He has Participated in differents ceremonies including Temazcal, Vision Quest and Sundance in north, central and South America, connecting with the communities of the Andean mountains & the Jungle of Brazil, receiving initiations & blessings to carry this knowledge and wisdom.
the last 15 years Omora has dedicated his life to travel around the world visiting Sacred sites, guiding power walks and ceremonies in differents countries like Chile, Peru, Mexico, Brasil, Indonesia, Thailand & Australia.
Omora currently shares one and one sessions, Medicine songs circles, tradicional Sweatlodges and retreats in Australia.
⫸ Omar's Instagram
🤍 Lulu & Mischka 🤍

Lulu & Mischka are musicians and inner peace facilitators that draw upon the ancient earth wisdoms from east and west, guiding people together to unite in sound and silence.
A deep immersion into the union of souls through music. Lulu & Mischka create a pure and joyful space for deep connection within.
Ancient mantras from India meet heart opening english lyrics; medicine prayers from North and South America wash through every cell and activate the inner wisdom.
They believe that coming together in the magical energy of joyful heart songs brings us closer to each other, further away from separation and deeper into Truth... leaving you with peace of mind and filled with inner Joy.
🔥 Nicholas from Lucid Flow 🔥
Nicholas will bless us with a special FIRE PERFORMANCE
⫸ Nicholas Instagram


There will be DELICIOUS FOOD available to purchase on the day

🌺 Amy 🌺
Amy's passion is creating with joy and love wholesome, nourishing, delicious food to enliven the soul and spirit!
The food for the event will be plant based nourishing meal full of simple yet delicious flavour combinations. Gluten/nut free options available. Also some wholesome sweet treats 🌞
⫸ ABOUT BREATHWORK ⫷
Breathing is the foundation of life. It influences every system and function within the body.
Breathwork has been used for thousands of years to access the stillness that exists beyond the thinking mind. It is an indispensable method for supporting the body's peak health and vitality, increasing concentration and awareness, experiencing unconditional love and fulfilment from within and induce profound altered states of consciousness.
⫸ Breathwork:
⫸ offers the chance for personal transformation through improved mental, emotional, physical, and spiritual well-being
⫸ is a powerful way to access your body's innate intelligence to heal itself
⫸ creates emotional well-being and emotional resilience
⫸ can bring profound mental clarity and activate your creativity
⫸ helps access your body's innate intelligence to heal itself

Kids are very welcome.
We are very much looking forward to journeying with you!
With love ❤️
Soph, Omar, Lulu, Mischka, Amy and Nick
Location
Durrumbul Hall
16 Mud Brick Lane, Main arm Nsw 2482

This event is alcohol and drug free!

We acknowledge that the land on which we gather to dance, is the unseeded land of the Bundjalung People. We recognise their connection to Country and pay our deepest respects to their ancestors and all custodians. It always was and always will be Bundjalung Land. 🖤‍☀️‍❤️

NOTE: THIS SESSION HAS LIMITED TICKETS . BOOK YOUR SPOT ASAP TO ENSURE YOU CAN BE PART OF THIS TRANSFORMATION EXPERIENCE.
Cancellation Policy - Due to limited spaces - No refunds are provided. However change of ticket name is accepted. Thank you for understanding.