ANTiDOTE - Drama Australia National Conference 2023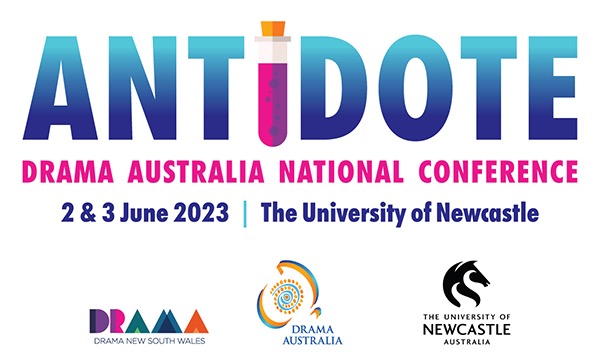 WELCOME to the 2023 Drama Australia National Conference hosted by Drama Australia and the University of Newcastle, NSW -
A stimulating re-charging program that will allow delegates to -

• Explore how drama education continues to craft hope, remedy and collective insight to relieve, prevent and counteract the challenges of living in times of unprecedented crisis, inequity and change.
• Celebrate the centrality of radical creative praxis that underpins drama education.
• Examine new directions and effective methods that have been forged to meet the challenges we face.
• Allow us to hold space for each other.

We invite our drama education family to come and take in the artistic, intellectual and pedagogical nourishment this event offers us all, as we celebrate Drama as Antidote.
Day One
Friday 2 June
Registration from 8.00am
8.45am - 5.00pm
Function & Performances from 5.00 pm
Day Two
Saturday 3 June
Registration from 8.00am
8.45am - 5.00pm
Drinks from 5.00pm
Early Bird (EB) closes 5 May 2023
Full Price (FP) all Registrations close 26 May 2023
Please download the Conference Program on our website
www.dramaaustralia.org.au
https://www.facebook.com/dramaaustralia/
Location
NUspace - The University of Newcastle
NUspace Building, Hunter St & Auckland StREET, Newcastle NSW 2300