[2023 NANGA MUSIC FESTIVAL]
Questions? please email info@nangamusic.org.au
Tickets and Accommodation
Important information
We're sold out! The only tickets still available are for Sunday night. This ticket doesn't include accommodation but gets you a simple meal and a full evening of great musical entertainment. If you live nearby this is a great value way to experience the festival.
Ordering meals
This page covers ticket and accommodation bookings only. Meals are ordered by either:
Menu Details are displayed on the Nanga website.
Meal bookings will close on Thursday 28 September.
Festival Ticket Options -

SOLD OUT
Adult ticket with on-site accommodation $278 ( Early Bird $260)
Youth 12-17 years with on-site accommodation $170 (Early Bird $160)
Child 0-11 years with on-site accommodation $75
Adult ticket without on-site accommodation $218 (Early Bird $200)
Youth 12-17 years without on-site accommodation $115 (Early Bird $110)
Child 5-11 without on-site accommodation $30
Child under 5 years without on-site accommodation: Free entry (ticket still required)
Saturday and Sunday day tickets will be made available later if there is capacity

AVAILABLE

- Sunday evening adult $25 (includes Loaf & Ladle dinner)
Choosing Accommodation - SOLD OUT
The choices of on-site accommodation at Nanga are:
Bunkhouse lodges
Tent campsite
Campervan site.
NOTE: Only campervans will be allowed on-site. Caravans and camper trailers are required to book at Nanga Brook Campground or to seek alternative camping arrangements. The Nanga Festival bus will be doing shuttle bus runs to Nanga Brook Campground during the weekend.
1. Bunkhouse Lodges
There are three bunkhouse lodges, each having a different curfew to cater to different lifestyles.
Currawong – No curfew, self catering available
Timbarra – 1:30am curfew, self catering available
Woodshed – 11pm curfew, no self catering at Woodshed; cooking facilities available at Currawong, Timbarra and the Roundhouse BBQ.
To book bunkhouse lodge accommodation you must choose beds for your party. The plan of the building identifies the bed numbers so that you can know exactly where you will be sleeping. The bed number you select will determine whether you have an upper or lower bunk so please select carefully!
Selecting a room
After selecting a specific bunkhouse, you will be taken to a page showing the floor plan of the selected building. The Row Number identifies the room. For example Room 1 shown on the floor plan is called Row number R_1.
Selecting a bed
The Seat Number indicates the specific bunk bed you are booking in the particular room. The floor plan identifies top and bottom bunk positions. In a typical 4 bed room beds 1 and 4 are top bunks and 2 and 3 the bottom bunks. We ask that if you are a couple you select beds in the same bunk to make it easier to share the room with other patrons.
Selecting the right type of room
We have allocated certain rooms to particular types of accommodation to ensure that you can select the company you keep. Please ensure that you select your bed in a room that has a designation appropriate to your circumstances.
The letter that comes after the seat number (W,M,C,F,G) designates the type of accommodation allocated to that room in accordance with the legend shown on the floor plan. The room types are:
W = women only
M = men only
C = couples
F = family
G = mixed groups
For example, if you are a single woman who does not want to share a room with any men you should select your bed in a room designated W. If you are a single man looking for accommodation in a room containing only other men select a room with the M designation. If you don't mind being in a mixed room you should select a room with a G designation for mixed Groups.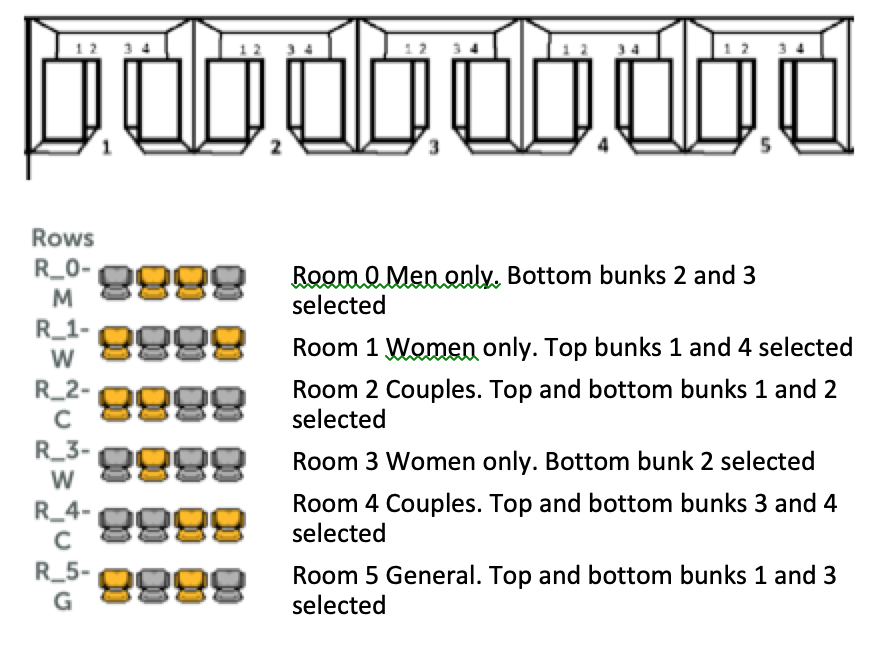 Making a Group, Family or Couples Booking
If a group (G), family (F) or couple (C) are attending together, we strongly advise that one person makes the multiple bookings on behalf of the group to ensure you are all sleeping in the same room or area.
If you have any mobility issues that would impact on your ability to get upstairs please call Bev Wheeler on 0405 187 685 to arrange accommodation suitable to your specific needs.
2. Camping - Tents
Camping sites are limited so please book early. Camping is near the Hermitage and Roundhouse cottage area on the level ground around the BBQ facilities, and also behind Woodshed. Camping is not permitted in the bush or surrounding tracks.
3. Campervans
Only campervans will be permitted into Nanga Bush Camp. All sites are unpowered.
Beside Timbarra bunkhouse: 12 campervan sites
Behind the Woodshed : 4 unpowered campervan sites.
NOTE: We apologise that we are no longer able to accommodate caravans or camper trailers on the Nanga Bush camp site. We have provided information and links on the website for those wishing to bring caravans or camper trailers to the Nanga Brook Campground, which is located just a 5 minute drive from the Nanga Bush Camp. We are committed to providing a shuttle bus between the Nanga Bush Camp and the Nanga Brook Campground for breakfast in the morning, and after the concerts in the late evening.
Contact
Should you have any queries please contact bookings@nangamusic.org.au