A Purposeful Journey through What's Next After School!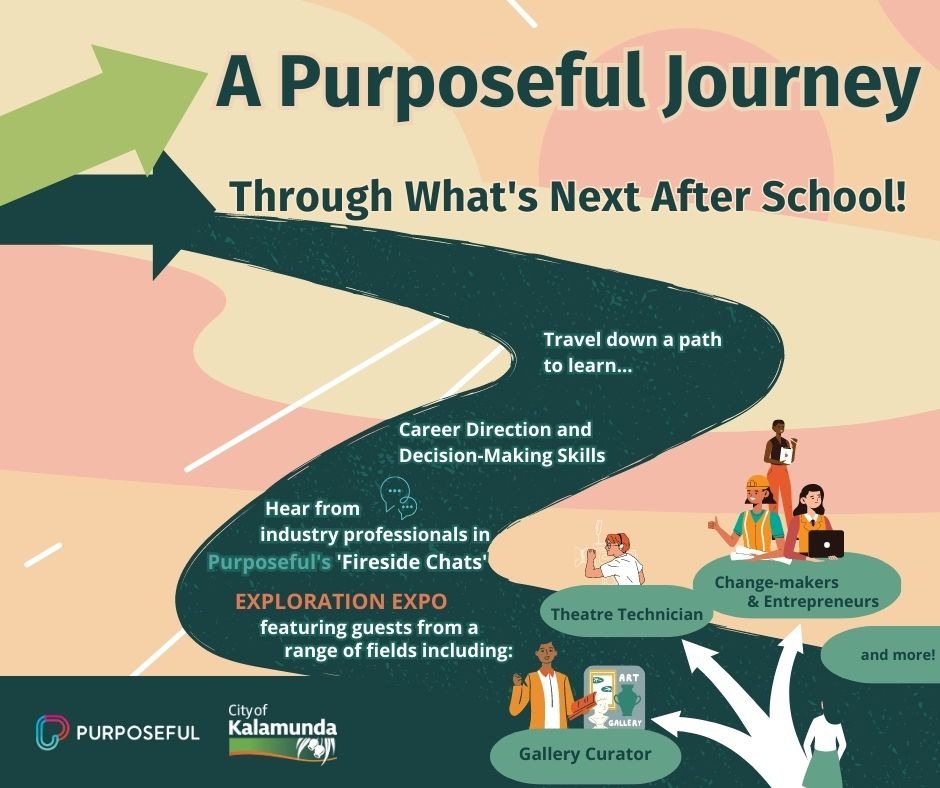 About
Are you unsure of your career trajectory? Do you need support in finding the right pathway, or information about what is actually out there for you? We are here to help! Join the City of Kalamunda Youth Services Team, Arts and Culture Team, Kalamunda Performing Arts Team, Zig Zag Gallery Team and Purposeful for a Purposeful Journey through What's Next After School and explore how to turn your passions into a career!
Purposeful are a youth-led organisation committed to help young people find purpose continuously throughout the course of their lives in a purposeful, scalable and sustainable way.
Our Careers Day Collaboration Event will feature:
Workshop on direction and decision making with the Purposeful team who are experts supporting young people design their unique vision for their future
2 'Fireside Chats' Careers Panels with Guest Presenters from Purposeful's Innovation Network
Exploration Expo featuring 10 guests from Purposeful's Innovation Network alongside Youth Services Team talking all things youth support and local government and the City of Kalamunda Arts and Culture Team showcasing careers in the arts as well as a special backstage theatre tour!
and more!
Location
Kalamunda Performing Arts Centre
48 Canning Rd, Kalamunda, Kalamunda WA 6076