Blue Mountains Camino 5-Day Walk - September 2023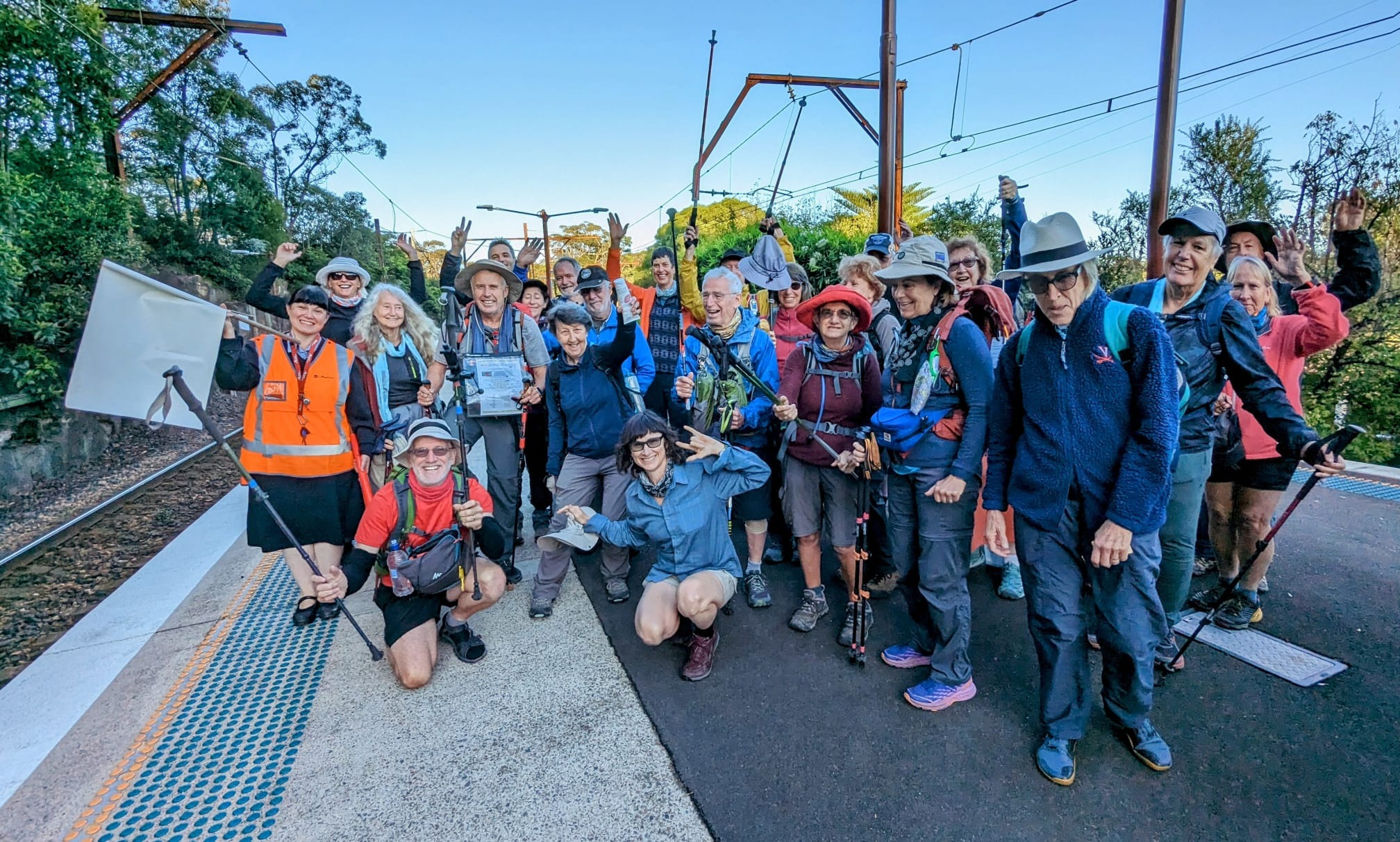 The Blue Mountains Camino Supporters is a social group which shares the wonderful spirit of the Camino through various events - including its popular Blue Mountains Camino 5-Day Walk.
What is the Blue Mountains Camino 5-Day Walk?
The Blue Mountains Camino 5-Day Walk is an opportunity to experience the Camino spirit right here in Australia. If you have walked a Camino and wish to rekindle the pleasures - and pain - of long distance walking with like-minded pilgrims, this walk is for you. If you have never walked a Camino, but aspire to one day, this walk is the perfect opportunity to learn from others and experience a little of the 'Camino' spirit right here in Australia.
Over 5 days, pilgrims walk approx 90km up the Blue Mountains from Penrith at the base, to Blackheath near the top. Each day's route starts and finishes at a train station along the Blue Mountains line. There are also options each day to exit the route early at a train station along the way.
Please be aware this is not a guided walk, but rather a training walk with a group of like-minded Camino pilgrims.
More info about the Blue Mountains Camino 5-Day Walks can be found here: 5-DAY WALKS
If you have any questions, please email: info@bluemountainscamino.com
September Spring walk
From Tuesday 12 September to Saturday 16 September 2023
The September Spring 5-Day Walk will be a traditional Camino style village to village walk with no activities based at Glenella. The walk starts at Emu Plains on Tuesday morning and finishes in Blackheath on Saturday around midday.
All walkers are invited to a briefing breakfast at Emu Hall on Tuesday 12 September (own expense), and celebratory lunch at the Gardners Inn in Blackheath on Saturday 16 September (own expense).
Registration fee
The registration fee of $50 for the Spring walk includes:
Electronic maps including scenic options

Printed daily map overview

Printed daily walk guide

Credential

Access to the 5-Day Walk Portals (you will be sent username+password once registered):

Prep Portal with info on accommodation, what to pack, the week's planner + more

Info Portal with the downloadable maps

Insurance

Daily pilgrim table

Great Camino spirit !
Day Passes
We are offering Day Passes for anyone wishing to join the 5DW for a single day. The cost is $10 per day, and you can book up to 3 single days. You will receive access to the electronic maps, the Prep Portal, the Info Portal and receive a copy of the map guide for the day you registered. This will be available for pick up from the Pilgrim Table at the day's starting point.
Click on the REGISTER NOW button to purchase a Day Pass.
Route info
On this 90km uphill route you will walk on a variety of terrain - fire roads, bush tracks, pathways, pavement (including a section along the Great Western Highway) and suburban roads. There are steps and some steep sections. There will be options to deviate from the direct route to include scenic tracks or points of particular interest.
Emu Plains, our starting point, is 27m above sea level, and Blackheath, our end point, is at 1065m. Each day distances walked are between 14km and 27km. Although the distances don't appear long, each day will take approx 6-8 hrs, including breaks, due to the elevation gain and variable bush tracks.
Remember: all walkers are responsible for their own personal safety and well being.
Accommodation options
A list of the accommodation options in villages along the way will be sent to you following registration. We do encourage everyone to share the same accommodation where possible to share the Camino spirit.
WhatsApp group
A Whatsapp Group for all pilgrims walking the Spring 5-Day Walk will be created as soon as registration opens. This is good forum to share updates on accommodation and possibly options to share rooms.
Terms & conditions
Participants are expected to be planning to walk a similar style pilgrimage in Europe or have walked a Camino (anywhere in the world). The organisers have the right to cancel your registration and will refund your donation if they believe your participation in the 5-Day Walk is not in the Camino Spirit.
Tickets are refundable up to 14 days prior to the walk. If you cancel within 14 days of the walk commencement date, there is no refund. To cancel your registration please email: info@bluemountainscamino.au.
All our Blue Mountains Camino events are subject to COVID-19 restrictions and severe weather events. If events are restricted or the organisers determine conditions are not safe for pilgrims to gather together the 5-Day Walk will be cancelled. Your registration fee will be fully refunded in that case.
Sharise Watson