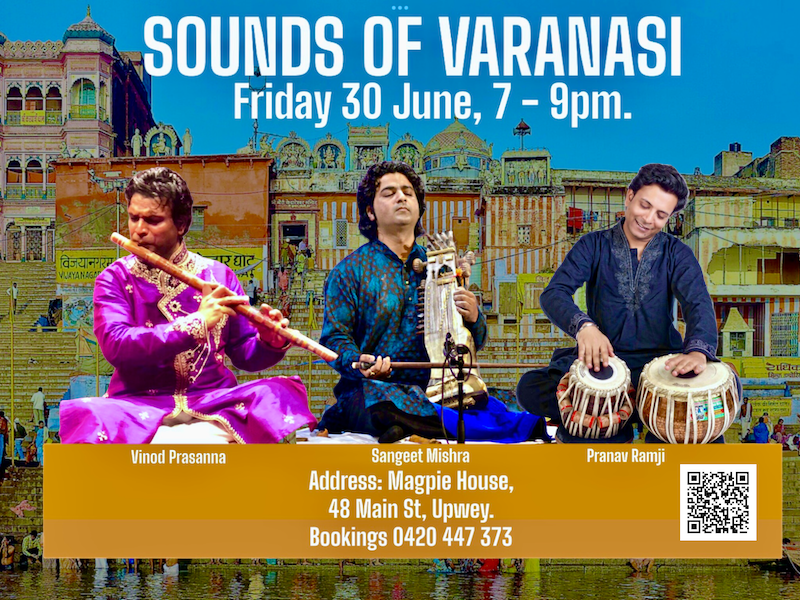 Sounds of Varanasi
Sangeet Mishra (now based in Mumbai) and Vinod Prasanna, come from a long lineage of Banaras Gharana (musical family tradition), they have been close friends from childhood in Varanasi India. Their strong connection has brought them together once again for a magical evening of Indian Classical Music in Melbourne. The concert will include the talented tabla player, Pranav Ramji, who like Vinod, now resides in Melbourne.
This is a special collaboration, not to be missed as Sangeet Mishra is visiting from India for a short time only.
Sangeet Mishra Hails from the renowned Sarangi Gharana (school) of Banaras, India. Early in his childhood, his elders noticed that he had a flair for singing and encouraged him to learn vocal music. His first Guru was his paternal grandfather, the late maestro, Pt. Narayan Das Mishra. In his grandfather's tutelage Sangeet acquired a remarkable proficiency in vocal. As his strong inclination and talent for music matured, he developed an interest in playing the sarangi, and went on to receive training and guidance from his maternal grandfather, the world-renowned sarangi maestro Pt. Bhagwan Das Mishra and his father Pt. Santosh Kumar Mishra. His unparalleled talent led his seniors and gurus to proudly call him a child prodigy.
Throughout his journey as a musician, Sangeet has labored to revive the ancient style of the soul-touching sarangi by acquiring both the tantakri and gayaki style of playing the sarangi from this guru. Rooted firmly in the ancient traditions and techniques of shastriya sangeet (classical music), Sangeet has worked to add a distinctive individuality to his playing. Through his innovations as a musician, he has succeeded in blending contemporary musical thought in playing the sarangi, without compromising on its traditional purity and essence. He is equally at ease with both the intricate nuances of the pure classical music and the conventions of modern music. A versatile performer, he is known for successfully collaborating with musicians from different genres and styles all over the world in creating a new musical language.
Vinod Prasanna Born into one of India's greatest flute-playing families, award-winning bansuri (flute) virtuoso, Vinod Prasanna, shines as an outstanding performer of authentic traditional and contemporary Indian music. Vinod's emotive melodies, exquisite improvisations and divine flute song distinguish his performance of Indian classical, world and meditation music. Hailing from Varanasi, one of India's holy cities, Vinod's late grandfather, Pandit Vishnu Prasanna, introduced him to the art of bansuri playing. His uncle, Pandit Rajendra Prasanna also taught him and further inspired his playing. Vinod has performed and toured extensively throughout his homeland and overseas, including France, Japan, Germany and now, Australia. In 2006, Vinod won the prestigious Sahara All India Flute Recital Competition.
Residing in Australia since 2008, Vinod is a performing and recording artist, teacher, craftsman and ambassador of the Bansuri. Vinod has more than 17 years of performing and teaching experience and continues a family legacy that celebrates more than two-and-a-half centuries of Indian music.
His latest musical collaborations include joining musical forces with world-class percussionist, David Jones, and guitarist, Evripides Evripidou, to form Brothers, an Indian Jazz fusion/ambient groove ensemble. In 2012, Vinod and Chinese guzheng player extraordinaire, Mindy Meng Wang, formed "Journey to the West" to recreate ancient Indian and Chinese cross-cultural links and to bring the music of both countries closer to western ears. In 2012, Vinod toured Australia with Tibetan nun and singer, Ani Choying, playing, amongst other venues, in the Sydney Opera House and the Melbourne Recital Hall, to ecstatic audiences.
Pranav Ramji (Tabla) started playing the Tabla at the age of 8, with his initial training and advancement under the watchful eye of Ustad Gulfam Sabri and Ustad Sarwar Sabri. He is currently learning the intricacies of the Punjab Gharana of Tabla playing from Pt. Aditya Kalyanpur, a student of Ustad Alla Rakha and Ustad Zakir Hussain. Pranav Is an Indian Council for Cultural Relations (ICCR) empanelled Tabla player and hastraveled across India, Europe and Australia performing solo Tabla recitals, accompanying senior musicians in their travels and taking workshops to promote Hindustani Classical Music
*Special Guest Artist George Neo performing Songs of Devotion. Heart felt vocals complementing the exquisite sound of a 12-string guitar