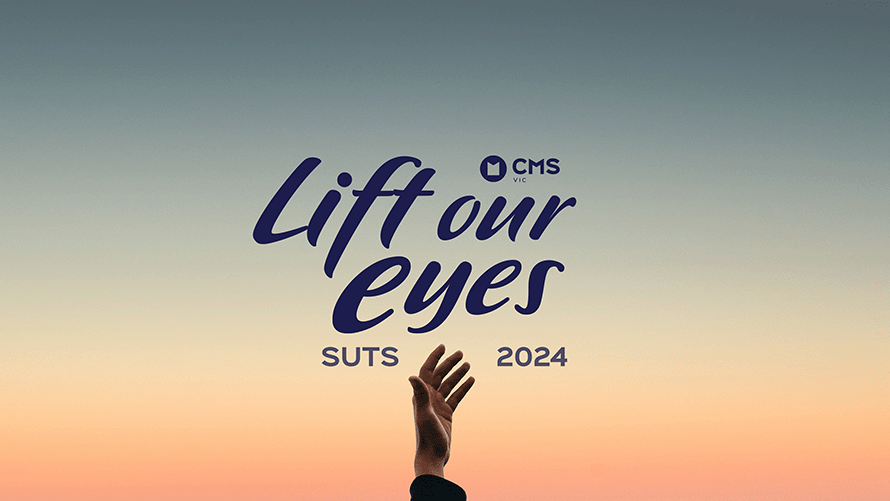 ________________________________________________________________________________________________________________________
SUTS is CMS Victoria's annual evangelical conference - connecting local Christians with God's mission to see A World That Knows Jesus and learning from God's Word, connecting across cultures, and joining community.

Come in person to Summer Under the Son Conference or join us online.
________________________________________________________________________________________________________________________
DATES:
Thursday 18th January 6pm to Saturday 20th January 10pm, 2024
LOCATION:
Syndal Baptist Church
588 High St Road, Glen Waverley VIC 3150
Payment Plans & Subsidies Available!
If you need to pay for your SUTS ticket over a number of payments, please fill in the form linked here.
CONTACT DETAILS:
TERMS & CONDITIONS:
For information about this event, please contact CMS Victoria: vic@cms.org.au
1. All bookings are confirmed upon full payment of registration. The in-person event is subject to COVID public health orders and restrictions. If the in-person event is pivoted to an online-only event due to COVID restrictions, in-person tickets will be changed to online tickets, and a partial refund will be issued to the value of the price difference between the in-person and online tickets. A full refund will be available if the ticketholder does not want to or is unable to attend online. The 50c TryBooking ticket fee is non-refundable.
2. In all other circumstances, a full refund is available if requested before December 22nd, 2023. A $25 admin fee will be incurred if seeking a refund after December 22nd, 2023. No refunds after January 12th, 2024. The 50c TryBooking ticket fee is non-refundable. Registrations may be transferred to another individual, if unable to use said registration.
3. For any cancellations, please contact the CMS Victoria office by phoning 9894 4722 or by using the email address at the top of this page.
4. Children attending the in-person SUTS Kids event must have a parent or guardian attending SUTS in-person.
5. By agreeing to proceed, you understand that there will be photographs and video footage taken during this activity and you are willing to be photographed and filmed in appropriate settings. You are also willing for these photos to be used to promote the ministry of CMS in compliance with the CMS Privacy Policy. Please contact the CMS VIC Office if you do not wish to be photographed or filmed.
6. By agreeing to proceed, you understand that the venue is not a gluten-free, nut-free or other such environment, and that if you experience anaphylaxis, it is your responsibility to bring an EpiPen and it may be appropriate for you to bring your own meals. You also understand that in the event of an emergency, you accept the responsibility for payment and agree to pay medical, transport and any other related expenses.
7. Catering is only included for tickets sold up to and including the 4th of January 2024. Tickets purchased after this date will not be catered.
8. CMS Victoria does not tolerate abuse, harassment, or other misconduct within our community. All our workers agree to abide by our code of conduct. We have an independent complaints handling system. Please report incidents by calling 1800 070 511.