Show 'n' Tell June Photography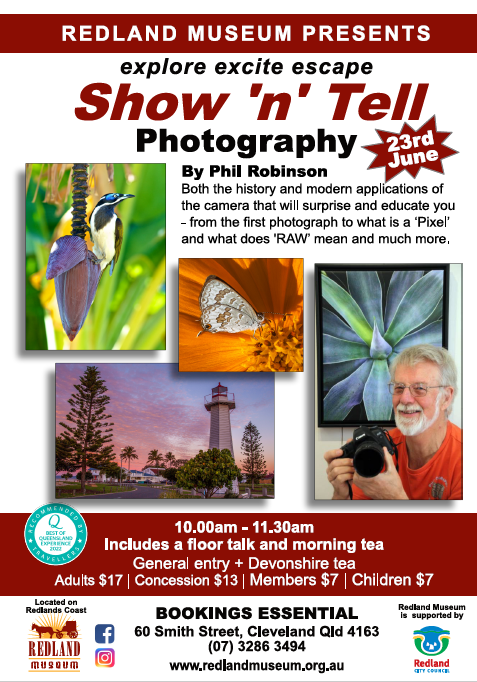 Floor Talk and Morning Tea
Show 'n' Tell Tours
On the 23rd of each month, join us with a group, or by yourself, for a floor talk / demonstration that focusses on a different area within the Museum at each visit.
For the month of June: Photography
The forerunner to the photographic camera was the camera obscura using lenses as a drawing aid and has been traced back to circa 1550. Now we have cameras everywhere with tiny lenses that see all of todays world.
As a photographer all his life Phil Robinson is now known for his creative style which many of his admirers take as being water colour paintings. Interesting how things turn around.Phil will present both the history and modern applications of the camera that will surprise and educate - from what did the very first photograph look like to what is a 'Pixel' and what does 'RAW' mean and much more10.00am - 11.30am Includes morning tea.
Ticket includes floor talk / demonstration & general entry to the Museum.
Location
Redland Museum
60 Smith Street, Cleveland QLD 4163