The Voice Discussion Sessions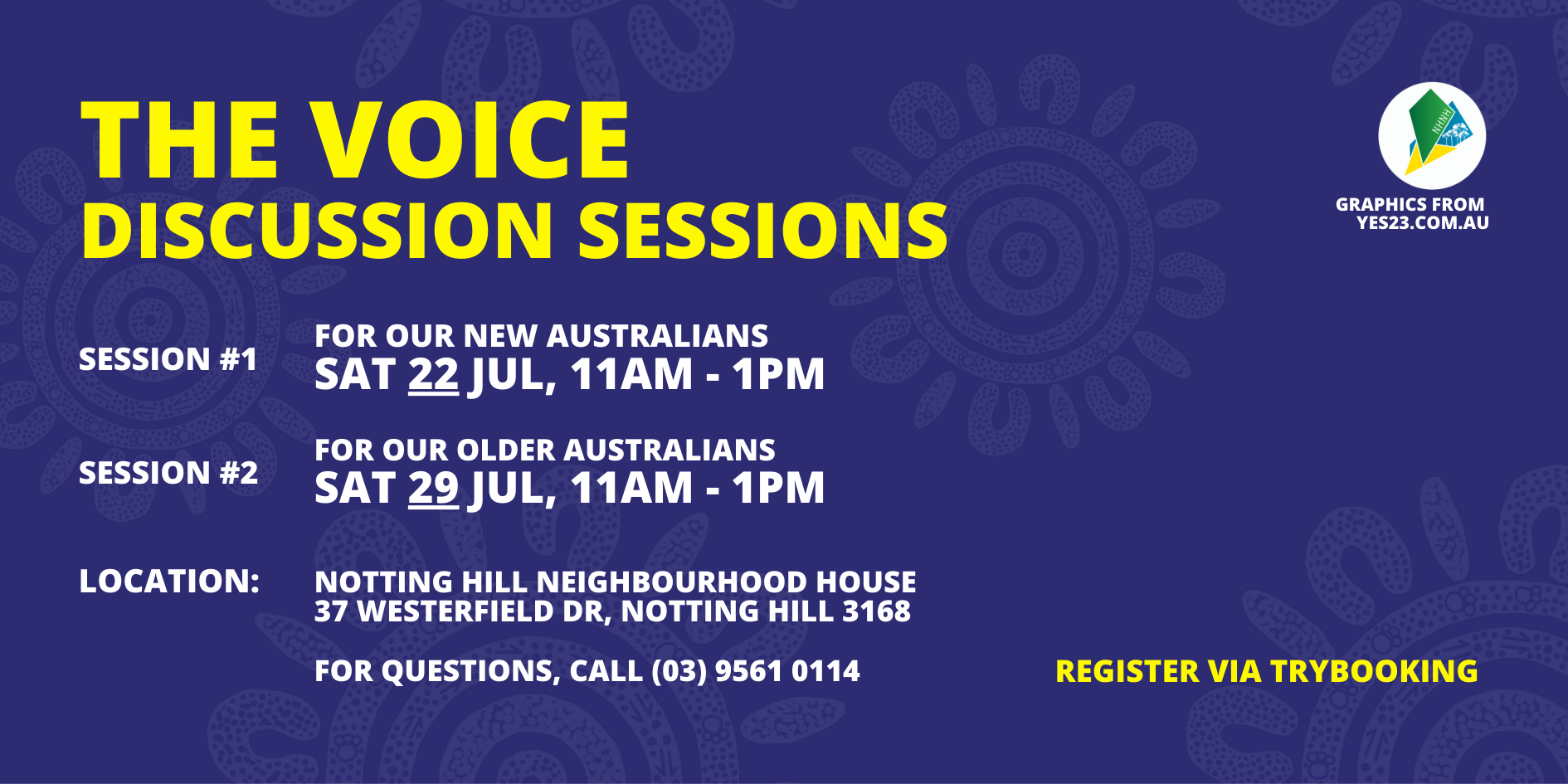 About
Saturday, 22 June | 11 am – 1 pm | FREE | Donations Welcome!
Attention all, and especially newcomers to Australia
Have you been hearing about The Voice to Parliament referendum and need more context?
Join us on Sat 22 July as Professor Emeritus Marian Quartly takes us through the basics, and sets the background of the referendum and what it offers, before we delve deeper into the nuances of the discussion.
If you are curious and are looking for an engaging session – this event is for you! Explore with us the first of these proposed reforms: enshrining an Indigenous Voice to Parliament in the Australian Constitution in our first session of a two-part series.
This event will provide an excellent opportunity to gain a deeper understanding of the cultural fabric of Indigenous Australia and to engage in meaningful dialogue with fellow attendees.
Tea, coffee, and light refreshments will be provided.
Saturday, 29 June | 11 am – 1 pm | FREE | Donations Welcome!
Already done your homework about The Voice and have strong opinions?
On Sat 29 July, we invite people in our community who would like to engage in a more dynamic discussion about The Voice referendum with Professor Emeritus Marian Quartly.
We have a wonderful opportunity here — a chance for our community to come together, learn, and engage in a sincere and thoughtful conversation about the Voice Referendum and its potential impact. The Voice, a fundamental request from the Uluru Statement from the Heart, beckons all Australians to recognize the enduring ancestral bonds that have existed for over 60,000 years in our country. It seeks to empower every First Nations individual to have a genuine voice in shaping their own future.
Tea, coffee, and light refreshments will be provided.
Donations are welcome!
Whether you are a long-term resident or a recent arrival, this gathering should be both enlightening and thought-provoking.
Location
Notting Hill Neighbourhood House
37 Westerfield Drive, Notting Hill Victoria 3168