Banyule: Hands-on Bike Maintenance Workshop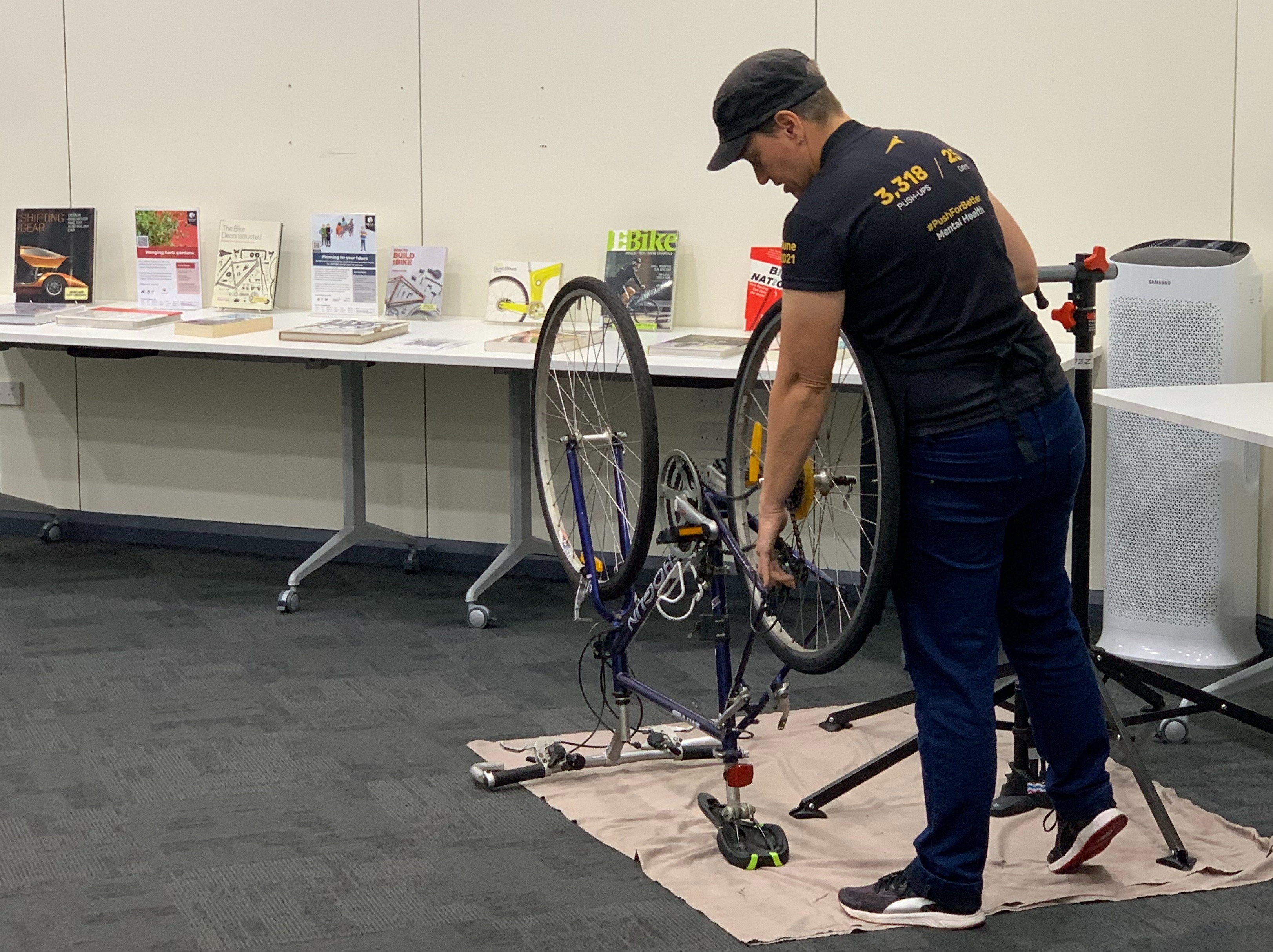 This 2.5-hour workshop is an interactive, hands-on bike maintenance experience. Includes demonstration and explanation of bicycle maintenance essentials, including changing a flat tyre, adjusting brakes, and cleaning and lubing the drive-train; with opportunities for participants to practice on their own bikes. For 13yo upwards (teenagers to be accompanied by an adult).
This course is commissioned by the Banyule City Council and led by Bike it Better.
Dates & Locations:
Thursday 7th September 2023 - 6:15pm-8:45pm at Bellfield Community Hub, 15 Daphne Cres, Bellfield.
Tuesday 14th November 2023 - 6:15pm-8:45pm at Watsonia Library.
Thursday 8th February 2024 - 12:30pm-3:00pm at Bellfield Community Hub, 15 Daphne Cres, Bellfield.
Wednesday 17th April 2024 - 6:15pm-8:45pm at Watermac, 1 Flintoff St, Greensborough.
Fee: $25 full, or $15.50 concession
Who is this session suitable for?
Anyone interested in learning to maintain and perform basic repairs and safety checks on their bike or their kids' bikes.
Participants MUST live, work or study within Banyule City Council. Ticket sales will open to residents of other municipalities one week before the session date if the event is not already sold out.
Welcome and introduction

ABCD check: the essential safety check before every ride. Participants practice on own bike.

Bike fit: how to set your seat at the correct height, and other adjustment related issues.

Inner tube replacement: what to do when you get a flat tyre, what essentials to carry when riding.

Brakes: how to adjust brakes, replace worn brake pads, and know when to take it in for repair.

Chain replacement: what to do if your chain comes off during a ride.

Chain/drive-train clean and re-lube: how to clean and maintain your chain and gears, and when to take it for a service. Chain lube: what type is best, how to correctly use it, and how often.

Puncture repair: how to patch a punctured tube (better for the environment). Opportunity for participants to repair own punctured tube(s) along with instructor.

Finishing with an open time allocation for participants to work on own bike, ask questions, and get assistance and advice regarding maintenance issues.
Session notes will be provided to participants via email before the session.
What should I bring?
Optional: you may bring your own bike to conduct maintenance checks and obtain assistance in resolving any basic maintenance issues identified.
If bringing your own bike, please ensure your bike is clean (in particular the wheels), to avoid making a mess in our indoor venue.
Our instructors will have tool kits with them which you may use during the session, however feel free to bring your own tools to use on your own bike, or obtain assistance in learning how to use them. Please note that any shared tools will need to be wiped with disinfectant after each use.
What is the start/finish time?
The program will take place at the times listed at the top of this page.
Please arrive 5-10 minutes early to sign in and be seated.
Where should I come for the training?
Please see the location for each session at the top of this page. You will be sent a reminder email with the full details and a map of the meeting location a few days before the session.
What if the weather isn't great?
The event is indoors, so weather should not be an issue.
Do I have to bring my printed ticket?
You don't need to bring your ticket on the day. We will have a list of registered participants.
Note re COVID Safety
Stay at home if unwell or if you are a contact of someone who has been unwell and who is being tested for coronavirus (COVID-19) infection.
All attendees must comply with the current Victorian Government COVID restrictions.
Who do I contact if I have any questions?
Cazz Clarke, Cycling Coach (Bike it Better) on 0421 114 389 or bikeitbettercyclecoaching@gmail.com
or
Tristan Jessup, Transport Planner (Banyule City Council) on (03) 9457 9899 or activetravel@banyule.vic.gov.au
PRIVACY
Bike it Better uses TryBooking for all Bike Skills Courses. When booking with TryBooking, individuals will be required to provide their name and contact details. TryBooking's privacy policy can be found at the Privacy link located at the bottom of this page.
By registering and providing this information, you hereby agree to your data being provided to Bike it Better (the professionals who deliver these courses) to allow us to confirm event details and access your emergency contact details if needed during the course.
Bike it Better also shares the data you provide for Bike Skills Courses with City of Banyule who have commissioned these workshops, and by registering and providing this information, you also hereby agree to your data being shared with City of Banyule for purpose of evaluation and future program planning. If you have any concerns with any of these policies, please use the contact details listed in the previous section.
Sessions
SESSIONS
DESCRIPTION
STATUS
Check out our other upcoming cycling classes: