AMOS 50th Anniversary Events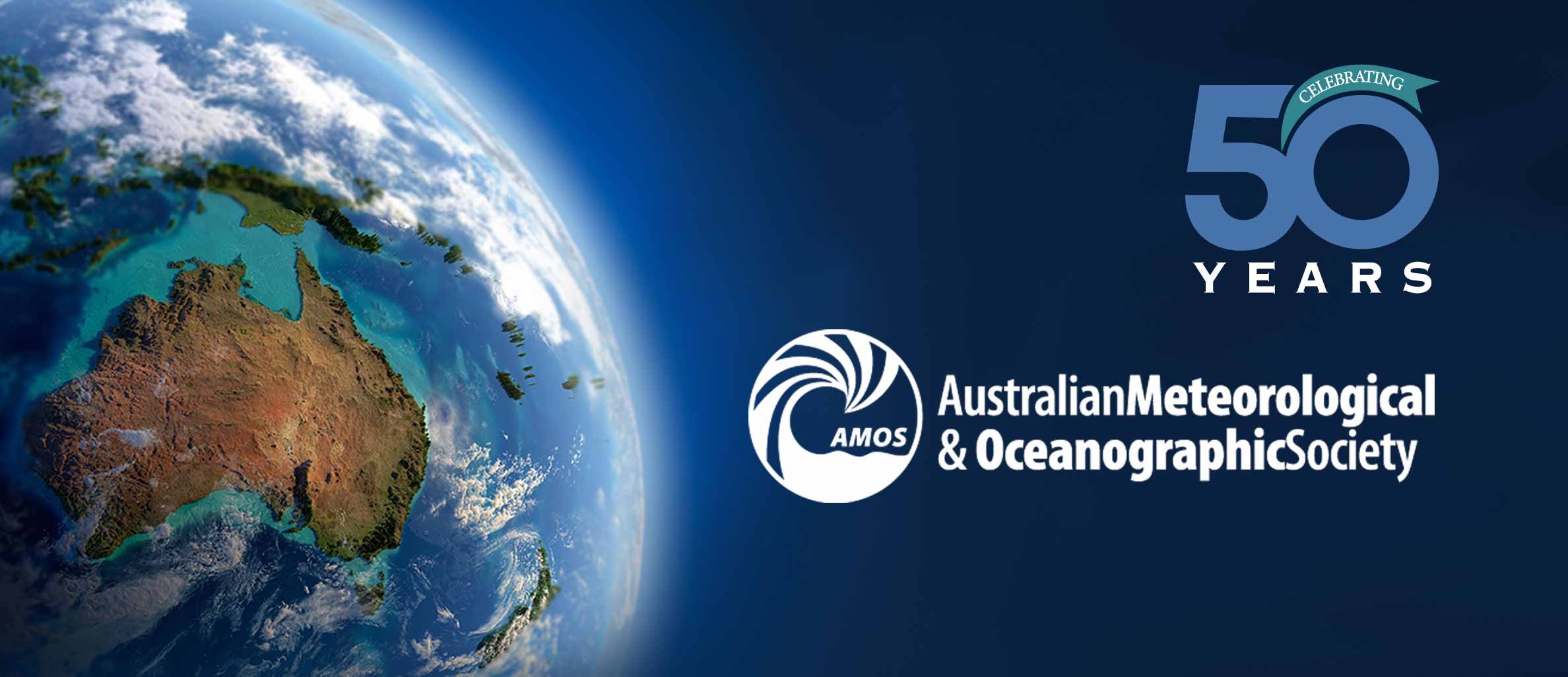 This year, AMOS proudly commemorates two remarkable milestones: 50 years since the inception of the Australian Branch of the Royal Meteorological Society, and 150 years since the establishment of the International Meteorological Organisation (IMO), the esteemed predecessor to the WMO. The significance of these anniversaries cannot be overstated, as they symbolise the invaluable contributions made by our scientists and their colleagues.

In honour of these momentous occasions, AMOS is thrilled to announce that we will be holding a Grand Winter Ball on Thursday, 10 August at the RACV Club in Bourke Street, Melbourne. This will be followed by a one-day Symposium on Friday 11 August at Melbourne Museum. Note that these events will follow the Bureau of Meteorology R&D workshop which will be held from 7 to 10 August 2023.

AMOS 50TH ANNIVERSARY SYMPOSIUM
Friday, 11 August 2023
9:00am to 5:00pm
Melbourne Museum Theatre
11 Nicholson Street, Carlton, VIC. 3053
(morning/afternoon teas and lunch included)

Symposium Program
(morning/afternoon tea + lunch included)
(note times/speakers subject to change)
09.30 – 09:45: AMOS 50th Anniversary Symposium opening - Roger Dargaville (AMOS President) and Martin Singh (AMOS Vice-President)
09.45 – 10.20: AMOS History - Mary Voice, Val Jemmeson and David Karoly
10.20 – 11:00: Communicating the AMOS sciences – Ailie Gallant, Sarah Perkins-Kirkpatrick, Adam Morgan, Linden Ashcroft (Chair)
11:00 – 11.30: Morning tea
11.30 – 12.00: International cooperation at its best: 150 years of the IMO and the WMO - John Zillman
12:00–13:00: Major achievements in the AMOS sciences over the decades - Sue Barrell (Chair), John Church, (oceans) , Neville Nicholls (climate), Graeme Pearman (CSIRO), Greg Ayers (Bureau of Meteorology)
13:00 –13:45: Lunch
13:45 –14:45: Future challenges and research opportunities - AMOS Expert Groups: Beth Ebert (Chair), Andrew Watkins and Harun Rashid (climate), Rachel Law (land surface processes), Matt England (oceanography), Jeff Kepert (weather and weather prediction), Zoe Loh (Atmospheric Composition)
14.45 – 15:15: Afternoon Tea
15:15 – 16:00: AMOS ECR/PhD "rapid-fire" research presentations, Linden Ashcroft (Chair)
16:00 – 16:45: Open discussion on the future of AMOS sciences and the role of AMOS - Acacia Pepler (Chair), Gilbert Brunet (Bureau of Meteorology), Christian Jakob (ARC Centre of Excellence for the Weather of the 21st Century), Simon Marsland (National Environmental Science Program)
16:45pm - Symposium Close
AMOS 50TH ANNIVERSARY GRAND WINTER DINNER/BALL
(Networking Event)
Thursday, 10 August 2023
6:30pm to Approx 10:00pm
RACV Club
501 Bourke St, Melbourne VIC 3000
Dress: Formal
The RACV Club has offered ROH discount rate of $199.00 per night for accommodation
one/two nights before and after this event, subject to availability.
Please contact admin@amos.org.au if you wish to take advantage of this rate.
Parking is available for attendees for $10 from 5pm. The daily rate is $45.00.
PRICES
AMOS 50th Anniversary Package Includes
AMOS Grand Winter Ball (Networking Event)
- PLUS -
AMOS Symposium (morning/afternoon teas + lunch incl)
Full $260 or Student/Retired $200

AMOS Symposium ONLY
(morning/afternoon teas + lunch incl)**
Full $180 or Student/Retired $120
**Note: AMOS Grand Winter Ball (Networking Event) Ticket is available for
$80 if purchasing an AMOS Symposium Ticket and a separate invoice is required.**

AMOS Grand Winter Ball ONLY (Networking Event)
Full $130 for ball only, or partners and guests
Australian Meteorological and Oceanographic Society, Inc
All Rights Reserved.
AMOS Code of Conduct
.
| ABN: 47 970 713 012 | AMOS INC: A00 142 45C | Registered Australian Charity© 2023. All Rights Reserved.