ACA Salary Survey Report & Analysis 2023 - CPD On Demand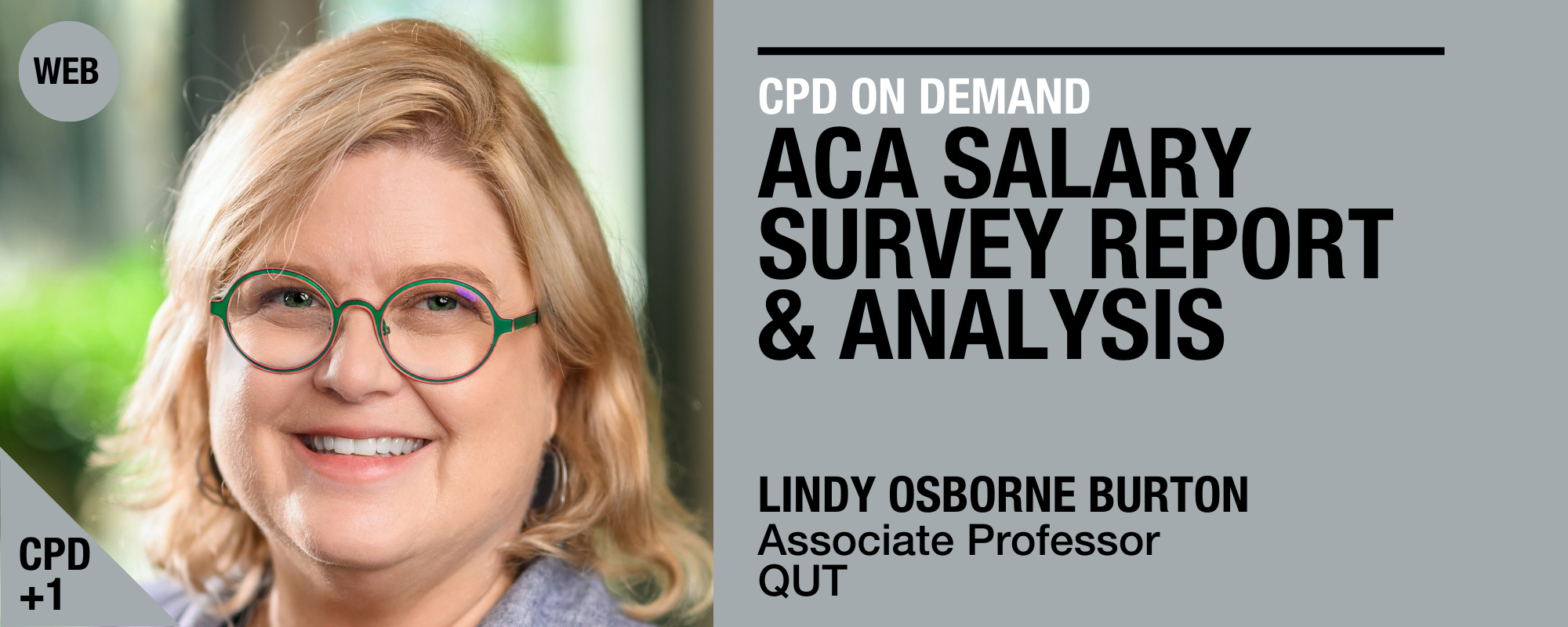 The ACA National Salary Survey provides essential information on remuneration and salaries in 31 different roles for the architectural profession. What are pay rates in the industry for 2023? What are the trends and how have salaries changed? In this CPD webinar, QUT's Lindy Osborne Burton unpacks the key findings of the 2023 report.
QUT's Lindy Osborne Burton joins us again to outline the broad trends identified in the ACA National Salary Survey and compares these to the results from previous years. The competitive employment market for key experienced staff has led to considerable staff movement over the last year, but what impact has this had on salaries? Learn about 2023 trends in different roles and different practice sizes, hear about the gender breakdown in practice and learn about the state of the gender pay gap.
Our Speaker
Associate Professor Lindy Osborne Burton, School of Architecture and Built Environment | Queensland University of Technology
Lindy was originally educated in South Africa and later moved to Australia, where she commenced working at Cox Rayner Architects in Brisbane. She quickly developed a specialisation in the design of complex public and institutional buildings. Following 12 years of practice, Lindy is now an Associate Professor in Architecture and the Design for Health program co-leader at Queensland University of Technology. Her role includes supervising PhD students who are researching health architecture and/or architectural education.
Lindy is currently appointed as both a Board Member of the Board of Architects of Queensland and a Referee for the Queensland Development Tribunal. She is also the Australian Institute of Architects Gold Coast and Northern Rivers Region Co-chair, and is an active member of the AACA Accreditation Standing Panel and the Australian Health Design Council. Lindy is also the regional editor for Australia, for the International Journal of Architectural Research.
COST
Members $25
Non-members $40
*One ticket per attendee.
CPD
Completion of this 1 hour webinar and submission of the self-checked assessment task will deliver 1 formal CPD point.
Learning outcomes: Following completion of this webinar, attendees will have a better understanding of how salaries have changed including current trends in different roles, different practice sizes, the gender pay gap; and the resulting implications both for the industry and practices.
Units of Competency and Performance Criteria: Practice Management and Professional Conduct – PC 1, PC 2
APBSA Core Area: Practice Management
CPD questions are provided for completion after viewing the webinar in its entirety. Certificates will be provided following online submission of answers to questions.
CONTACT
For more information, contact Katherine Ygosse webinars@aca.org.au.