English Music Festival in Australia IN-VENUE TICKETS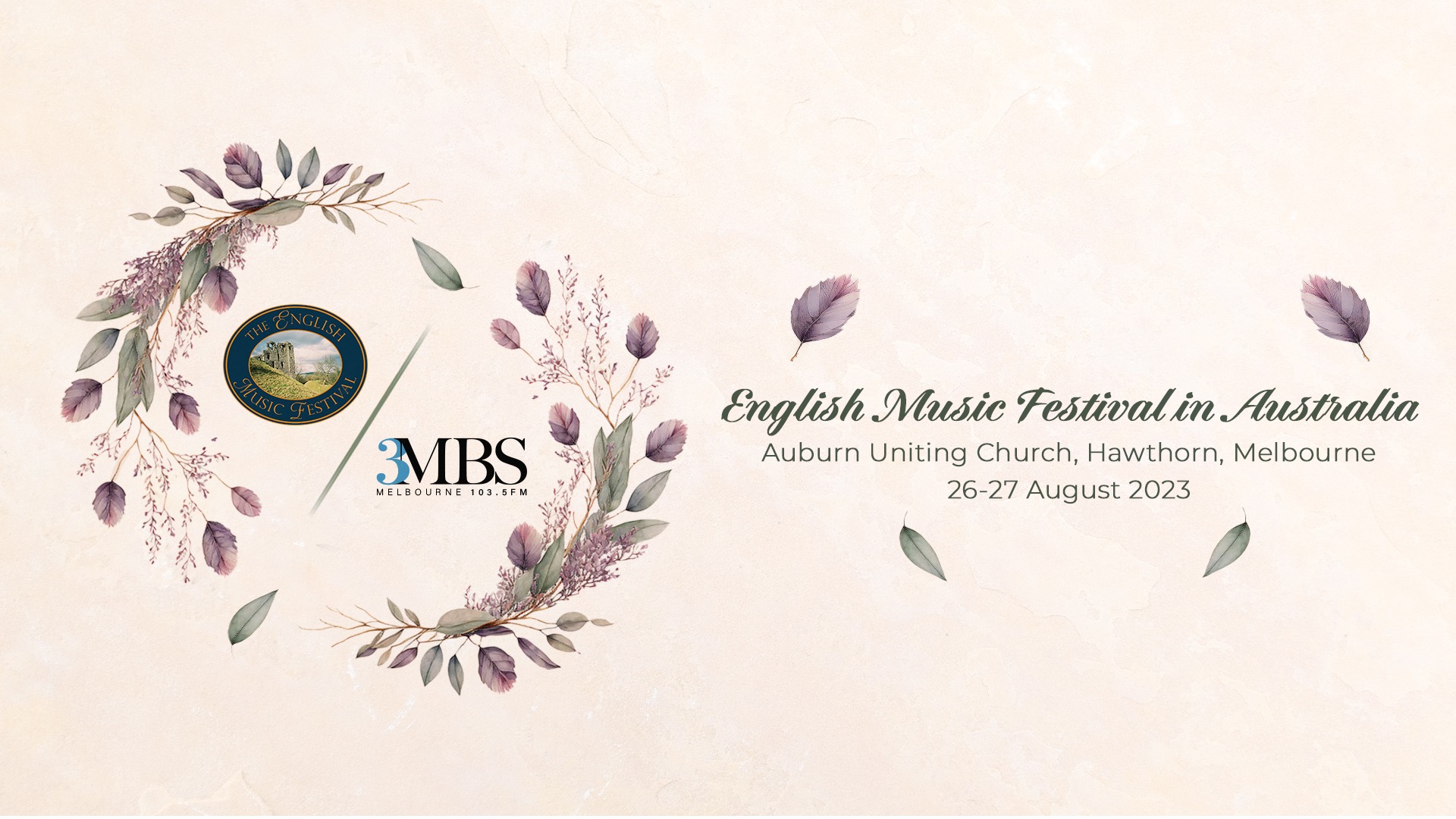 Book these tickets to experience the concerts in-person at Auburn Uniting Church, Hawthorn.

This August, 3MBS Melbourne embarks on its first-ever international collaboration with the English Music Festival to present the English Music Festival in Australia.
The inaugural festival comprises four concerts that will explore chamber music, art song, and solo instrumental works by late nineteenth to mid-twentieth-century English composers and Australian composers of English descent.
Each concert features some of Melbourne's leading exponents of classical music, including Trio Anima Mundi, pianist Elyane Laussade, mezzo-soprano Sally-Anne Russell and The Parlour vocal ensemble alongside international guest violinist, Rupert Marshall-Luck.

Tickets:
Full Single Concert: $50
Concession Single Concert: $45
3MBS Subscriber Single Concert: $45

2-Concert Pass (attend two concerts on the same day, includes afternoon tea)
Full 2-Concert Pass: $120
Concession 2-Concert Pass: $110
3MBS Subscriber 2-Concert Pass: $110
4-Concert Pass (attend all four concerts, includes afternoon tea each day)
Full 4-Concert Pass: $230
Concession 4-Concert Pass: $210
3MBS Subscriber 4-Concert Pass: $210
PROGRAM
Saturday 26 August, 2pm
Trio Anima Mundi
Chamber works by Rosalind Ellicott, Sir Malcolm Arnold and Rebecca Clarke
Saturday 26 August, 5pm
Rupert Marshall-Luck (violin) and Kenji Fujimura (piano)
Sonatas for violin and piano by Frederick Septimus Kelly, Charles Horsley and Sir Edward Elgar
Sunday 27th August, 2pm
Sally-Anne Russell (mezzo-soprano) and Elyane Laussade (piano)
A program of English song cycles and solo piano works, including Sir George Dyson's Epigrams for piano, Gabriel Fauré's Après un rêve, Op.7 No.1 arranged by Percy Grainger, and Sir Edward Elgar's Sea Pictures, Op.37
Sunday 27 August, 5pm
The Parlour
English art songs and solo piano works by Benjamin Britten, Ralph Vaughan Williams, Cecil Armstrong Gibbs and Cyril Scott
3MBS Melbourne 103.5FM is an inclusive and innovative community broadcaster that strives for the highest quality in programming and presenting classical music, and in supporting and promoting local artists and performances. The station delivers a diverse range of classical, jazz and genre-related programs to over 170,000 weekly listeners, 24 hours a day. 3MBS is a not-for-profit community broadcaster. The team consists of a small number of paid staff and approximately 200 dedicated volunteers who work to ensure the station's operations for the benefit of the community.
Find out more at https://3mbs.org.au/ or call (03) 9416 1035