Blast Cricket Come and Try for Kids 5-12 years (SOLD OUT)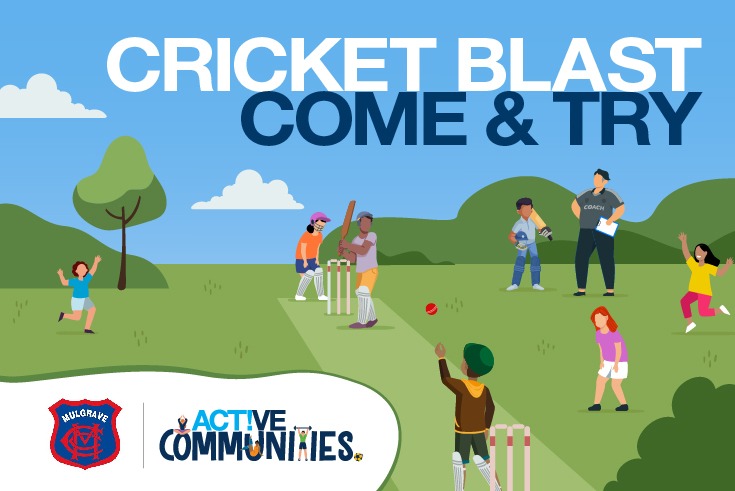 About
Come and join the staff from Mulgrave Cricket Club and Cricket Victoria, learn some new skills, enjoy the outdoors, and experience the game of cricket. Whether you are a beginner or an experienced player, all kids aged 5-12 years are welcome.
Kids can learn the various skills of cricket such as throwing, catching, bowling, and batting and working together as a team. There will be modified games and activities for everyone to enjoy. Plastic bats and rubber balls will be used for everyone's safety. All equipment will be supplied. Please wear comfortable loose clothing, hat, joggers, and bring a drink bottle.
Please meet our staff at the front of the Mulgrave Reserve Pavilion.
Families can enjoy a free BBQ following the event (vegetarian option available). Canteen and amenities will be open for your convenience.
If you would like to find out more about Mulgrave Cricket Club pre-season registration please visit https://www.mulgravecricketclub.com.au/the-club/junior-cricket
Come experience one of Australia's most popular summer sports hosted at a leading local community cricket club in the Monash area, located at Mulgrave Reserve in Wheelers Hill.
Active Communities exists to create pathways for activity, movement and exercise as well as education around Health and Wellbeing to enrich the whole community whilst having limited access to traditional forms of exercise and sport.
Terms and Conditions
1. No ticket – no admittance.
2. Please do not attend session if you have flu or fever like symptoms.
3. If post-injury please obtain medical clearance from doctor before attending.
4. Be mindful that these sessions are outdoors, be prepared for cooler training conditions.
5. No more than 120 participants (not including staff).
6. Please register for each session.
7. Please bring your own drink bottle.
8. Runners/Joggers recommended.
9. Participants under the age of 16 must be supervised by parents or guardian for the entirerity of the session.
10. Participants must be aged 5-12 years of age.
11. Advise instructor if a current injury may prevent them performing such movements safely.
12. Registration to this program is a first in, best dressed process. Should you need to cancel your spot please do so prior so another can come off wait list.
13. For risk, health and safety measures, we are required to record full name, phone and email of all participants. This information will be used to develop a community database for future programs with Active Monash.
14. You agree that outdoor programs are in a public place and you agree to undertake at your own risk based on your knowledge of your own limitations. Council is not liable for any potential damages.
15. Please keep an eye on email for event updates.
Location
Mulgrave Reserve
136 Garnett Road, Wheelers Hill Vicoria 3150