The LuWOW presents the ZOMBIE CANNI-BALL 2023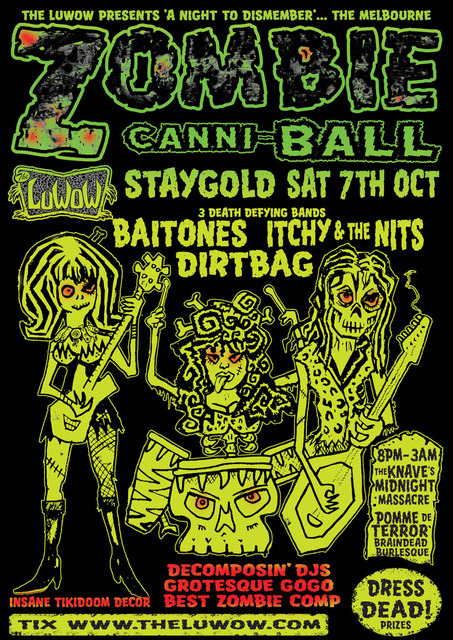 About
It's spooky… It's deranged… It's gruesomely great fun!

TICKETS ARE AVAILABLE ON THE DOOR TONIGHT

The LuWOW proudly presents it's annual dress dead shindig at Stay Gold Brunswick
A meeting of like mind eaters and other undead ghouls to cavort and drink in a fully decked out Tiki Jungle of Doom.

Gasp at the gory GoGo Goddesses in their skull bedecked GoGo cages.
Scream at the howling Schlock n Roll unleashed from the international lineup of debauched acts starring Itchy & The Nits, DirtBag and Japan's Baitones.
Pop your eyes out at the braindead burlesque of Pomme De Terror.
Howl at the Knave's Midnight Massacre vinyl horror show.
Dance your limbs off to an onslaught of Back From The Grave grooves from The LuWOW discjocks.

Leave your life behind and join 300+ dressed up Zombies shuffle, shimmy n shake amongst the most amazing horror LuWOW décor.

Get in early for some braindead bites: Putrid Pizza?
And Ghoulish Cocktails get the Graveyard party going… going… gone!
Location
Stay Gold Brunswick
133 Sydney Rd, Brunswick Victoria 3056