DREAMS - Fleetwood Mac & Stevie Nicks Show - Camden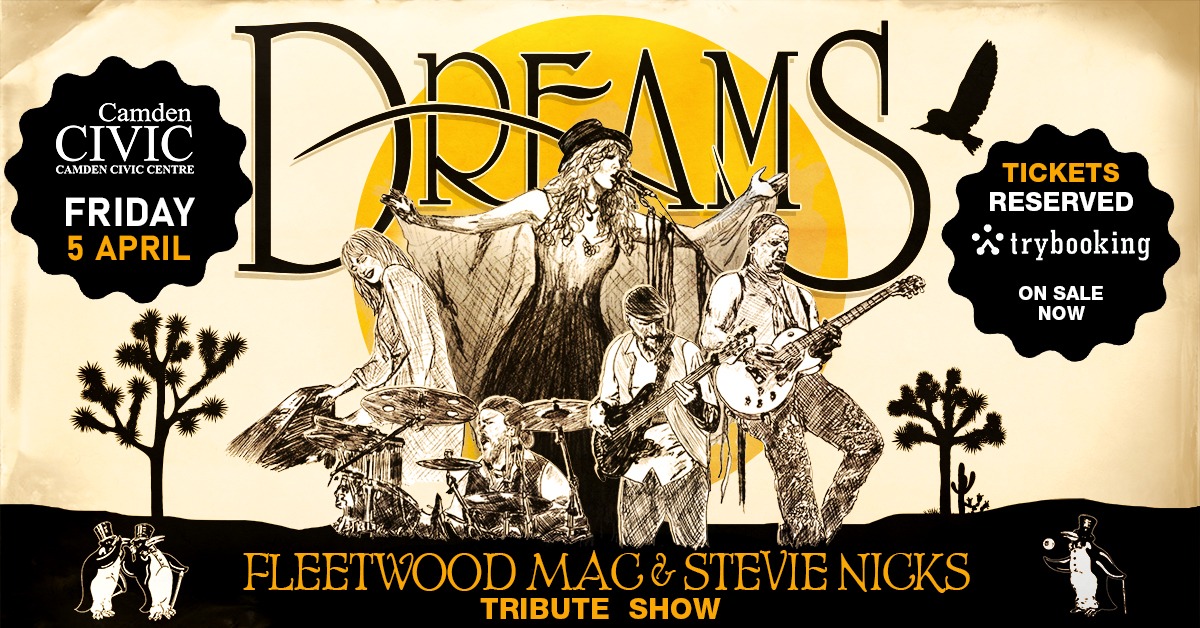 Dreams – the Fleetwood Mac show that is winning fans all over Australia and within Fleetwood Mac itself heads to Camden Civic Centre Friday April 5.

"The Dreams Show was a breath of fresh air when it comes to Fleetwood Mac tribute shows.. these guys deliver.. Big Time! I was thoroughly impressed from start to finish.. Don't miss this show if you're a Mac fan!"
Dennis Dunstan
Manager Fleetwood Mac (1981-1999)

All the outfits + moves + moving stories + big guitar leads + harmonies that undergird all those iconic Fleetwood Mac and Stevie Nicks songs >>> Go your Own way + Gypsy + Edge of Seventeen + Rooms on Fire + + Sara + Dreams + Seven wonders + Rhiannon + Little lies + You make loving fun + Don't stop + Gold dust woman + Songbird + Landslide + The chain + Hold me + many more!


PATRON WARNING:
Hazer lighting. Children must be accompanied by a parent or guardian. No one under 10 years admitted.
*Subject to change in response to COVID-19 Public Health Orders relevant at the time of the event.
Friday 5 April 2024 7:45 PM - 11:00 PM (UTC+11)
Location
Camden Civic Centre, Auditorium
Oxley Street, Camden NSW 2570