Boroondara School Holiday Bike Skills Program 10-13yo (SOLD OUT)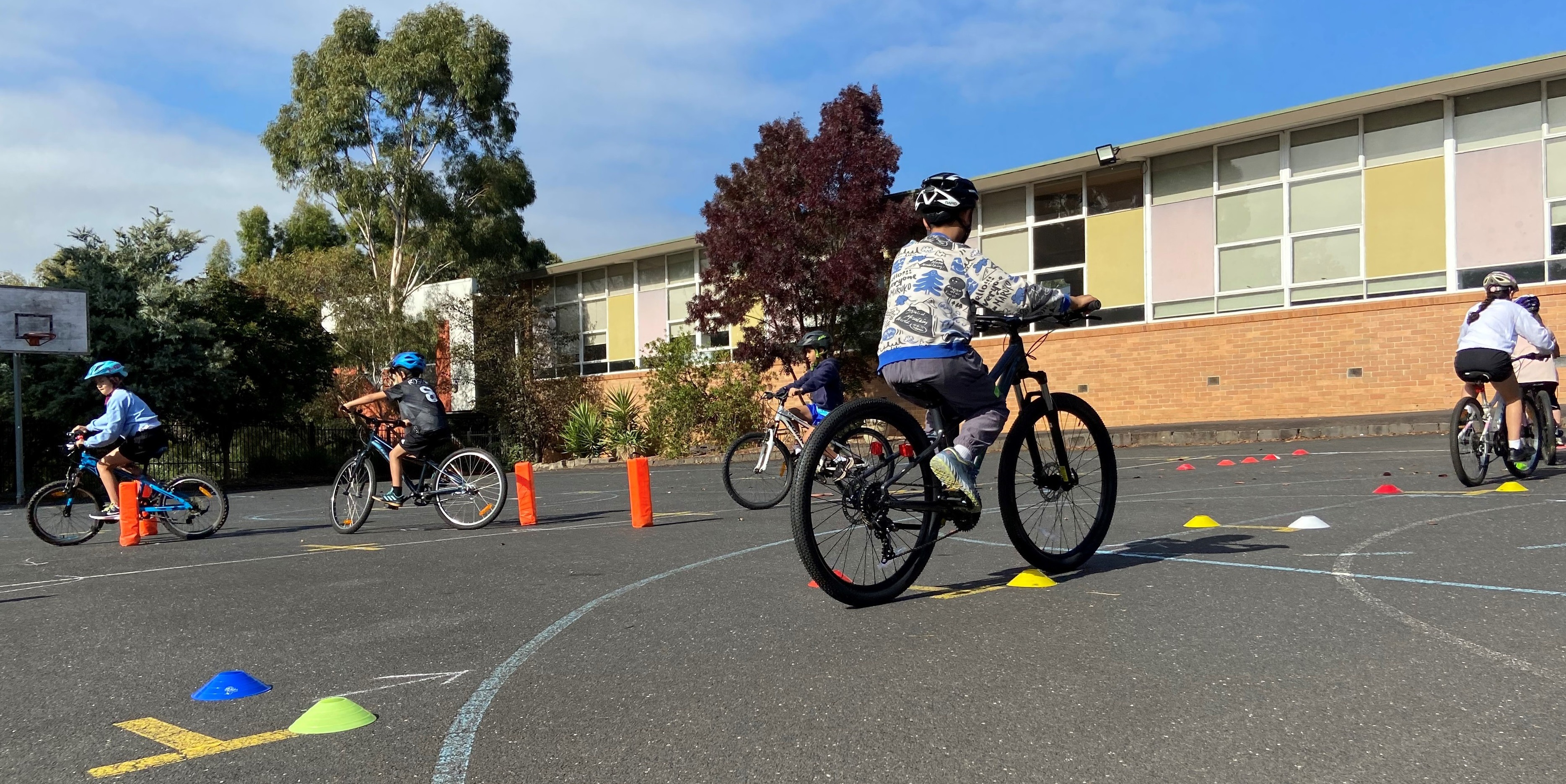 For children aged 10-13yo, this 3 hour workshop is designed to develop bike skills, boost confidence, and promote bike riding as physical activity and an active transport option.
This event is organised by City of Boroondara and delivered by professional instructors at Bike it Better.
Dates & Times:
Friday 22nd September: 1:00pm - 4:00pm
Wednesday 27th September: 9.30am to 12:30pm
Location:
Canterbury Primary School, Molesworth St, Canterbury VIC 3126
Session Details:
This fun and pratical 3 hour session will be held in a traffic-free area and includes the following:
essential and practical bike handling skills
communicating by signalling, scanning, using eye contact
rules and recommendations relating to bike riding on shared paths and roads
defensive riding techniques including: road positioning, navigating intersections and roundabouts, and avoiding obstacles such as tram tracks and car doors
safe journey planning

BOOKING INFORMATION
Bookings are essential. If the session is fully booked, click on the button to add your details to the waitlist.
Cost: $22.50 standard / $11.50 concession for a 3 hours of training in one session.
Financial support is available: contact transport@boroondara.vic.gov.au

COVID SAFETY
Please note these workshops will be run in accordance with all applicable and current State Government COVID-19 restrictions and requirements.

FREQUENTLY ASKED QUESTIONS
Is this program suitable for participants who don't have basic bike riding skills?
You must be able to ride a bike and have basic riding skills (be able to balance and pedal). This is not a learn to ride session.
Is this program open to other age groups?
This session is open to children aged 10-13 years only. Further bike training sessions for adults will be available later in the year. Please email transport@boroondara.vic.gov.au to be added to the mailing list and be notified of upcoming sessions.
What should I bring?
A bicycle of suitable size and type, in good condition with working brakes, a bell and pumped up tyres. If you are unsure, please email bikeitbettercyclecoaching@gmail.com prior to booking.
Australian Standards Approved helmet in good condition
Runners or similar closed-toe footwear
Sun/weather protection
A bottle of water
Snacks
Any medication required
Suitable clothing for physical activity and for the weather conditions
What is the start/finish time?
There are two session options available and you can choose which session to book for you child. They will only attend one of the sessions (not both).
Friday 22nd September - 1:00pm - 4:00pm
Wednesday 27th September - 9.30am to 12:30pm
Please arrive 10-15 minutes early to sign your child in and help them prepare their equipment, and collect your child no later than 10mins after the conclusion of the session.
Due to child safety considerations, it is essential that you (or an assigned adult guardian) are present to sign for your child at the beginning and end of the training. If this is not possible, please contact Cazz (bikeitbettercyclecoaching@gmail.com) prior to the session to make other arrangements.
Where should I come for the training?
Canterbury Primary School, Molesworth St, Canterbury VIC 3126
You will be sent a reminder email with these details and a map of the meeting location a few days before the session.
What if the weather isn't great?
The training will only be cancelled if the weather forecast predicts very wet, very windy or very hot weather. In this event, we will contact you up to 2 hours prior to the start time. If weather conditions deteriorate after training has begun, training activities may be modified or omitted or the session terminated to minimise health and safety risks.
How many other participants will be in the group?
The group size is limited to 10 participants.
Do I have to bring my printed ticket?
No, you do not need to bring your ticket on the day.
What is the refund policy?
We offer refunds up to 48 hours before the workshop. Unfortunately, we are unable to provide refunds after this time unless the course is cancelled. If you require assistance with this process, please call us during business hours on 9278 4515 or send an email to: transport@boroondara.vic.gov.au
Who do I contact if I have any questions?
Cazz Clarke, Cycling Skills Instructor (Bike it Better) on 0421 114 389 or bikeitbettercyclecoaching@gmail.com
Khanh Nguyen, Sustainable Transport Officer (City of Boroondara) on 9278 4515 or transport@boroondara.vic.gov.au

ADDITIONAL SUPPORT THAT MAY BE AVAILABLE TO YOU:
Recipients of Centrelink payments or in social housing may be eligible to participate in this training program at a reduced cost. Please email transport@boroondara.vic.gov.au or phone 9278 4515 to find out more.

PRIVACY
Bike it Better uses TryBooking for all Bike Skills Workshops. When booking with TryBooking, individuals will be required to provide their name and contact details. TryBooking's privacy policy can be found at the Privacy link located at the bottom of this page.
By registering and providing this information, you hereby agree to your data being provided to Bike it Better (the professionals who deliver these workshops) to allow us to confirm event details and access to your emergency contact details.
Bike it Better also shares the data you provide for Bike Skills Workshops with City of Boroondara who have commissioned these workshops, and by registering and providing this information, you also hereby agree to your data being shared with City of Boroondara for purpose of evaluation and future program planning. Contact transport@boroondara.vic.gov.au if you have any concerns with any of these policies.
Location
Canterbury Primary School
Molesworth Street, Canterbury Vic 3126