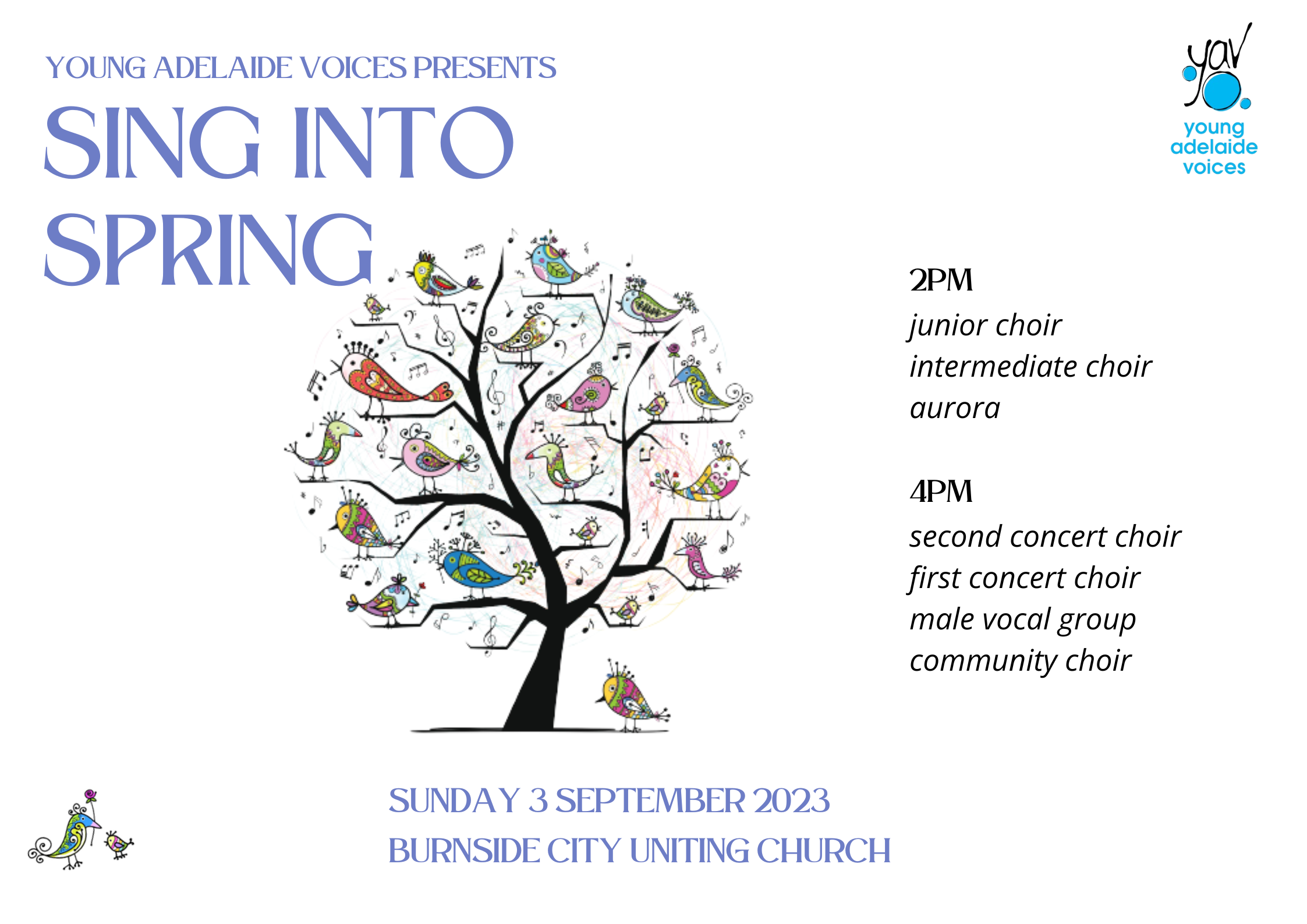 Young Adelaide Voices presents: Sing Into Spring!

Join YAV for an afternoon of music, with two concerts including each choir.

With both concerts running for roughly an hour, you can enjoy one or both to welcome the sunshine back in together.Each concert will include a collaboration, as well as each other groups having their own sets.

Our 2pm concert includes: Junior Choir, Intermediate Choir, and Aurora Vocal Ensemble.
Our 4pm concert includes: Second Concert Choir, First Concert Choir, Male Vocal Group, and YAV's Community Choir.

This will be our Community Choir's first performance together, and we're thrilled to witness and celebrate their love of music and community.

To celebrate the father figures in our lives, YAV is offering grandads a special offer.

We hope to see you there!
Can't make it? Consider donating to Young Adelaide Voices' '35 for 35' campaign!
YAV is a not-for-profit celebrating our 35th year in 2023. All donations assist with YAV continuing to have access to our world-class tutors, music, venues, concerts, events, tours, and more!
Location
Burnside Uniting Church
384 Portrush Road, Tusmore SA 5000
Contact Details
Whilst face masks are no longer mandatory, we strongly recommend and encourage that you wear a mask as you will be in close contact with other patrons.
In purchasing tickets, you acknowledge that there currently remains an unquantifiable risk of transmission of viral illness including COVID-19 at any event and that, if contracted, COVID-19 can have serious health consequences. Despite rigorous capacity and control measures in place, there is no guarantee that the venue will be free from COVID-19 or that there is no risk of COVID-19 transmission at any event. By entering the venue, we confirm that you have considered your own personal circumstances including any health or physiological conditions which may increase your risk of contracting COVID-19, and you have assessed the potential health risk to you and any persons who attend the event with you.
By purchasing this ticket, you accept the Venue Terms and Conditions and any inherent risk related to the transmission and contraction of COVID-19 from any source at the event and release Young Adelaide Voices (YAV) from any liability whatsoever arising out of, relating to or in connection with any transmission or contraction of COVID-19 at the event. By purchasing the ticket and attending the venue you (and any persons who attend the venue with you) acknowledge and accept these risks.