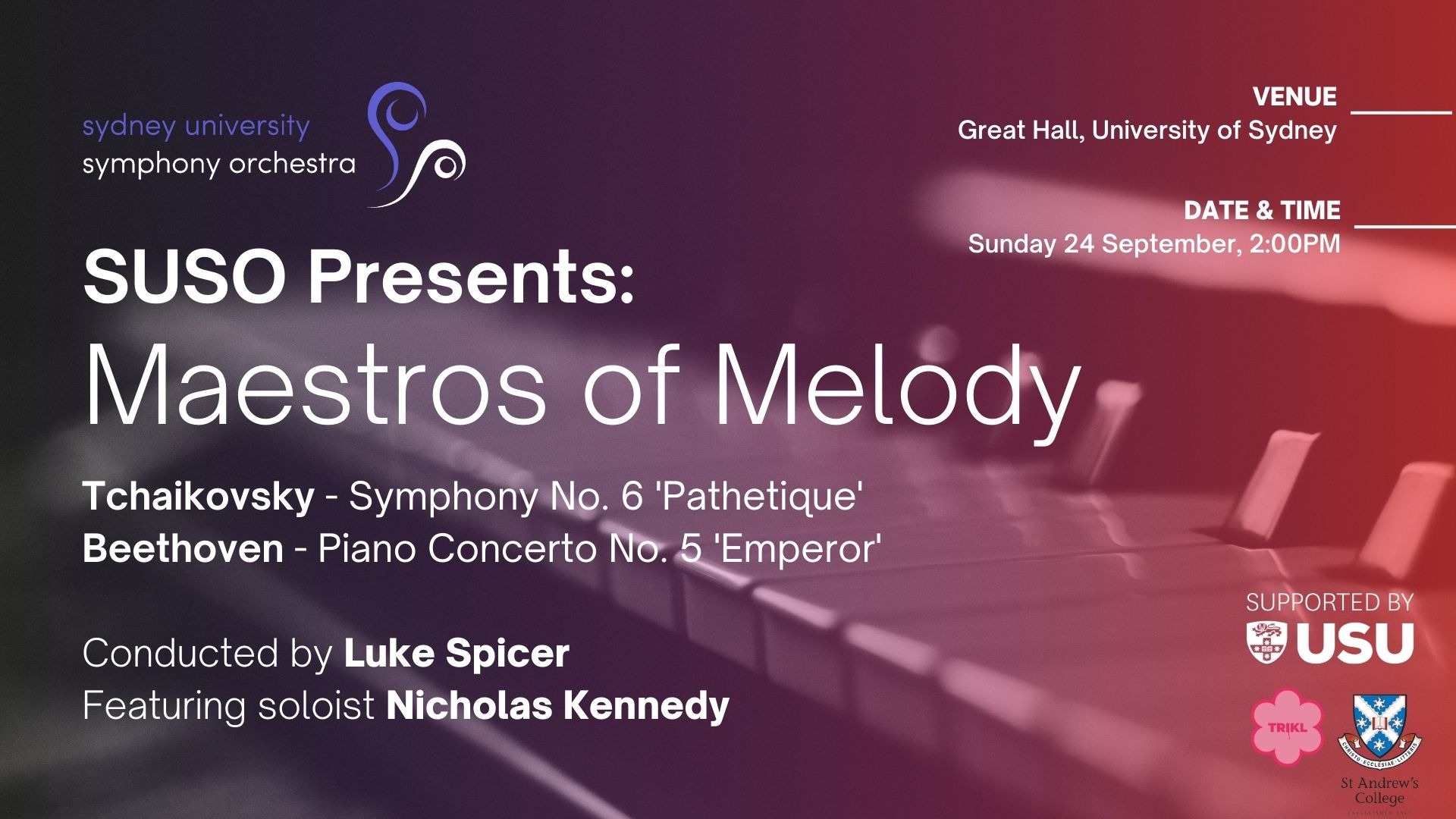 SUSO Presents: Maestros of Melody
Join the Sydney University Symphony Orchestra (SUSO) for 'Maestros of Melody,' a captivating concert celebrating Beethoven and Tchaikovsky. Experience the grandeur of Beethoven's Emperor Concerto and the emotional depth of Tchaikovsky's Pathétique Symphony in the iconic Great Hall at Sydney University.
BEETHOVEN | Piano Concerto No. 5 'Emperor'
Discover the echoes of the Napoleonic era as Beethoven's Emperor Concerto resounds. Composed during a time of political upheaval and societal transformation, this concerto exudes the composer's defiance and triumphant spirit. Feel the energy of Nicholas Kennedy's performance as he navigates the intricate tapestry of Beethoven's creation, bringing to life a piece that once graced the imperial courts of Vienna.
3. Rondo: Allegro ma non troppo
TCHAIKOVSKY | Symphony No.6 'Pathetique'
Uncover the emotional layers of Tchaikovsky's final symphony, the Pathétique. Penned in the shadow of personal struggles and societal changes, this symphony serves as a haunting farewell from the composer. As Luke Spicer leads SUSO through the symphony's heart-wrenching melodies, you'll be immersed in the emotional depths that Tchaikovsky poured into his last opus.
1. Adagio - Allegro non troppo
Luke Spicer - Conductor
Nicholas Kennedy - Soloist
Tickets
General Admission: $35
Concession: $20
USU Members: $15
SUSO Non-Playing Members: $10
NOTE: Seating is unallocated. Any tickets bought online will have to be presented upon entry.
Proudly provided by the University of Sydney Union.
Location
Great Hall
Address: Science Rd, Camperdown NSW 2050