BETTER TOGETHER: Co-Teaching and Collaboration in Inclusive Schools - November 2023 REPLAY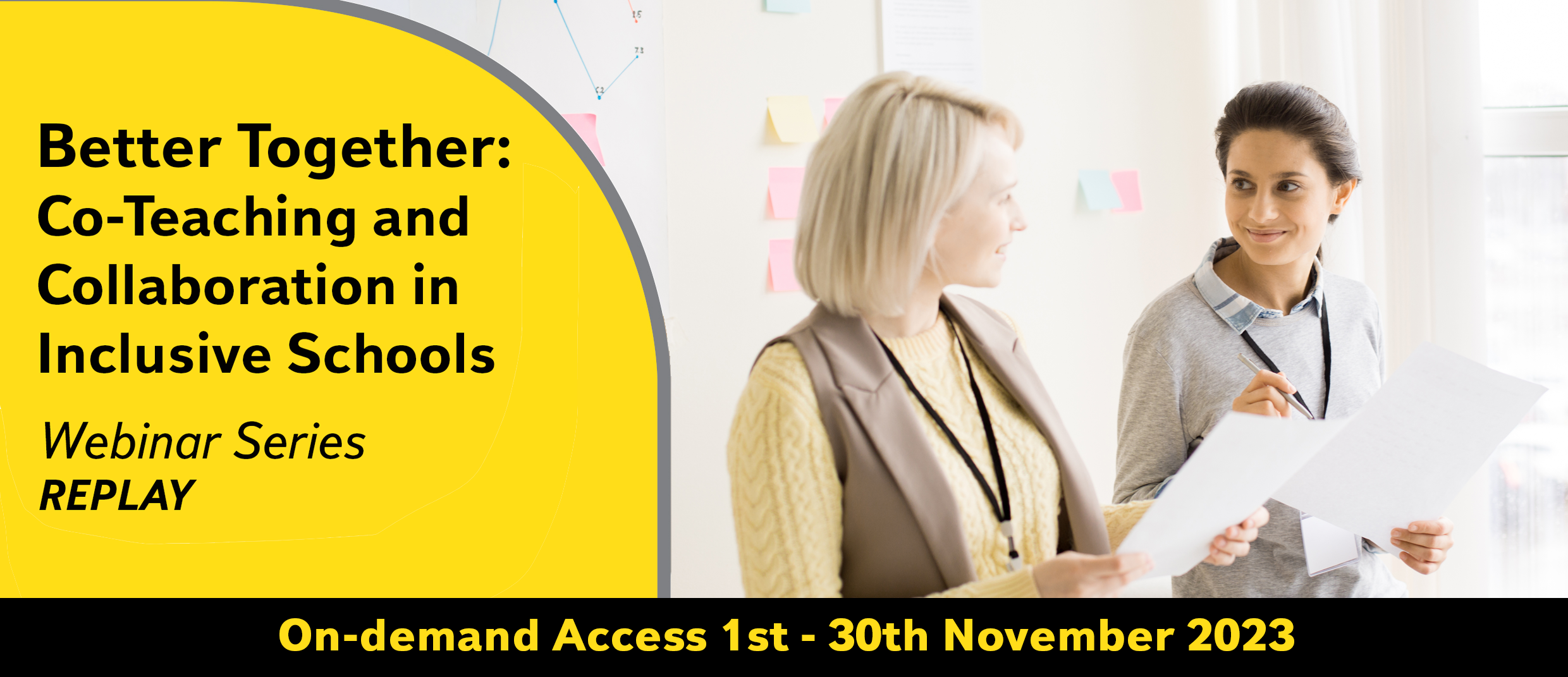 PLEASE NOTE: This course commenced on 1st November. We are still able to accept registrations, however all access will conclude on 30th November. We are unable to offer access to any of the sessions beyond this 30th November.
This is a replay of the Better Together series first held in November 2021.
The Series
The practice of co-teaching continues to gain momentum and is being newly embraced by educators and schools across Australia (and the world!) every day.
Done well, the benefits of co-teaching practices are far reaching: greater flexibility, increased differentiation, improved teacher and learner wellbeing, and continuous professional learning opportunities to name just a few.
If you're looking to start (or strengthen) your co-teaching practice, this is the PD for you. In this webinar series, the Illume Learning team are thrilled to be joined by the queen of co-teaching and collaboration - the amazing Dr Paula Kluth!
Your registration includes:
4.5 hours of on demand online professional development sessions(3 x 90 minute sessions)
Certificate of Attendance
The Sessions
Session One: Together as a Team presented by Dr Paula Kluth
Replay on-demand 1st - 30th November 2023
Participants will become familiar with the critical elements of an effective teaching team. This session is intended to prompt discussion and encourage participants to talk and think about teaching beliefs, roles, and collaborative behaviors. The "why" of co-teaching will be shared as well as relevant research. In addition, teams will learn the benefits of building a relationship with their teaching partners, work through the "Likes, Gripes & Quirks" tool, and consider how to educate stakeholders (e.g., parents, students) about their partnerships.
Session Two: Co-Teaching Structures & Beyond presented by Dr Paula Kluth
Replay on-demand 1st - 30th November 2023
In session two, participants will learn about a variety of co-teaching structures (e.g., duet teaching, one teach/one make multisensory, parallel teaching) and explore dozens of ways educators can work together in shared classrooms. A few ideas for using co-teaching "beyond the structures" will also be shared including suggestions for collaborating during literature circles, project-based instruction and independent work time.
Session Three: Making it Happen presented by Amanda Corby & Rachel Carr
Replay on-demand 1st - 30th November 2023
This session will look closely at what co-teaching and collaboration can really look like within your school and/or classroom. We will examine how to build effective working relationships between teachers, teaching assistants, specialist teachers, and other members of your school team. Practical tips and strategies will be provided with the aim of strengthening inclusive practices and improving student learning experiences. Case studies and first-hand experiences from within the Australian educational context will be featured.
Fees
General registration - $149 per person (incl GST)
Group registration (5+) - $139 per person (incl GST) when registering a group of 5 or more in one booking
Book Bundle - General registration PLUS a copy of '30 Days to the Co-Taught Classroom' by Dr Paula Kluth & Dr Julie Causton (including FREE shipping within Australia) - $199 per person (incl GST)

Terms and Conditions
A web link and unique access code will be provided to the attendee email entered upon registration 24 hours prior to event commencement.

Access is provided to the registered individual only. Session links and access codes can not be shared.

Illume Learning takes no responsibility for emails not received due to errors or typos. Attendees should contact admin@illumelearning.com.au in the event a web link is not received 24 hours prior to event commencement.

Webinar replays will be available until 30th November 2023. No extensions will be available.

Cancellations must be made in writing to admin@illumelearning.com.au

Cancellations received before 5pm Friday 27th October 2023 will be entitled to a refund of the online event fee minus a $30 administration fee.

Cancellations received after Friday 27th October 2023 will not be eligible for a refund.