BUSKERS KIDS DAY -
THANKS TO GEOFF KING MOTORS & HIT105.5/MMM/LISTNR.
THURS OCT 5TH, 2023 .
PARK BEACH RESERVE. ( near the bridge cnr Ocean Parade & Park Beach Rd) COFFS HARBOUR.
Enter from Surf Club car park.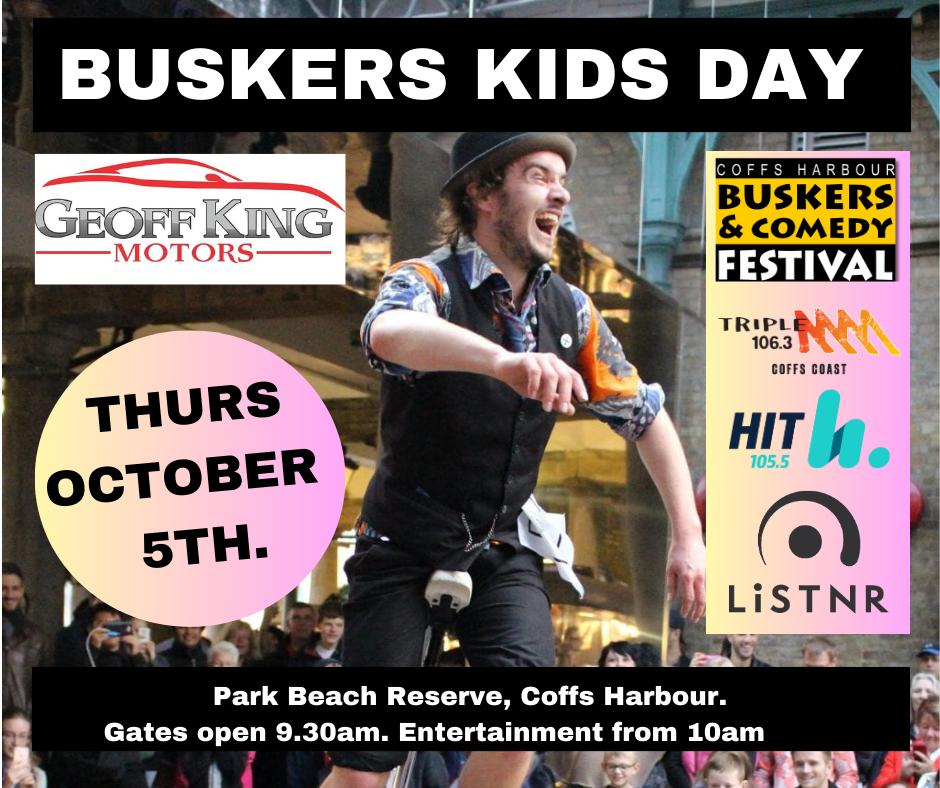 GATES OPEN AT 9,30AM . SHOW STARTS AT 10AM,
INTERNATIONAL & AUSTRALIAN BUSKERS, LOCAL ACTS, DANCERS, ROVING ACTS & MORE.
WET WEATHER. Please note in the event of wet weather the whole event moves to Coffs Harbour Racing Club, same times, same program, same everything. We will notify ticket holders via eamil & the public via facebook, breakfast radio and general media of any change.
Tickets are $10 + small booking fee presale & $12 at the gate on the day.
One adult per paying child admitted free. All children over 18 months to pay.
Entry fee includes all the entertainment - roving acts the Smiley Squad- Floor Legendz breakdance group - Hero Macro from Japan incredible international acrobat - Corey Pickett unicyclist - Tanzanian Foot Juggler Zaina Jafari - the Busking Ballerina - MC Mr Kaboodle ( who will MC the event & do his own show ) - live music duo FYREBIRDS - JRDS dancers junior and senior groups. There will also be children's games which are free once you have paid admission. Buskers do not put out the 'hat' for donations ( this is covered in your paid admission fee) . You only pay for your food/dirnk if you wish to purchase. Gates open 9.30am - runs till 2pm.
Hot and cold food and drink on sale. Patrons may also bring their own food if they wish. Please note this is a smoke and alcohol free event,
WHAT HAPPENS IF IT RAINS - in the event of the liklehood of wet weather - we move the whole show to Coffs Racing Club. That decision will be made the night before at 8pm and he change posted on website ,facoook and covered on radio MMM & HIT 105 first thing on the Thursday breakast show.
YES - you can bring a blanket & a chair
Yes you can bring food /small hamper if you wish.
We prefer it if you buy drinks inside. Water is fine if you wish to bring.
NO - you cannot smoke- NO you cannot bring alcohol.
YES bring a smile and a great attitude.
Are there any jumping castles - no, due to the onerus insurance costs, we are not able to have them.