Australasian Piano Pedagogy Conference 2024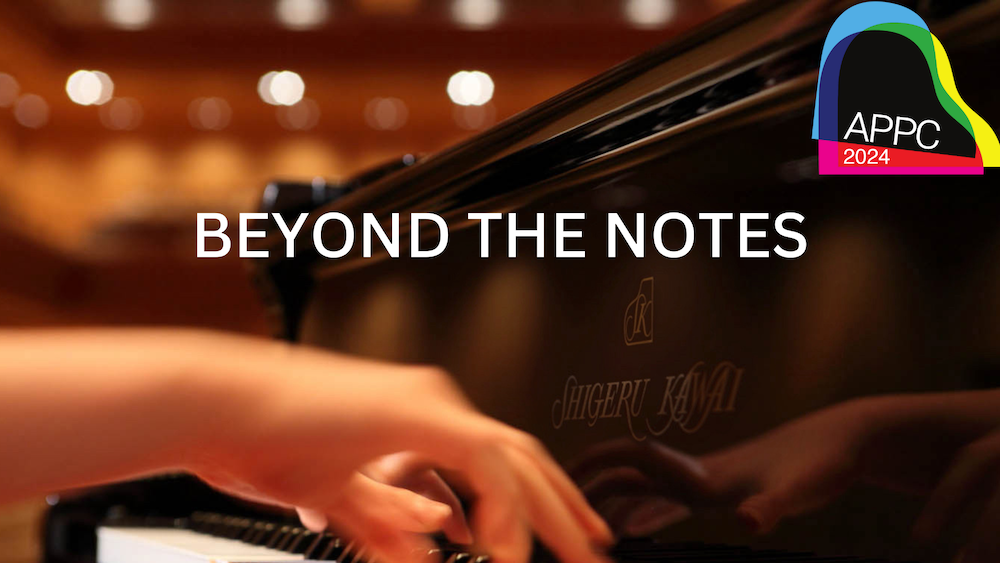 The 15th Australasian Piano Pedagogy Conference (APPC 2024) will be held from Monday July 8 to Friday July 12, 2024 at Monash University, Clayton, VIC, Australia, hosted by the Sir Zelman Cowen School of Music and Performance. With the support of major sponsors Kawai, Hal Leonard Australia, AMEB and Monash University, APPC 2024 will bring together academics, pianists, teachers, educators and students for a packed program of keynote presentations, masterclasses, workshops, concerts, lecture-recitals, academic and practitioner papers.
Keynote presenters and recitalists include Katherine Zeserson (UK/Brazil), Piers Lane (UK), Lisa & Lori Bastien (USA), Melanie Spanswick (UK/Hong Kong/Singapore), Rae de Lisle (Aotearoa New Zealand), Murray McLachlan (Chetham's School of Music, UK), Susan Tomes (UK), Professor Margaret Barrett (Monash University, Melbourne), Konstantin Shamray (Elder Conservatorium, University of Adelaide), Ian Munro (Australia) and Aura Go (Monash University, Melbourne).
The 2024 conference theme, Beyond the Notes, is an opportunity to expand and deepen our professional practice as pianists and teachers by exploring creative, imaginative and embodied approaches to the development of pianistic expertise, to the study of repertoire, to the development of students' creative agency and to the development of inclusive teaching practices. It is an opportunity to share unjustly neglected areas of the repertoire, to encounter diverse perspectives, and to learn about healthy, sustainable and holistic approaches to piano playing and how we may enact these to support students of all ages and levels. We look forward to welcoming colleagues from around the world to this stimulating week of shared learning!
When
From Monday July 8, 2024 (Registration from 4pm, followed by Official Opening, Concert and Cocktail Reception) to Friday July 12, 2024 (ending at 3.30pm that day).
Where
Sir Zelman Cowen School of Music and Performance, 55 Scenic Boulevard, Monash University, Clayton, VIC, 3800, AUSTRALIA.
Monday and Tuesday evening recitals are at the Alexander Theatre, The Ian Potter Centre for Performing Arts, 48 Exhibition Walk, Monash University, Clayton, VIC 3800, a 3 minute walk away from the main conference venue.
Types of Attendance
Full Conference Registration: Adult or Full-time Student, Early Bird discount applies to both!

Single Day Attendance - choose to attend one or more single days of APPC2024. Morning/afternoon teas, lunches, plus all recitals and masterclasses are included in both Full Conference and Single Day Attendance.

Or attend an Individual Recital, including the free Monash University APPC Composition Prizes Concert on Friday July 12, 2024.

Two separately ticketed events: 1- Conference Dinner, on Wednesday July 10, 2024, commencing 7.00pm at an off-campus restaurant and 2- Cocktail Reception at The Count's, Monday July 8 at 7.30pm, following the Opening Night Recital by Piers Lane, are also available.
Click on the 'Register Now' Button to see how you can experience all that APPC 2024 has to offer!
Further Information
Go to the Conference Website for more information, including how to register for the 2024 Monash University APPC Composition Prizes, the Call for Papers & Presentations, Sponsorship Opportunities, more about the Invited Presenters, options for Accommodation, etc.
Sessions
SESSIONS
DESCRIPTION
STATUS