ACA QLD/NT - Lunch with Elizabeth Watson-Brown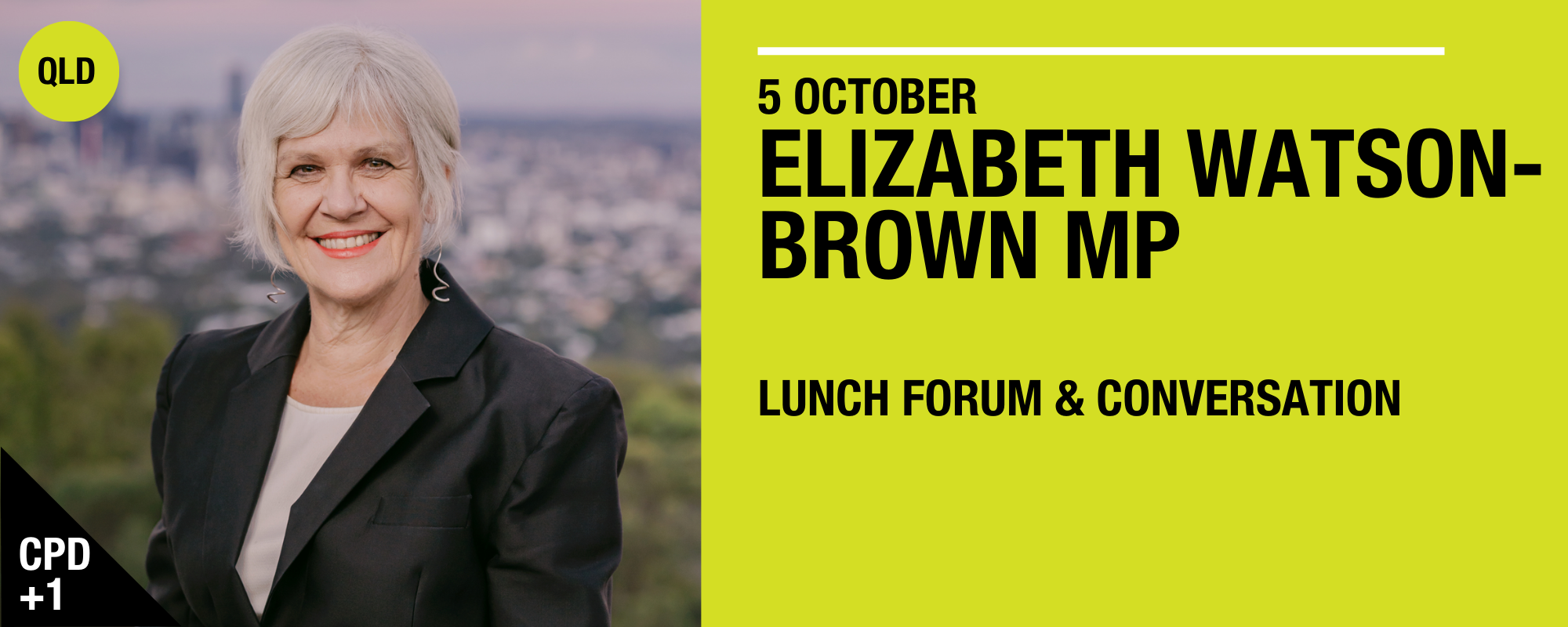 The ACA QLD/NT Committee is delighted to host a lunch forum on 5 October with guest speaker Elizabeth Watson-Brown, former architect & current MP for the electorate of Ryan in Brisbane's west. Don't miss it.
This special lunch presentation offers ACA members and the wider profession a unique opportunity to hear directly from current MP for Ryan, Elizabeth Watson-Brown in an interview with University of Queensland Senior Lecturer Kelly Greenop. Come along to hear about Elizabeth's life and career in architecture and her relatively new role as the Greens MP for Ryan in Brisbane's west. Learn about her current priorities in her portfolios of Infrastructure, Transport and Sustainable Cities, as well as the opportunities and challenges of life in politics.
OUR SPEAKER
Elizabeth Watson-Brown is the Federal MP for the electorate of Ryan, on Brisbane's west side. Before she came to politics, Elizabeth had a long professional career in architecture and urban design. She ran her own successful practice in St Lucia and Auchenflower for 21 years, then becoming Design Director of a leading national firm for nearly 10 years before entering semi-retirement.
Her awarded design work has focused on sustainable design of our built environments, urban resilience, accessibility and social equity. Elizabeth is also a Life Fellow of the Australian Institute of Architects, an Adjunct Professor at the University of Queensland, and has been a member of independent expert panels advising state and local governments.
Location
University of Queensland Brisbane City
308 Queen Street, Brisbane Qld 4000
COST
Members/Non-Members $90/$110 Incl GST
Light lunch and refreshments included
CPD
Participation and completion of learning outcomes in this event will deliver 1 formal CPD point.
AACA Competencies: Practice Management and Professional Conduct – PC1, PC3 and PC16
Learning Outcomes: to be provided prior to the event