Aunty Blue & Ally Row (double header)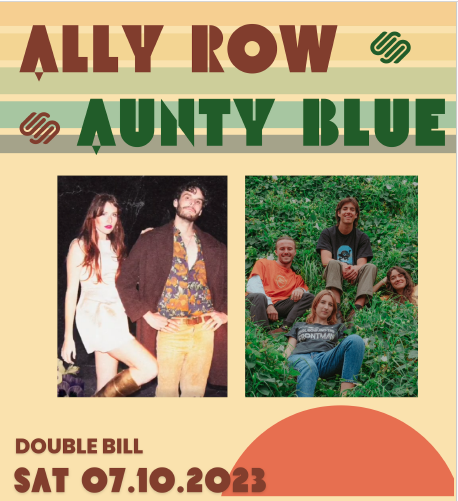 AUTNTY BLUE & ALLY ROW (double header)
SHOW STARTS 8:00PM (DOORS OPEN 6.00 pm FOR BIG EARS YUMMY PIZZA...card facilities available)
Allocated table seating applies. Bookings under the same name will be seated together.
BYO drinks
BIOGRAPHY:
AUNTY BLUE
Grown from the golden plains of regional Victoria, the rolling hills of NSW and far reaches of South Africa, AUNTY BLUE are launching heart-first into Melbourne's independent music scene. Their debut single "Dylan" has warmed the hearts of many and is the first track to be released from their much anticipated EP.
ALLY ROW
Currently based in Gippsland, Ally Row are an indie pop-folk duo changing the narrative of what it means to be 'indie-pop'. Multi-instrumentalists, they perform velvety vocal harmonies alongside blissful guitar and piano, with lustful and modernised elements of banjo, harmonica and stomp box.

Always with a strong hook, their orignial material evokes a dreamy and synergystic mix of emotive song-making and story-telling. And for the Mumford and Sons, The Civil Wars, Sons of the East, Angus and Julia Stone and Of Monsters and Men fans out there.... Ally Row are the next artists to follow.

The duo recently completed their tour of the East Coast after a booked out 2022 schedule; showcasing as Battle of the Buskers Finalists at Buskers by the Lake, Buskers by the Lake Fest, Cairns Fest, Tablelands Folk Fest, Munkey Fest and opening for Blue Mountains music troubadour Jonathan Bone.

And back in Gippsland, their tour schedule is as business as ever with appearances on Triple M Gippsland and ABC Gippsland radio stations... and then taking out the 'winners title' at the busking competion in the prized Port Fairy Festival Street Fair.

Set to play at the 2023 Patchewollock Music Festival with further details to come before October nominated to perform at 7 Layers Festival in Amsterdam later in the year, Ally Row is gaining popularity and interest at Triple M Gippsland and ABC Gippsland radio stations. Following their award winning single 'Bare feet' out since April, their latest and highly anticipated new release The King is Just a Clown is out on August 17, 2023.

For more information regarding music releases and tour dates, visit their website:
www.allyrow.com.au

COVID GUIDELINES:
if you are experiencing any of the following symptoms: - Fever, - Runny Nose, - Sore Throat, - Cough, - Chills, - Shortness of Breath, - Loss of Smell or Taste'. PLEASE STAY HOME Thankyou.
LOCATION
Sandy Point Community Centre
Church Parade, Sandy Point, Victoria 3959

CONTACT

Sandy Point Music- email: sandypointmusic@gmail.com, facebook: sandypointmusic