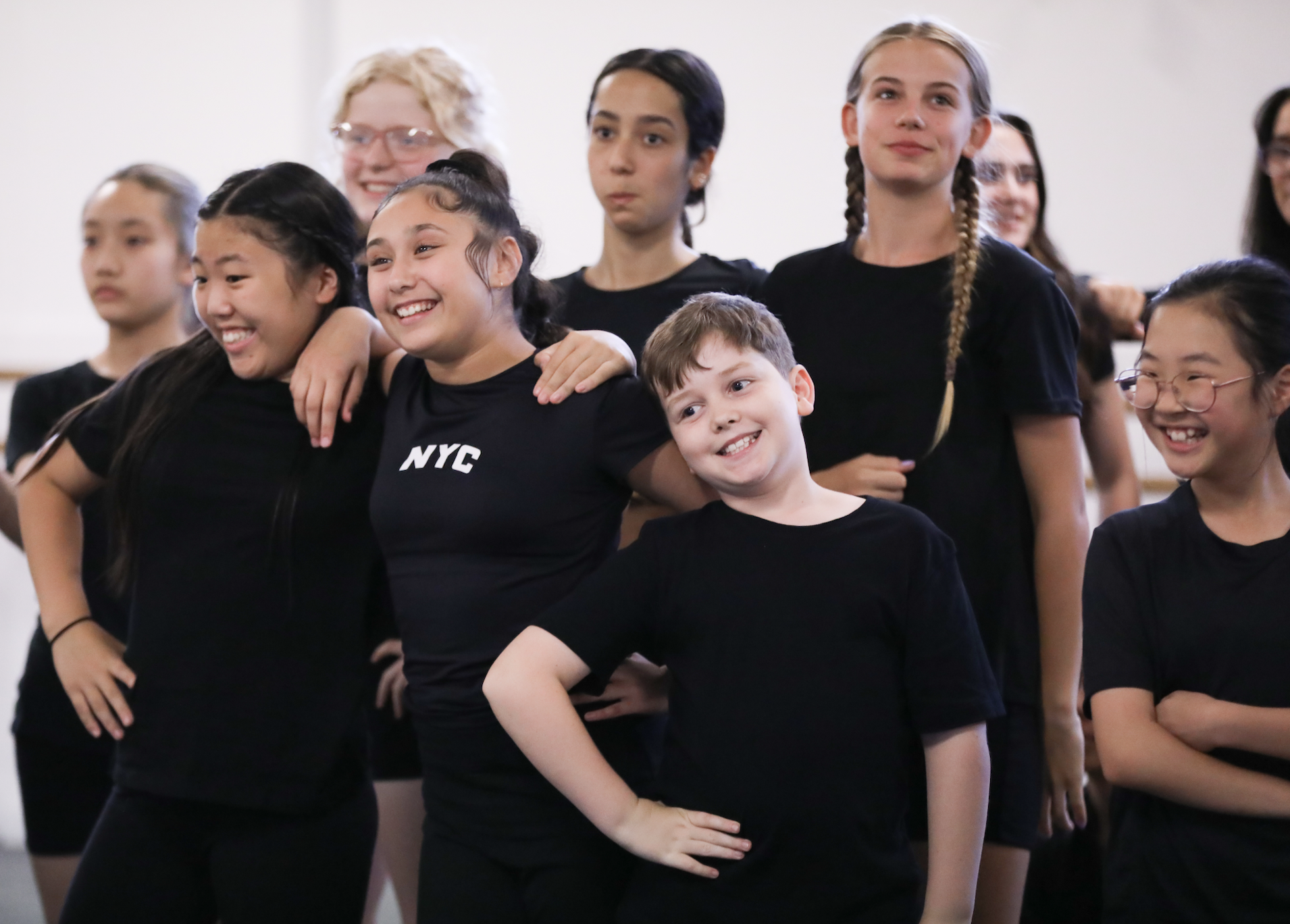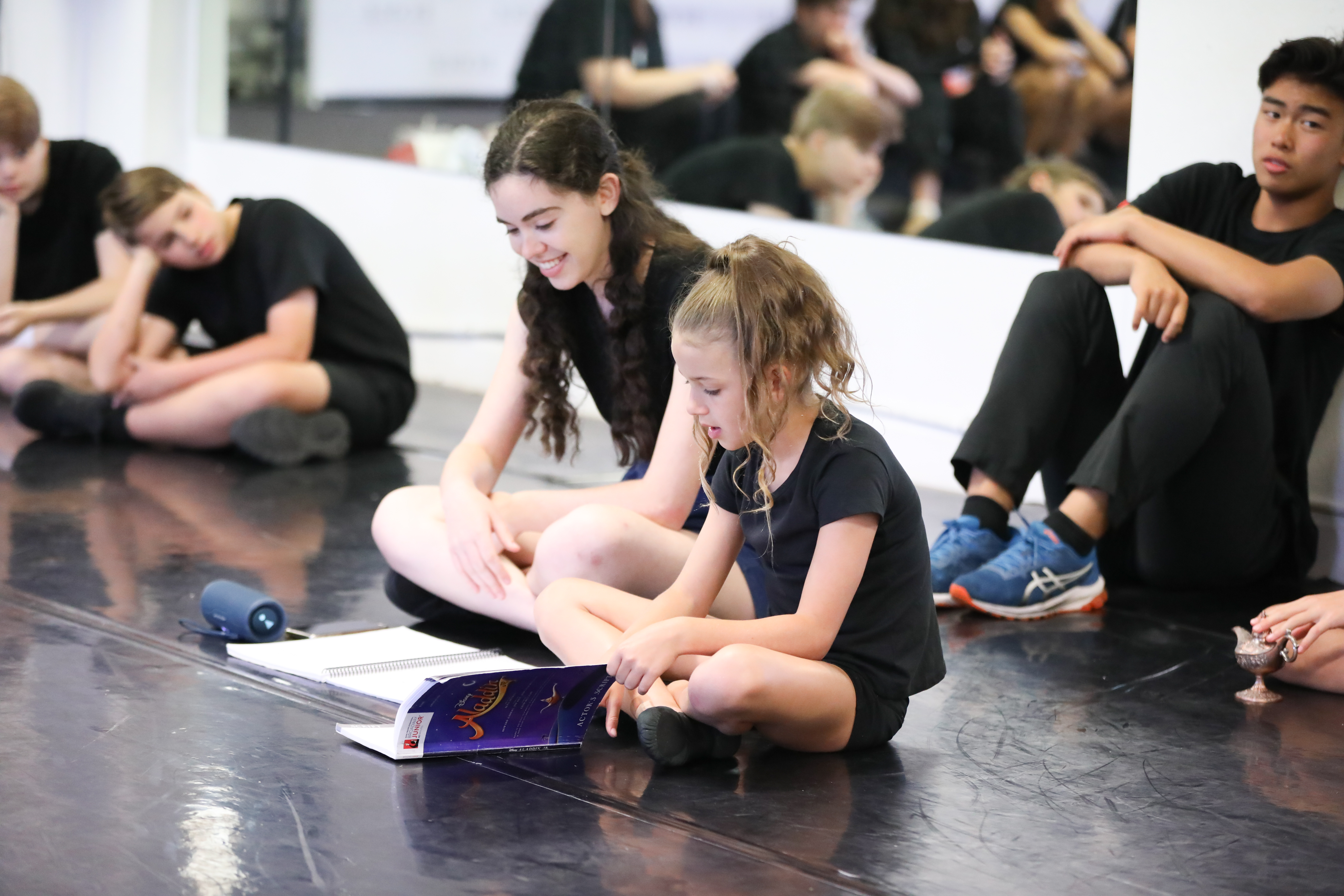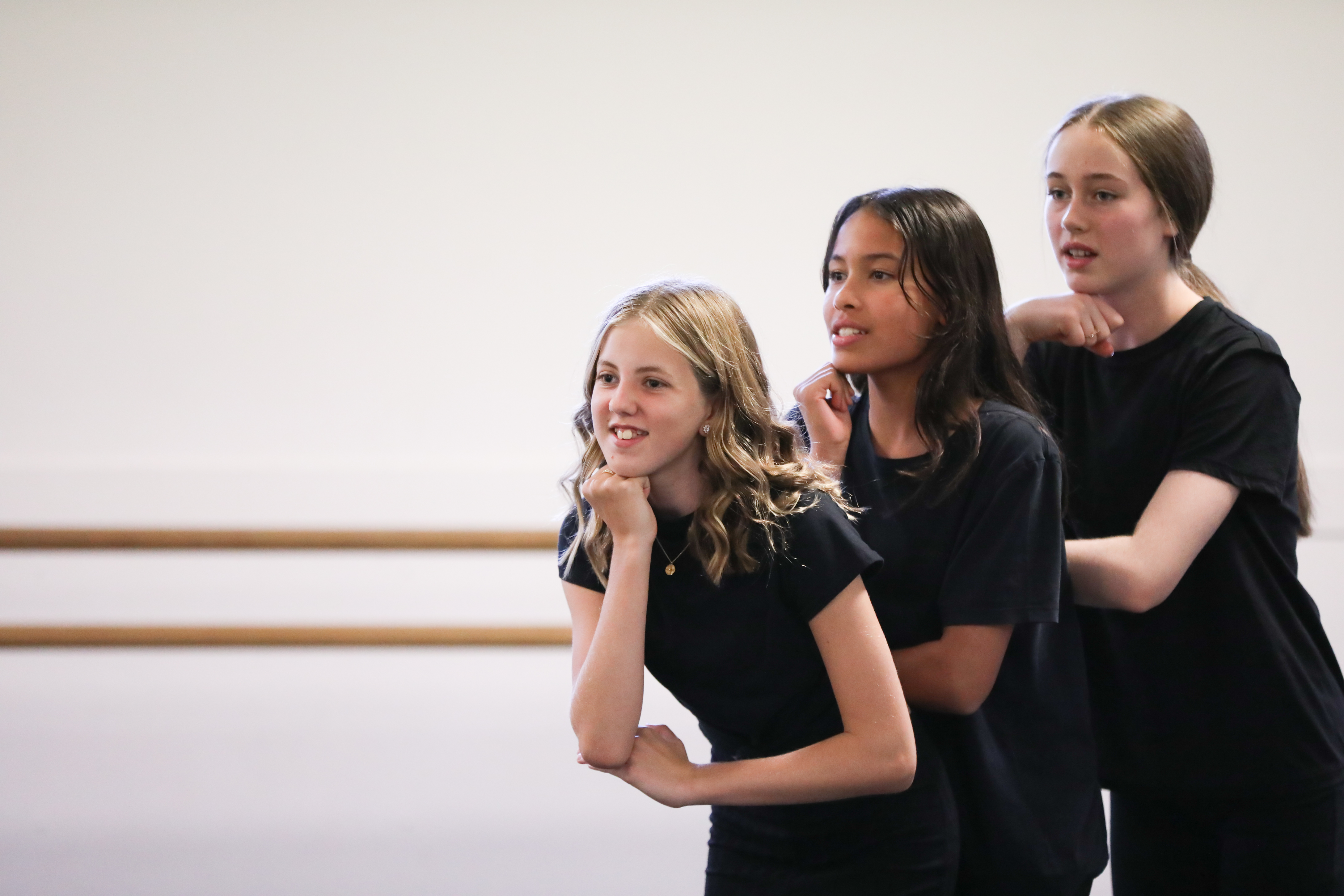 North Shore Theatre Company presents
Youth Musical Theatre School Holiday Workshop
Monday 2nd October to Wednesday 4th October **Spaces Strictly Limited**
North Shore Theatre Company is proud to present an exciting 3-day musical theatre workshop! For students aged 10-18, students will engage with our instructors in engaging and fun sessions in dance, acting and singing to enhance their abilities and help them gain new skills and confidence. Students also have the opportunity to engage in Audition Masterclasses, preparing them for the world of auditions in community and professional theatre alike.
With over 70 years of producing community theatre, NSTC is one of Sydney's oldest theatre companies. While we produce shows for all ages, post the success of our most recent youth production 'Aladdin Jr' we were overwhelmed with the requests for more youth opportunities. We are now proud to be giving young theatre lovers a fun and educational 3-day holiday workshop! All facilitators have strong experience in working with 10-18 year olds and all have valid WWCC.
What's included over the three full days?
Sessions will run 9:30am to 3:30pm, Monday 2nd October to Wednesday 4th October

3-4 x 1 Hour - 1 Hour & ½ sessions in dance, acting, singing (plus daily morning warm-up and afternoon cool down)

Audition workshops with one on one feedback

Mock audition with a panel of instructors who regularly sit on audition panels

Professional headshots**

Professional recording of Audition workshops & mock audition for students to use for their own personal use/showreels**

Professional recordings of dance combinations for students personal use/showreels**

Audition backing tracks cut and emailed for future use***

Audition cuts sheet music***
What will the sessions look like?
Audition Masterclass
The audition masterclass will introduce students to what can often be known as the daunting part of theatre - auditions. The sessions will teach students how to choose appropriate audition material, how to cut their sheet music/find and cut audition backing tracks, how to present their vocal auditions, how to walk into the room and interact with the audition panel etc. During the first two days, students will have the opportunity to workshop 2 contrasting audition pieces with our industry professionals - all of whom have been apart of casting panels. In day three's session the students will participate in a mock vocal audition, allowing the students to put their newly learned skills into immediate practice using their choice of one of the two songs that were previously workshopped. At the end of the vocal auditions, students will also participate in a brief dance call audition, with the idea of learning choreography and presenting it quickly being explored in their previous dance workshops.
Dance Sessions
Dance is a huge part of theatre, with many shows utilising hundreds of styles to tell its stories. Our workshops will give your child a glimpse into styles they're likely to encounter as they enter the world of theatre productions. Each day will be led by one of our three industry professionals. Each class will start with a warmup, followed by fun dance combinations, with each day varying in styles including classic theatre jazz, contemporary music theatre, fosse/cabaret, character + more. Students will have the opportunity to have their dance combinations professionally recorded to use for their social media and audition reels if they so choose to.
Singing Sessions
What is a musical without singing?As an integral part of the arts, our vocal workshops will teach and enhance students' music theater style singing by exploring different vocal techniques, warmup exercises, breathing exercises, and ensemble style singing using harmonies, unison and canons. Over the course of the three days, students will exposed to a range of genres including classical/legit theatre, Contemporary musicals & Disney, & Mega Musicals.
Drama Sessions
Musical theatre is often referred to as the dramatic arts - so naturally, acting comes with the territory. The drama workshops will introduce and enhance students abilities with script reading, characterisation, and ensemble work with scripts. Throughout the course of the workshops, students will be exposed to varying styles of theatrics including comedy, soliloquies, commedia dell'arte/vaudeville, slapstick, mime + more. Students will have the opportunity to explore these in both solo and ensemble settings.
Example of a Daily Schedule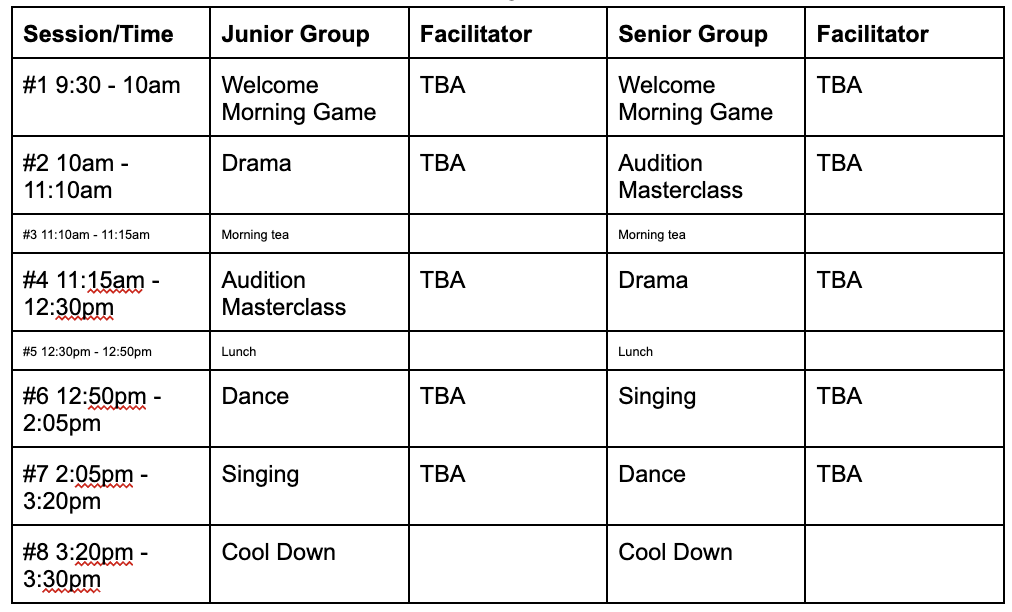 Location
Roseville Uniting Church, 7A Lord St, Roseville NSW 2069 **All questions and queries should be directed to info@northshoretheatrecompany.org, Please do not contact the church directly.
Pricing
3 Day Workshop with all inclusions above $199.00 Per Child - You can redeem your NSW Creative Kid Voucher with us bringing price down to $149.00 per child.
Please note a booking fee will be added at the end by TryBooking.
All pricing is per child. We are not offering group or multiple children discounts at this time.
**We recommend booking as soon as possible as spaces are strictly limited. The last day to purchase will be 26th September.**
FAQs
Q. I have more questions!
A parent info pack will be sent about 1-2 weeks prior to start of workshop. This will include names & bios of facilitators, lots more information on classes and what is required for the audition masterclass including examples, special requirements/allergies we need to alert all students/parents of etc. If you have an urgent question or something specific to check, please email us at info@northshoretheatrecompany.org
Q. What if my child doesn't own dance shoes?
That's ok! Students will be permitted to dance barefoot in lieu of dance shoes. Our dance floors are softened tarquette and are safe for bare feet - no sneakers, sandals, thongs or heels will be permitted
Q. Can my child buy lunch?
It is preferred that your child brings a packed lunch as there are limited food options within walking distance. If your child is over the age of 13 they may leave the venue during the break for food however they will be unsupervised during this time. If you wish for your child to have permission to leave the venue during the breaks please fill out the attached permission slip and return with your child on the first day.
Q. My child has an allergy and/or special requirements.
There will be a further application form which we will provide to you once booked so you can provide us with more information.
Q. What if I don't have sheet music?
If you cannot access sheet music for your child's preferred audition pieces please email info@northshoretheatrecompany.org.au and let us know so that we can aim to source music for you.
Q. How will my child play their backing track for their audition?
Backing tracks can be supplied via USB sent with your child. Alternatively, our team can look up the music on youtube - however USB is preferred for ease of classes.
Q. Can I stay and watch?
Unfortunately there is no accessible viewing area for parents on location. You're welcome to sit in the waiting area if you choose to
Q. My child has never done musicals/musical theatre before, will they be ok?
Absolutely! Our instructors are well versed in catering to children with all levels of skill and abilities, and we have created a programme that caters skill levels from absolute beginner all the way to pre professional.
** Inclusions available to students attending all three days of the workshop
*** Inclusions available to students attending all three days of the workshop. Please email sheet music, backing tracks/youtube links for backing tracks NO LATER than September 30th by emailing info@northshoretheatrecompany.org.au with the subject line 'Childs name backing track/sheet music - masterclass'
Additional Info
What to bring:
Water Bottle

Lunch & healthy snacks

Comfortable active wear - preferably all black

Soft soled dance shoes

X1 Contemporary Ballad audition piece with printed sheet music

X1 Uptempo Music Theatre audition piece with printed sheet music

Backing track for audition songs - USB

Pencils

Small notepad or workbook

Folder for sheet music and scripts

Can do attitude!