The Boîte presents East of West & SARAY Iluminado Femme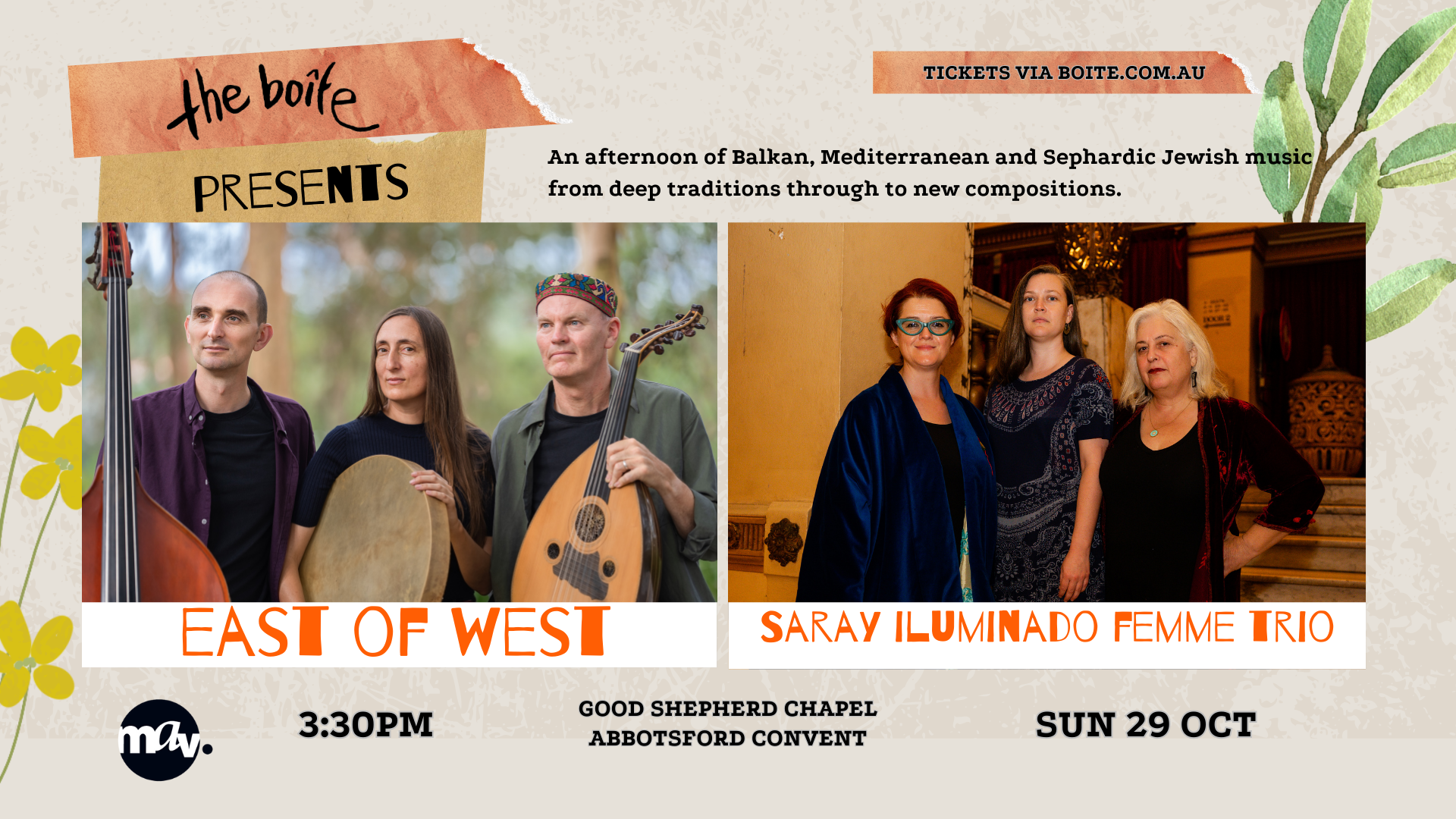 The Boîte presents East of West & SARAY Iluminado Femme live at Good Shepherd Chapel, Abbotsford Convent.

The Boite and MAV offer a wonderful Sunday afternoon of Balkan, Mediterranean and Sephardic Jewish music as Queensland trio East of West and Melbourne's Saray Iluminado Femme join in a double bill of contemporary music informed by deep traditions. East of West, on the southern section of their East Coast tour to launch their new album, 'Moving Home' bring their new Balkan and Mediterranean influenced compositions (with a hint of jazz) to fresh audiences, while Saray Iluminado Femme will be offering their haunting and powerful diasporic reimagining of Sephardic Jewish Romances and Sevdalinka songs. An afternoon of music not to be missed!
East of West is a world/jazz trio led by Bosnian-born composer Goran Gajić (double bass), with Philip Griffin (oud, laouto) and Malindi Morris on (percussion).
East of West's second album 'Moving Home', released in June 2023, offers a fresh set of original compositions by Bosnian-born double bass player Goran Gajić. Over the four years of their collaboration, the trio's musicians have developed an intuitive musical relationship which emerges through their exciting dynamic interplays and expressive soloing, interspersed with moments of mesmerising musical sparseness.
East of West's compositions and improvisations primarily draw from the rich musical influences of the Balkans and Mediterranean, creating beautiful story-telling melodies spun over traditional rhythms, open solos and improvisation. The trio's musical dialogue creates a unique atmosphere, blending to create a sound that will awaken in the listener a sense of mystery and possibility…

Website: https://www.eastofwestmusic.com/
SARAY Iluminado Femme is a trio derivative of the ensemble SARAY Iluminado, a Melbourne based group that specialises Sephardic Jewish and Sevdah, the traditional music of Bosnia and Herzegovina. The trio started by making an appearance at a women's iftar gathering in 2017 and has operated ever since featuring predominantly, but not exclusively, at women's events.
The group explores contemporary, diasporic reimagining of Sephardic Jewish Romances and Sevdalinka songs. Similarly to the five-piece version of SARAY Iluminado, the Femme Trio creates a playful sound-field for the musical musings of its members, welcoming musicians who come together in love and respect of each other's musical and cultural traditions. The Femme Trio made their European debut at the Sicilian traditional music circuit in August 2019. In 2021, SARAY Iluminado Femme led the project 'The Resonant Heart', a multidisciplinary performance event performed in Melbourne for International Women's Day, featuring 12 international artists currently based in Melbourne. In 2023, the trio lead the second iteration of this project, performed at the Salon of the Melbourne Recital Centre for International Women's Day. This work is now available for touring and further presentations.

Website: https://www.sarayiluminado.com/
This project has been assisted by the Australian Government through Creative Australia, its principal arts investment and advisory body.
Sunday 29 October 2023 3:30 PM - 5:30 PM (UTC+10)
Location
Good Shepherd Chapel, Abbotsford Convent
1 St Heliers St, Abbotsford VIC 3067