Psychosocial Safety in Practice - CPD On Demand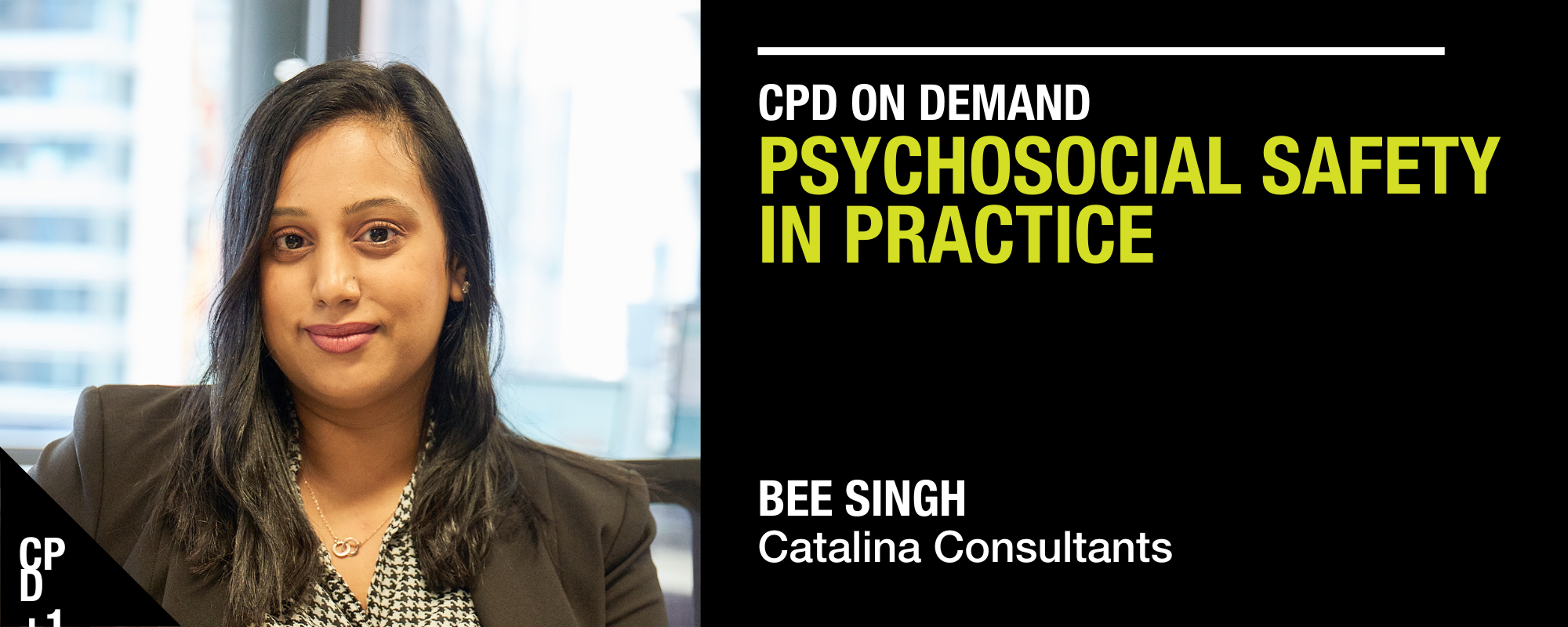 What does psychosocial safety mean and what are the requirements for managers and businesses under new Work Health and Safety regulations? View this webinar featuring Bee Singh from Catalina Consultants, to learn more about meeting your obligations and embedding a supportive culture in your practice. Originally held 26 July.
Psychological health has been part of the Work Health and Safety Act 2011, however from April 2023, legislative amendments came into effect that placed a stronger obligation to manage psychosocial safety at work. These laws apply to all sizes of practice, and are relevant to business owners, directors and those with managerial responsibility. To help you better understand the requirements and actively manage this issue within your policies, procedures and practice culture, our expert speaker covers topics including the following:
What is the difference between psychosocial safety and psychological safety?
How do you define psychosocial hazards and psychosocial risks, and what are some common examples?
How do you manage psychosocial risks effectively?
What are the impacts of the new psychosocial hazard regulations?
What are the responsibilities of employers and employees?
How important is reporting?
What practical measures can be put in place to support positive workplace mental health?
What are some examples of situations that may impact mental health at work?
Our Speaker
Bee Singh is Seinor HR Advisor at Catalina Consultants and brings over 13 years of industry experience. She comes with a background in HR and business strategy, working in the Australian and global landscapes. Bee enjoys leading her clients through effective people processes and providing advice and solutions to develop the strategic direction of the business. With a business and HR degree, Bee has a solid academic foundation and a true generalist background. She has spent the last few years consulting and understands the true impact great HR initiatives and plans can have for any business.
COST
Members $30
Non-members $60
*One ticket per attendee.
CPD
Completion of this 1 hour webinar and submission of the self-checked assessment task will deliver 1 formal CPD point.
Learning outcomes: Following completion of this webinar, attendees will have a better understanding of psychosocial safety, obligations for businesses and managers under this new legislation and how to effectively meet WHS duties and manage psychosocial hazards and risk in practice.
Units of Competency and Performance Criteria: Practice Management and Professional Conduct – PC 1
APBSA Core Area: Practice Management
Links will be provided for recording access and CPD questions. Please complete questions after viewing the webinar in its entirety. Certificates will be provided following online submission of answers to questions.