Concert 5 2023: The Worth of My Music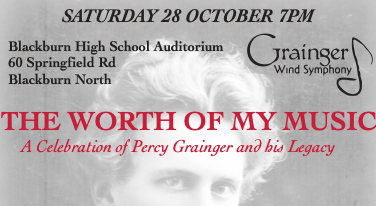 About
Soloist Leo Nguyen will play the famous Grieg Piano Concerto in A minor, a work that Percy Grainger's interpretation as a virtuoso pianist was renowned.
This concert is built on the theme of Percy Grainger questioning the worth of his music. The works selected tell a story about the influence of Percy Grainger on the musical world, his legacy.
The program includes works by Grainger, Grieg, Ellington, Sculthorpe, Stephen Foster, de Cabezon, and Delius. It has been curated by conductor Shane Walterfang.
Patrons are encouraged to bring a cushion to sit on as the seats are uncomfortable!
Date
Saturday 28 October 2023 7:00 PM - 8:45 PM (UTC+10)
Location
Balckburn High School Auditorium
60 Springfield Road, Blackurn North Victoria 3129