Gong Puja – All night Gong Bath Ceremony!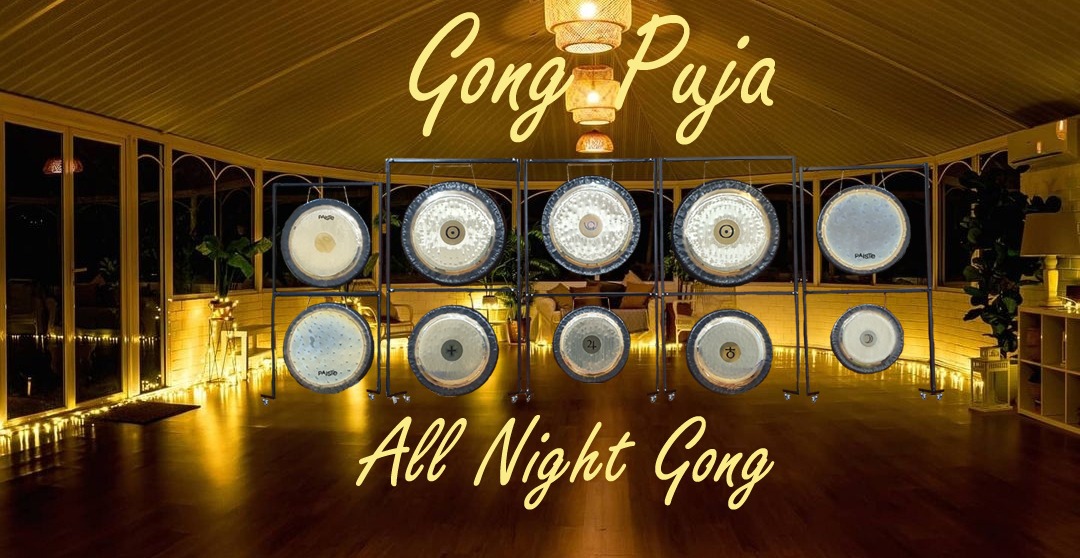 What happens during a Gong Puja?
Four Gong players take turns to provide an uninterrupted flow of sound & vibration from 10.30pm until 6am (Tickets $295 including breakfast) During this time, you are welcome to rest, sleep or meditate within the Gong space. The Gong Puja promotes a deep sense of peace and well-being, strengthening of the nervous system, balancing of the chakras & increased energy & vitality. Being immersed in the vibrations of the Gong is incredibly relaxing, rejuvenating and creates an opportunity to repair, rebuild, unlock and unblock, expand & create freedom from mental/emotional and/or physical issues. You will be "awake within a dream."
Schedule
9.15pm: Arrive to set up your space

9.30pm: Opening Meditation

10.00pm: Heart opening Cacao ceremony

10.30pm: Gong Puja commences- 7.5 hours of continuous Gong

6:00am: Observe silence; beautiful healing experience to integrate

6:30am: Nourishing breakfast & sharing circle

7.30am: Gong Puja ends
What do I need to bring?
Wear comfortable warm clothes to move around and sleep in

Bedding (inflatable beds, sleeping bag or duvet and pillow)

Eye mask / Water bottle / Journal

Water bottle / low light torch

Ear plugs if you are a light sleeper (snoring is likely). Ear plugs
will not prevent you from receiving the vibrations
MEET YOUR HOSTS
KOHRA HILDEBRAND from VIBRANT-HEALTH
holds an Advanced Diploma in Kinesiology, as well as a Diploma in Integral Group Sound Healing. Kohra has been facilitating individual and group sound healing sessions since 2017, including Gong Yoga (Yin Yoga & Sound Healing) Yin Pin Gong (Yin Yoga, Acupuncture & Sound Healing) Cacao & Sound Healing, and she has co-hosted numerous residential Wellness Retreats. She is passionate about helping individuals to discover and create their true power and potential with the healing powers of Sound & Vibration. www.vibrant-health.net.au
ANDREW COX from TREEMENDUS HEALTH
holds two diplomas in Integral Sound Healing with the international Sound Healing Academy and also teaches Sound Healing for the Academy in Western Australia. He is an accredited Meditation Teacher with the Meditation Society of Australia and holds a diploma in Kinesiology from the O'Neill Kinesiology College in Perth. A lifelong musician and collector of musical instruments, Andrew currently conducts two weekly Sound Healing and Meditation events in South Perth and Joondalup along with regular educational workshops. For more information, visit www.treemendushealth.com.au
SERVANE COX from TREEMENDUS HEALTH
Servane Cox, the other half of Treemendus Health, holds a Bachelor of Health Sciences (Naturopathy) degree and the gong mallets to complement Andrew's shamanic drumming. Servane has been playing gong for almost five years and when not creating sound baths, has a keen interest in iridology.
MARY MARMION-RIMELL
Mary has a deep love of the physical & emotional experience of the vibrations and resonance of sound. Mary created a meditation group after the passing of her husband, Mark, and has since expanded her sound healing into using selfegeio pipes & crystal singing bowls, and has completed advanced Gong playing with Mehtab Benton in 2018. She works at the Mt Romance Sound Cone in Albany sharing her hearts desire of playing the Gong.
​
We hope you'll join us for this very special event. No experience of Gong Puja or any belief is required to attend, simply bring an open heart and mind and enjoy this unique life changing experience. Strictly limited to 25 participants.
Please Note: Gong Puja is not suitable for anyone with a

pacemaker, anyone who suffers from fits (epileptics), anyone

who is extremely sensitive to sound, or for women in the first

trimester of pregnancy. If you wear a hearing aid, your device

should be turned off during the session.
We have a 'No Refund' policy with the purchase of each ticket. However, you can give your ticket to someone else for them to take your spot at the circle dated on your ticket
Join us for this extraordinary event to experience profound energetic shifts & reap the deeply healing effect of the Gong. A Gong Puja honors & allows space to heal in mind, body & spirit. During a Puja, 10 x 45-minute Gong Sound sessions are played continuously, as you sleep through the night; bathed in the low-level healing sound vibrations from multiple Symphonic & Planetary gongs. Created by Yogi Bajan and Gong Master Don Conreaux, it is believed that a 45-minute Gong session can clear energetic blocks; while 10 consecutive gong sessions can shift deep blockages & allow for profound & transformational healing.
Saturday 28 October 2023 9:00 PM - Sunday 29 October 2023 8:00 AM (UTC+08)
$295 Per Ticket including Breakfast
Location
The Raw Space
78 John Street, Henley Brook Western Australia 6055