YAV Christmas Carols Choir 2023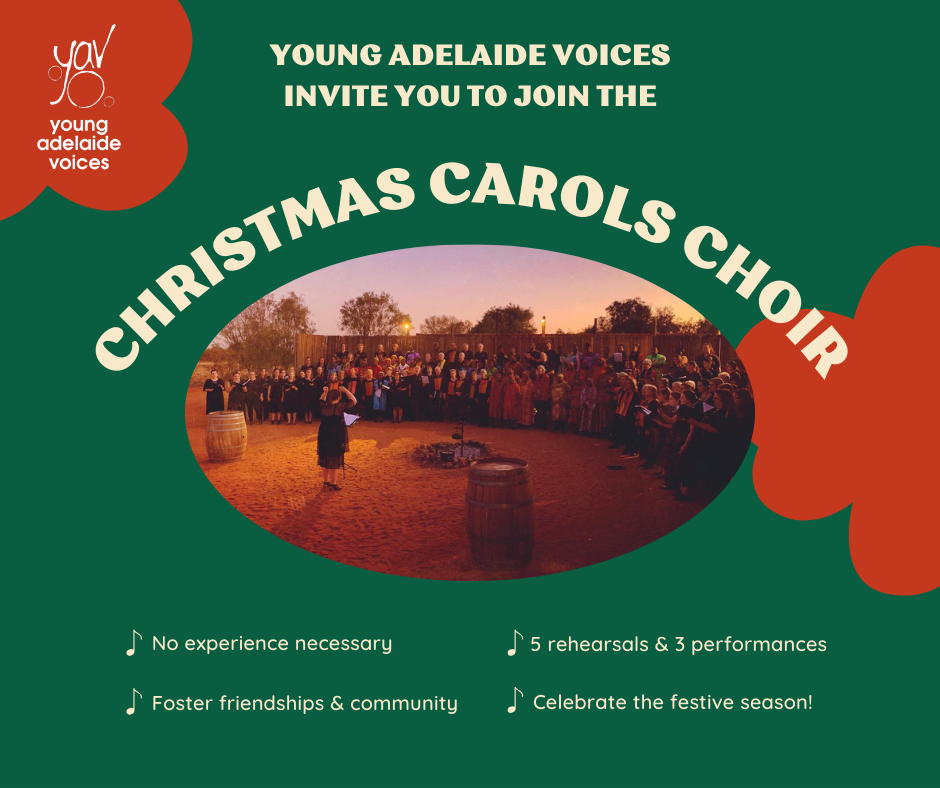 The YAV Christmas Carols Choir is an adjunct of the seasonal Community Choir and is a fun and more informal opportunity for members of the community to join with others and go carolling together.
This Christmas Carols Choir brings together people of varied experience and musical ability in an encouraging and sociable environment.
No prior singing experience or music reading ability is necessary, simply a love of music, singing Christmas carols and connecting with community. Printed materials will include sheet music and lyrics to suit your preference.
REHEARSALS
Week 1, Wednesday 8 November, 6.45pm - 8.15pm
Week 2, Wednesday 15 November, 6.45pm - 8.15pm
Week 3, Wednesday 22 November, 6.45pm - 8.15pm
Week 4, Wednesday 29 November, 6.45pm - 8.15pm
Week 5, Wednesday 6 December, 6.45pm - 8.15pm

PERFORMANCES WILL INCLUDE APPROX. x3 CAROLLING PERFORMANCES
Details to be provided
What to bring?
- A black folder for your music (something like this is fine)
- A pencil
- A drink bottle
Location
Burnside City Uniting Church
384 Portrush Rd, Tusmore SA 5065
NB: Please park in the Burnside City Council Library capark across the road
Contact Details
Terms and Conditions
Thank you for registering for Young Adelaide Voices: Christmas Carols Choir 2023. Please read these Terms and Conditions carefully. If you do not understand, or do not accept, any or all of the terms or conditions, please contact Young Adelaide Voices on choiroffice@yav.asn.au
1. I confirm that I have requested Young Adelaide Voices to enrol me for the Christmas Carols Choir Program and will pay all registration fees associated with the program. I acknowledge that the program is based on minimum numbers and if these are not achieved, I will expect a full refund.
2. I give my consent for videos and photos to be taken during the YAV Christmas Carols Choir. These videos and photos may be used by Young Adelaide Voices for marketing and promotional material.
3. I understand that all resources shared with me are for educational purposes and that I will not reproduce any part of these resources without seeking permission from the presenters and Young Adelaide Voices.
4. I agree that I will stay away from the event if unwell with COVID or COVID symptoms. Depending on the details of your situation, you may be eligible for a refund - please contact choiroffice@yav.asn.au for consideration. If any sessions are cancelled by YAV, a full refund will apply. Please note that COVID protocols will be adhered to in the running of the sessions.
5. I acknowledge and agree that subject to law, Young Adelaide Voices does not accept any liability for personal injury, property damage or loss sustained by participant at the Program (except in the case where such liability is a direct consequence of a negligent act or omission of Young Adelaide Voices and its staff).
6. I acknowledge that Young Adelaide Voices is committed to the safety, wellbeing, participation and empowerment of children and young people in accordance with the Department of Child Safety, Youth and Women. Young Adelaide Voices has zero tolerance of child abuse or harm.
7. I acknowledge that in order for Young Adelaide Voices to create the Christmas Carols Choir, it is necessary for me to provide personal information. Young Adelaide Voices takes privacy seriously. We will at all times collect, store, use and disclose your personal information in accordance with the Privacy Act 1988 (Cth), the Australian Privacy Principles.