Introducing
Mr Morton and Mr Oliver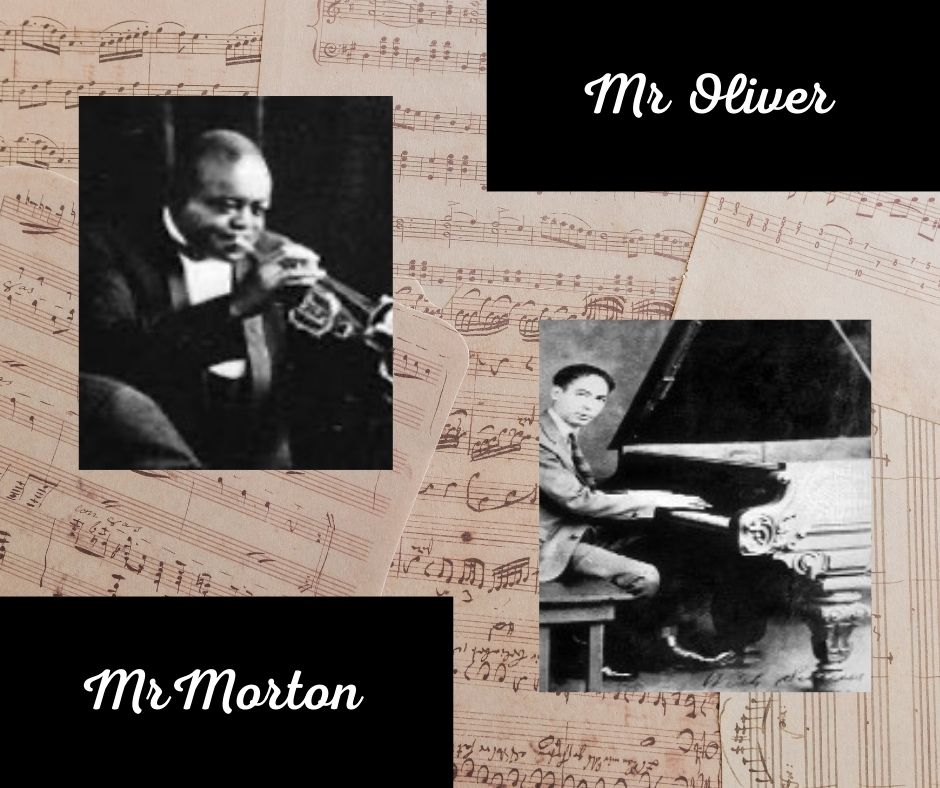 Celebrating Two Luminaries of Traditional Jazz
Thursday 23rd November 2023 1.00pm
Majestic Theatre, 3 Factory St, Pomona
Members $25 – Guests $30 + booking fee
'Jelly Roll' Ferdinand Joseph Morton played guitar, trombone then piano and as a vocalist he began playing in New Orleans 'sporting houses' around the turn of the century.
He is regarded as the first true jazz composer producing tunes such as The Chant, Snag It, Winin Boy Blues, Milenberg Joys and many others that became inspirational standards.
Joseph 'King' Oliver was a pioneering jazz trumpet and cornet player. As a bandleader he played an instrumental role in the popularization of jazz outside of New Orleans. As a composer his hit tunes included, Canal St Blues, Dr Jazz and Snake Rag. His 'Creole Jazz Band' was joined in 1922 by 21-year-old Louis Armstrong as second cornetist.
This concert provides a nostalgic glimpse of the type of band and the music played at the Majestic Theatre Pomona, when it opened its doors in 1921.
Two of Australia's most accomplished musicians, Ian Smith (trumpet/washboard/vocals) from Melbourne and John Braben (trumpet) from Brisbane, will take you on an escapade that pays homage to the brilliance of Mr Morton and Mr. Oliver. Joined by Chris Schnack (trombone), Paul Williams (clarinet/saxophone), Bernice Haydock (pno), Glenn Flenady (bjo/guitar), Richard Stevens (sousaphone) and Rod Andrew (drums), guarantees an afternoon of rollicking 'Hot Jazz' from the Golden Era
The Theatre opens at 12 noon and the concert commences at 1.00pm until 3.30pm with a 1/2 hour break between each set.
If you would like to become a member of the Noosa Heads Jazz Club for $20 - you can Sign up Here
Ticket prices: $25* for Members & $30* for Guests - *plus booking fee
Thursday 23rd November at 1.00pm
Location
Majestic Theatre
3 Factory Street, Pomona, Queensland 4568