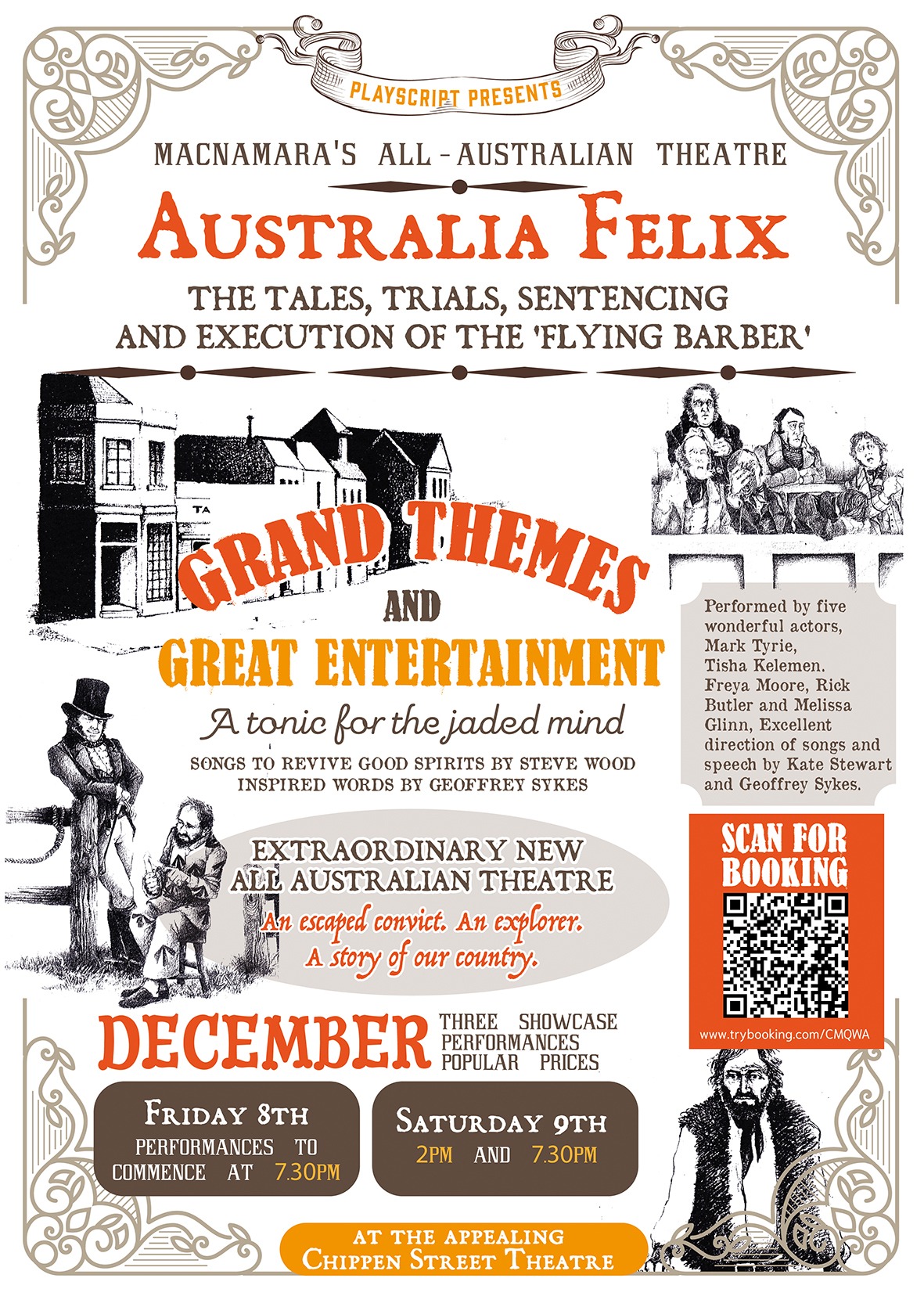 About
Australian theatre and history re-imagined. A remarkable story of a runaway convict, life with tribes in the bush, magistrates, a leading government explorer and a landowner. What could go wrong? Told by a travelling theatre company of the time, on the eve of the execution of the convict. An updated account of values and visions in early Australia, that resonates with current debates. It has a strong cast, and well scripted songs and dialogue.
Cast Rick Butler, Melissa Glinn, Tisha Kelemen, Freya Moore, Mark Tyree.
Songs composed by Steve Wood
Musical direction Kate Stewart
Direction by Geoffrey Sykes Assistant director Kate Stewart
Three showcase performances at Chippen Street Theatre, Chippendale Sydney
........................................
The show uses the format of a nineteenth century group of travelling players (MacNamara's Travelling Theatre), and a rich mix of songs, poems and dialogue, to tell its story, presumably on the eve of the execution of its George Clarke, a convict. The show is a reimagining of the style and stereotypes of colonial society and performance. It seeks to refresh knowledge and values of a slice of early Australian history.
There were a good number of runaway convicts in the early colony of NSW, and this play concerns the life of one of them - George Clarke, also known as 'The Flying Barber'. As other runaways his ability to live with aboriginal tribes and survive beyond the boundaries of settlements worried the government - These wild rebels challenged the law and morality of colonial society.
Clarke is unusual in living with 9 tribes over a 4 year period, and assisting them finding food when pastoral settlements caused hunger. Clarkes, like other successful runaways, proved to be a great explorer, and his claims to have found a great inland river came to the attention of Thomas Mitchell, the NSW Survey General. Clarke was given a reprieve from punishment as a bushranger while Mitchell went off on a full expedition based on Clarke's advice and maps. The play embellishes the fantasy type tale of Clarke, and his later life at Norfolk Island and Van Diemen's land where he was executed, as a fable of Australian identity and values. The association of the two explorers - Clarke and Mitchell - becomes the context for a rich play of values and ideas that resonate today.
Dates
Friday 8 December 2023 - Saturday 9 December 2023 (UTC+11)
Location
Chippen Street Theatre
Chippen Street, Chippendale NSW