RETURNING BY OVERWHELMING POPULAR DEMAND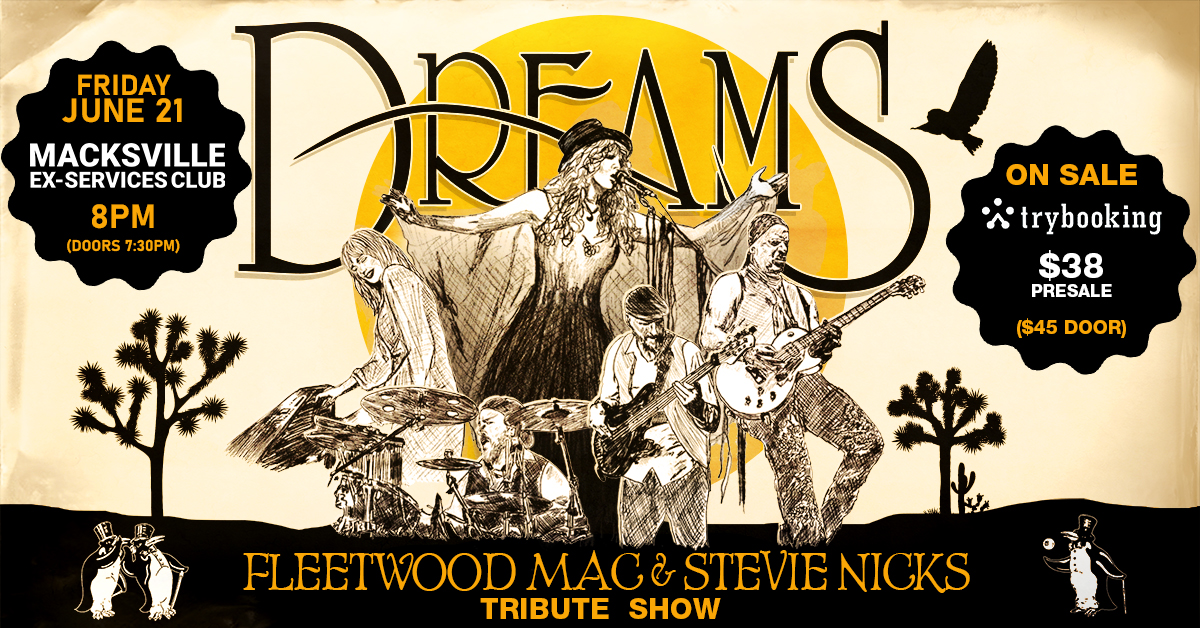 Coming to Macksville Ex-Services Club on Friday 21 June is The Dreams Show! It's your ticket to experiencing the magic of Fleetwood Mac and the captivating solo career of their leading lady, Stevie Nicks.
Since its launch in 2017, Dreams has gained massive acclaim, both from fans across Australia and from within the Fleetwood Mac team itself. Dennis Dunstan, Fleetwood Mac's Manager (1981-1999), applauded the show, stating:
"The Dreams Show was a breath of fresh air when it comes to Fleetwood Mac tribute shows.. these guys deliver.. Big Time! Don't miss this show if you're a Mac fan!"
Surrender to the enchantment of Dreams, as we create a Fleetwood Mac Tribute spectacle with everything from outfits to choreography to guitar leads to harmonies to songs anecdotes & of course all their iconic songs. Enjoy monumental classics like 'Go your Own way', 'Gypsy', 'Edge of Seventeen', 'Rooms on Fire', 'TUSK', 'Say you love me', and many others.
BOOK YOUR TICKET HERE. TICKETS $38 + BOOKING FEE
Please note: Book carefully as we do not refund for a mistake made in the booking, if you change your mind or if you or any member of your party suddenly get sick or cannot make it for any reason. This program charges a booking fee on completion of transaction after which a confirmation will be sent to you. If for any reason you don't receive confirmation, send us a message via the link below & we will email straight to you. Bring your ticket/confirmation with you to the event on the night for seating allocation. Please note that in the event of cancellation your tickets will be refunded (less booking fee). If the event is rescheduled for any reason including Covid or weather related event, any refunds will be available for thirty days only from the time of announcement of this return date. Under 18s may attend provided they are in the presence of an adult at all times. If buying for an under 18 person, just buy an extra ticket ( same price). We conside minimum age to be 12 years, & remember it is a licensed venue & we do not recommend you bring really young children.
CONTACT DETAILS FOR THIS EVENT