'Tis The Season to Shop Local

Intimate Christmas Shopping Trading Hours - by Appointment
FREE EVENT -
This is a ticketed event, no door sales available.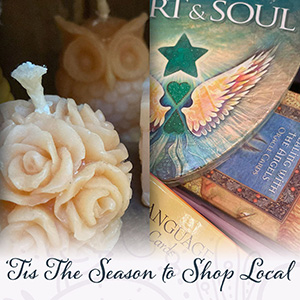 What if we told you Christmas was a month early this year?
What if you could have a few weeks up your sleeve to breathe, relax and plan your holidays?
What if we could show you a way to make shopping for gifts for your loved ones as STRESS FREE as possible?
What if we could actually add value to the experience by offering FREE gift wrapping, a cup of organic tea or coffee, a huge range of hand-chosen, beautiful, ethical, sustainable gifts, all wrapped up in the beautiful setting of our "Gifts of Gratitude" Shop in Perth Hills. And a guaranteed SMILE ♥
No crazy parking, not a shopping trolley in sight, no long queues, no grumpy sales assistants, no piped Christmas carols and not one single Santa with a knee-full of crying kids!!
Start early!
We're OPEN by appointment on the following Mondays, Thursdays, Fridays and Saturdays - and we are happy to offer a Layby payment plan to make shopping with us easy for you.
And we're definitely telling ourselves that Christmas is a month early this year. Try it with us and let's rejoice in a stress-free lead up to Christmas.
"When you shop from a local business, an actual person does a little happy dance"
The Sound Temple, 100 Marshwood Pl, Sawyers Valley WA
FREE EVENT – By Appointment Only. This is a ticketed event, no door sales available.
Date: Thursdays, Fridays, Saturdays and Mondays from 2nd November to 30th November
3:30pm-6:30pm - Mondays, Thursdays & Fridays
11am-2pm - Saturdays
Includes: A cup of organic tea and coffee.
Contact Details:

The Sound Temple 0474 555 444
The Sound Temple - 100 Marshwood Pl, Sawyers Valley