HERITAGE DAY SHUTTLE RIDES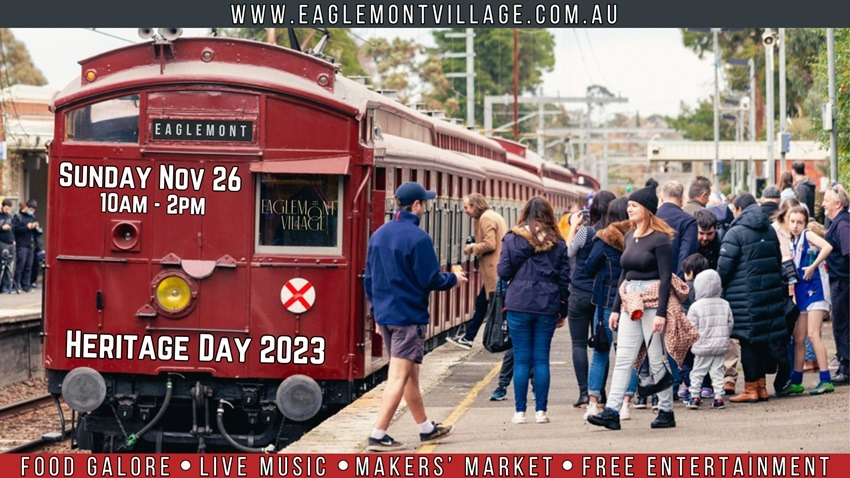 About THE HERITAGE DAY EVENT:
All aboard the Heritage Day Train!
Travel in style aboard a restored Tait Electric Train to Eaglemont Village's Heritage Day celebration on Sunday 26th November. For a relaxed day out with family and friends, leave the car at home and jump aboard the Red Rattler at Flinders Street Station and journey through the northern suburbs to the 96 year old village situated to the foot of Eaglemont Station.
Disembark the train and follow the crowd on the short 2 minute walk as they make their way to the charming village where the festivities take place. The Heritage Day celebrations kick off at 10am with food aplenty, makers' markets, live music, and free entertainment. Entry is free for all.
Enjoy barista style coffee from one of the village cafes, explore the quaint precinct by joining the free 'First 50 Years' walking tour conducted by Heidelberg Historical Society, grab a bite to eat from the many food outlets, check out the art exhibition hosted by Heidelberg Artist Society, and perhaps take in the tunes from local musicians whilst enjoying a cold beverage, before making your way back to Eaglemont Station for your departure to Flinders Street Staion at 3.00pm.
One way transfer trips will depart at the following times:
Flinders Street Platform 3 (9.51am) to Eaglemont arriving at 10.11am
Eaglemont Platform 2 (3:00pm) to Flinders Street arriving at 3.30pm
But wait, there's more! Be entertained by Watsonia RSL Pipes & Drums Band from 10.30am.
Catch roaming acts: Andy's Antics, Cha Ching! Quartet, Luna The Moon during the festivities.
Feel the rhythm of Melbourne Djembe Drummers & Dancers from 1pm. Eat, drink and be merry right through until 2pm.
Throughout the day there will be opportunities to enjoy a Red Rattler shuttle ride. Departing from Platform 2, the vintage train will head to Heidelberg, turn around and travel up to Clifton Hill, before returning to Eaglemont Station. Each non-stop journey takes approximately 35 minutes, giving joyriders plenty of time to appreciate the passing scenery and savour the unique experience.
Return shuttles will depart Eaglemont station (Platform 2) at 10.20am, 11.00am, 11.40pm, 12.20pm, 1.00pm, 1.40pm and 2.20pm.
PRICES:
Adults - $20
Under 17 - $10
Family - $50 (2 adults & 2 children OR 1 adult & 4 children)
Baby - Free (up to 12 months / seated on adult lap)
PRAM & MOBILITY AID PARKING:
Please note: the restrictive design of Tait Eelectric Trains does not allow for easy access with prams or mobility aids. Steamrail VIC staff are offering free 'Pram Parking' at Eaglemont Station, where your bulky goods will be safely stored whilst you enjoy your Red Rattler experience.
BOOKINGS AND REFUNDS:
Any passengers who experience any symptoms of COVID-19 prior to or on the day of travel, are not permitted to travel with Steam Rail. Please contact us by replying to the email sent by EVTA Team via TryBooking with your ticket details, to request a full refund of the ticket price* prior to travel. COVID-19 related refunds will only be issued if notification is sent no less than 2 HOURS prior to the booked departure time. No refunds will be issued due to missed shuttle sessions
Tickets may not be exchanged, refunded or returned after purchase unless one or more of the following conditions are met:
The ticket holder is required to isolate or quarantine due to a suspected or confirmed case of COVID-19;

The event has been cancelled due to State or Commonwealth public health directions;

The event has been cancelled or rescheduled by Steam Rail Victoria and the new date is not convenient;

The ticket holder is seriously ill or deceased;
* NOTE: All refunds are of the ticket price only, this excludes booking fees.
Eaglemont Village office will be unattended on Sunday 26th November.
No booking alteration requests will be processed and queries will not be followed up until Tuesday 28th November.
Location
Eaglemont Station Platform 2
(or Transfer 1: 9.51am , Flinders Street Station Platform 3), Eaglemont VIC 3084