CORO AUSTRAL presents 'FAVORITOS LATINOAMERICANOS'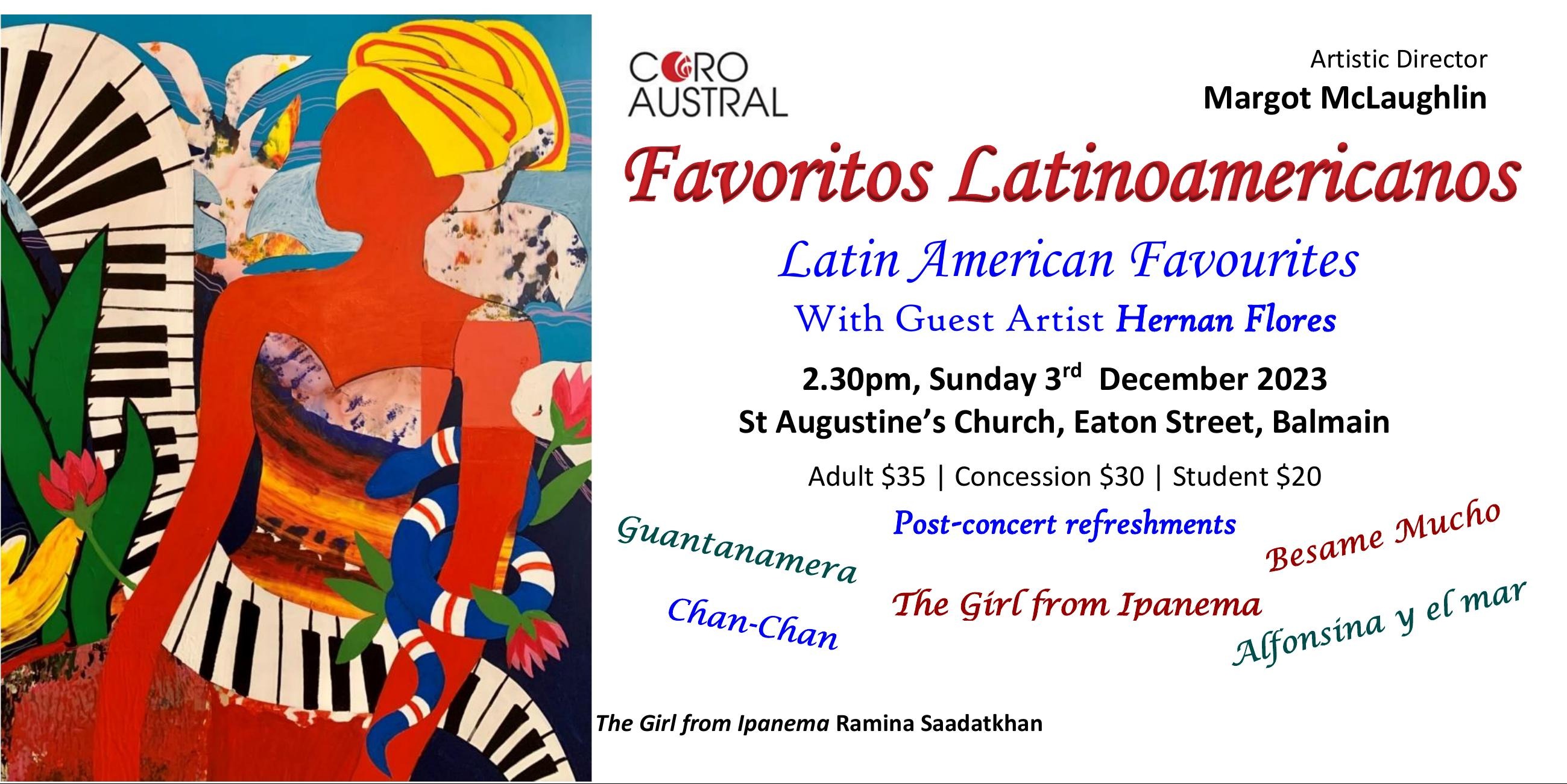 About
​In Favoritos Latinoamericanos, Coro Austral presents a program of favourites from across Latin America, including Argentina, Brazil, Colombia, Cuba, Mexico, Puerto Rico and Uruguay. These songs may evoke nostalgia, take people back to their homeland, or be treasured on popular recordings.
The Brazilian song The Girl from Ipanema, was made famous in the 1960s by Astrud Gilberto, and has remained a favourite ever since. Sung in English, our performance features solo voice with the choir providing the relaxed bossa nova rhythms and jazz harmonies.
From Cuba, we showcase the Buena Vista Social Club's signature song Chan Chan by Compay Segundo as well as the favourite Guantanamera, originally a Cuban patriotic song that became an international hit in the 1960's in the version recorded by The Sandpipers.
Alfonsina y el mar (Alfonsina and the Sea), is an Argentinian favourite, and no concert of Latin American favourites would be complete without the Mexican song Besame Mucho (Kiss Me Passionately), one of the most popular songs of the 20th Century, and the most recorded and covered song in Spanish.
These well-known songs will be featured with more of Coro Austral's favourites to provide a wonderful display of the range and diversity of Latin American choral music today.
Coro Austral welcomes one of our favourite artists, renowned Chilean/Australian musician Hernan Flores, as a guest to sing a couple of his own favourites and accompany the choir on percussion. This concert will also feature solos from several of our talented choir members.
Under the direction of founding conductor Margot McLaughlin, Coro Austral is an auditioned chamber choir that performs 13th to 21st century music from Spanish and Portuguese speaking countries as well as treasured choral works from Australia and around the world. Formed in 2010, Coro Austral continues to perform a mix of previously little-known choral music and well-known favourites to Australian audiences.
¡Vino y bocados! Wine and refreshments will be offered after the concert.
Date
Sunday 3 December 2023 2:30 PM - 4:00 PM (UTC+11)
Location
St Augustine's Church
Eaton Street, Balmain NSW 2041