STREET PLAY BASKETBALL CAMP DEC 23 - JAN 24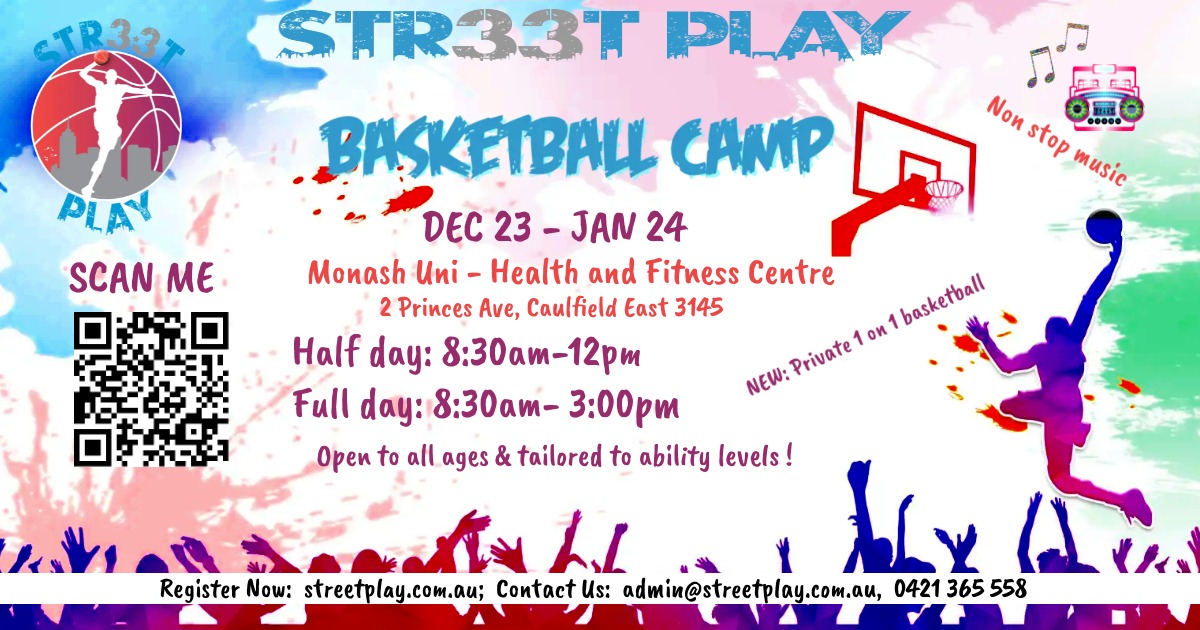 Join in on our Street Play Basketball Camp!!!

Street Play 3 x 3 Basketball is a league of its own and is part of the world wide phenomenon. Str33t Play is officially a FIBA 3x3 endorsed business and our events are a part of the 3x3 global competition network.

Our successful Str33t Play basketball camps aims in teaching children of all ages to learn about fundamental, essential basketball skills and drills while enabling children to feel energetic, fit, healthy and by developing essential life skills.

Street Play enables the children to enjoy the game of basketball while being fully mindful of the huge benefits of sport: wellness, wellbeing, health and fitness. It also teaches the children the importance of team efforts, resilience, self esteem, power, agility, flexibility and endurance and to be totally committed to and for the passion of the game.
Up your game this summer: Private 1 on 1 basketball
(Max 2 players) This is designed to offer a more personalized and effective way for players to improve their skills and reach their goals on the court.
3×3 basketball is considered the number one urban team sport in the world.
Street Play Basketball aims to develop and promote the game of basketball and to unite children of all ages and backgrounds to unify, play together and be a part of a basketball community and basketball phenomena.

In addition, we will be running small group sessions; spread out in open spaces. Each group will be divided into age, year level and gender.
Thursday 14 December 2023 - Wednesday 31 January 2024 (UTC+11)
Location
Monash Sport and Fitness
2 Princes Ave, Caulfield East VIC 3145