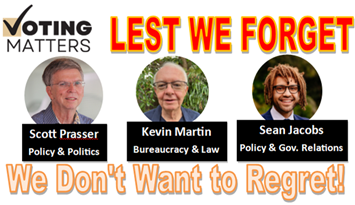 About
Australia recently voted in a referendum about making a permanent Constitutional change to establish a Voice to Parliament for indigenous people. The Australian people emphatically rejected the proposal.

Many people are content to forget the divisive details and to consider the issue completed; never to be re-visited. Others remain determined to keep pushing for it and an associated treaty. Despite the saturation media coverage for over 18 months the possible consequences of the referendum's acceptance have not been fully exposed. This meeting will educate us about what we could have been facing if it had succeeded and to prepare us to resist any other attempt to destroy our Australian culture.

At Voting Matters we are vigilant about truth, reason and reality to protect our precious freedoms. Our four speakers will arm us with the facts we need to spread the message.