Errol Russell Sinfonia presents Sinfonia at the Movies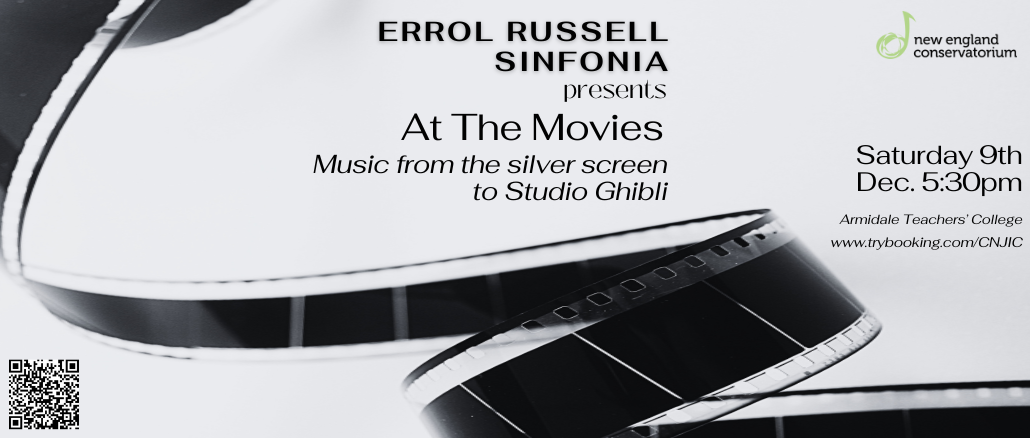 About
Join the Errol Russell Sinfonia as they perform a tribute to movie magic - from Silver Screen to Studio Ghibli, movie themes that will transport you straight to Hollywood!
Date
Saturday 9 December 2023 5:30 PM - 7:00 PM (UTC+11)
Location
New England Conservatorium, Armidale Teachers' College
Western Common Room (Please note that this venue is not airconditioned)
Corner Faulkner and Mossman Streets, Armidale NSW 2350
TERMS & CONDITIONS
NECOM Terms and Conditions
1. This ticket is proof of purchase to the above event and must be presented at the time of admission.
2. This ticket is non-transferable and only one ticket is valid per ticket purchased.
3. Tickets are not to be duplicated for the purpose of falsifying entry.
4. Please choose carefully. There are no refunds for change of mind, lateness or illness.
5. The Event Organiser reserves the right to refuse entry.
6. This ticket may be valid as a tax invoice or receipt in the case of registrations or other event payments.
7. This ticket has been created and managed using the TryBooking site and is also subject to the Terms and Conditions of TryBooking.
8. As the Event Organiser hosting this event, NECOM is solely responsible for all issues relating to the sale of tickets. If you have any questions regarding this event, please contact NECOM on admin@necom.org.au / 6788-2135
9. Proof of age or concession cards may be required on entry to this event. Eligible cards include Centrelink-issued Concession and Health Care cards. Seniors cards are not eligible.
10. Latecomers will be allowed into the venue at a suitable time in the program.
11. Tickets cannot be on-sold by any means at a price greater than the purchase price of the ticket. Scalped tickets may be cancelled, and the ticket holder denied entry.
12. Any persons who are noisy, under the influence of drugs or alcohol, threatening or unruly will be asked to leave the premises and will not be eligible for a refund.
13. The event organiser has all rights to film, photo and video production of this event.
14. If the event is cancelled due to unforeseen circumstances, a full refund will be issued to all patrons.
15. If the event is changed due to unforeseen circumstances, the event organiser will contact patrons and proceed in accordance with Australian Consumer Law.
16. Any data collected for marketing purposes from this event will be strictly in accordance with the Department of Education's Privacy Management Plan.
17. Your data will not be used for marketing purposes unless consent was provided at the point of purchase. You can withdraw your consent at any time by contacting NECOM. For more information on how we use your personal information, read our privacy notice on the NECOM website.