Cape Jaffa Lighthouse Tours Dec 2023-Jan 2024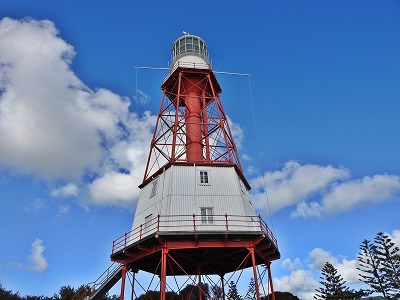 CAPE JAFFA LIGHTHOUSE MUSEUM
Originally built out to sea from Cape Jaffa on the Margaret Brock Reef and opened in 1872.
The historic lighthouse was 41 m high and known as a Wells' Screw Pile - designed to ideally suit the local conditions. The 8 roomed dwelling accommodated two lightkeepers and families with enough stores to last several weeks. The First Order Dioptric lens produced a beam which could be seen for 40 kms.
In 1973, the Federal Government de-commissioned the light station and gifted the lighthouse to the National Trust of South Australia. It opened in 1976 as a Museum, and is now managed by the Kingston SE Branch of the National Trust of SA.
From its commanding position on Kingston's foreshore, check out the spectacular views from the top deck and get a glimpse into the incredible life of the lightkeeper in a very challenging workplace!
Originally situated on the Margaret Brock Reef, 8kms out to sea from Cape Jaffa, this lighthouse became Australia's first lighthouse to be dismantled and re-located onshore.
Tours available on the hour, 10am to 3pm daily, Dec 26th 2023 - Jan 28th 2024.
Tour duration: 45 mins.
Please arrive 10 mins prior to tour start time.
BOOK ONLINE.
Bookings RECOMMENDED to secure your place.
Last tour at 3pm
At other times, by appointment, phone 0427854175

Cost:
Adult: $15
Child (aged 5-17): $7
Under 5: Free
National Trust Members: Free, please show card upon entry
*All children under 18 must be accompanied by an adult.

For more information about Group Tours, contact Kingston National Trust, Phone 0427854175

No refunds.
Meet your guide at the base of the Lighthouse stairs. Covid-Safe procedures in place. Please follow the guide's advice.

See the lighthouse's First Order Holophotal Dioptric lens shining brightly from sunset, for 60 mins, on
December 15th, 2023, (the Christmas Parade) and also on
New Year's Eve
January 15th (the date the light was first exhibited)
January 24th (official opening of the Cape Jaffa Light Station)
Australia Day
The Sunday of each SA Long Weekend - March, June, October
Easter Sunday
Anzac Day
at other times as advertised on the Cape Jaffa Lighthouse website: www.capejaffalighthouse.org.au
NIGHT TOURS whenever the Light is on. Phone 0427854175 to book. Meet your guide at the gate and climb to the Lantern Room to experience the Light in operation.

LOCATION
32 Marine Parade, Kingston SE
Right on the foreshore.
Location
Cape Jaffa Lighthouse
32 Marine Parade, Kingston SE SA 5275