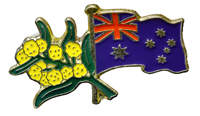 Description
Wear the Wattle badges (previously Aussie Pride badges) make the perfect presentation pin for Australian Citizenship ceremonies, for school awards, or for recognition for your staff. The wearing of a Rotary Wear the Wattle badge is the perfect way to display pride in our country and our way of life. Each purchase supports Rotary service projects.
Badges are $4 each if the purchased quantity is 25 or more badges, or $5 each if the purchased quantity is 24 or less. These prices include postage.
Please click on the 'Bookings' button in the right hand corner to place an on-line order and pay using your credit card.