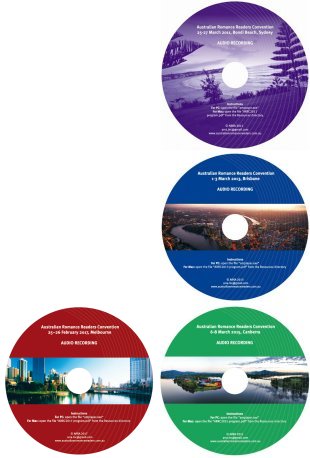 The following CDs are available:

ARRC09 - featuring Sherrilyn Kenyon, Diana Love, Liz Maverick, Susan Grant, Stephanie Laurens
ARRC2011 - featuring Cindy Gerard, Nalini Singh, Anna Campbell
ARRC2013 - featuring Kristan Higgins, Rachel Vincent, Anne Gracie
ARRC2015 - featuring Sylvia Day, Victoria Dahl, Kelley Armstrong, Helene Young
ARRC2017 - featuring Courtney Milan, Kristen Callihan, Kylie Scott

(P&H for Australia included. Contact us for overseas P&H costs before ordering.)
A 30c fee will be added per CD ordered.