Sound Healing & Guided Meditation - Every Friday Night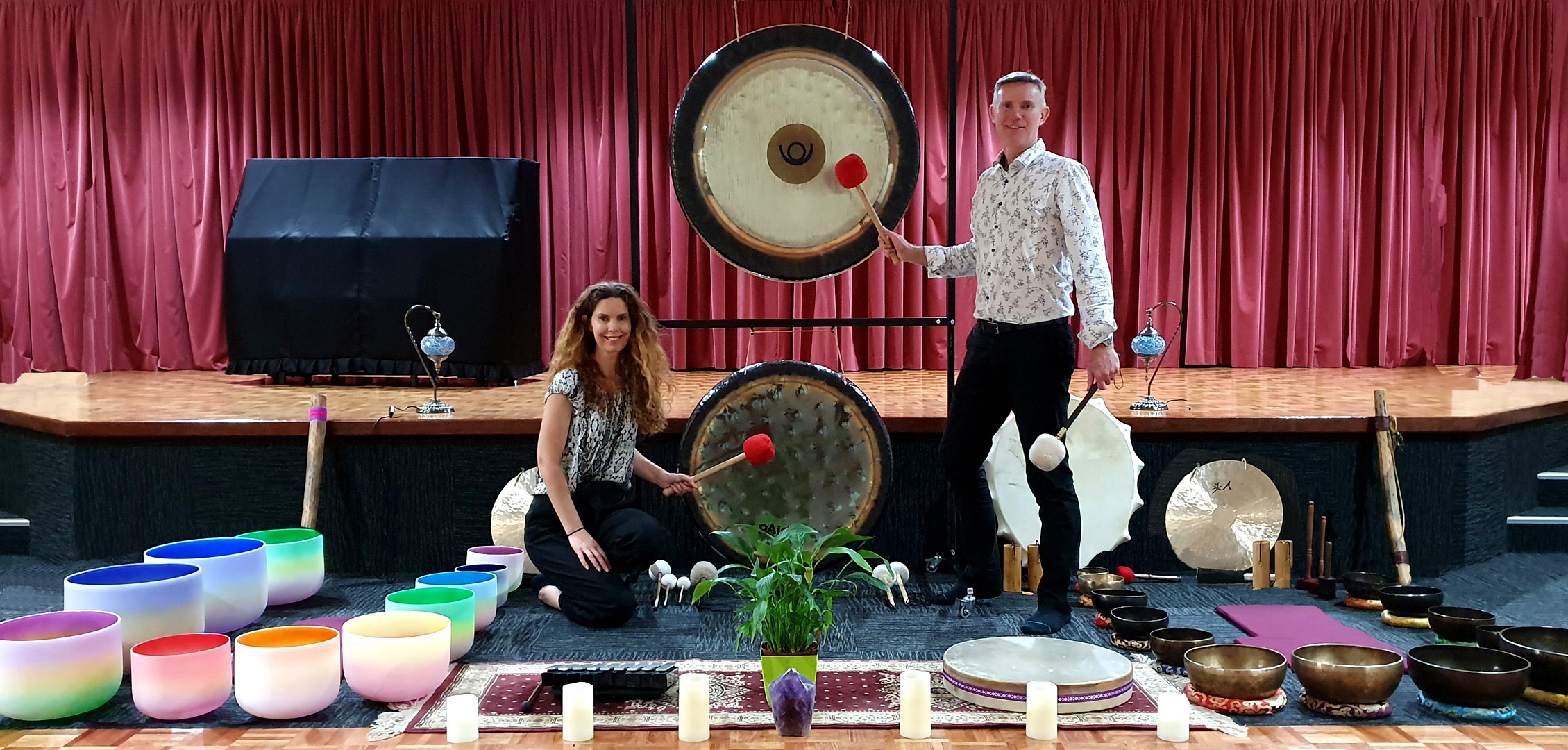 Enjoy deep relaxation with Tibetan & Crystal Singing Bowls, Gongs, Chimes and Drum. Guided by Andrew Cox, an internationally accredited Sound Therapist & Meditation Teacher.
Relax, experience a deep sense of calmness and the feeling of being enveloped by beautiful, soft, yet powerful sounds to facilitate the perfect escape and time-out you deserve at the end of each week.

⭐⭐⭐ 'Lovely to relax, unwind and let the sounds take you away. Thank you Andrew for an amazing night. I'll be back!' – Tahlee⭐⭐⭐

The Instruments that will melt away your stress:
11 Tibetan Bowls
11 Crystal Singing Bowls
2 large Paiste Planet Gongs (tuned to the vibrations of planets)
French Koshi Chimes
North American Indian Rain Sticks
Ocean Drum
Powerful Siberian Shamanic Drum

⭐⭐⭐ 'Sound healing last night with Andrew was amazing! His knowledge and passion for these beautiful instruments translated into a wonderful, rejuvenating and soul soothing journey. I can't wait for the next one' - Madeline ⭐⭐⭐

About your special sound journey:
Each sound session is unique and lasts between 75 and 90 minutes.
No prior meditation experience required - the vibrations of the instruments will often relax your mind and lower your brain frequencies to am alpha / theta state.
Each meditation is tailored towards a theme or common healing challenge.
The particular sequence of notes, frequencies and the order of instruments played result in a variety of possible feelings both mentally and physically.
Sessions are carefully curated and planned by Andrew to ensure you receive the most positive and harmonious outcome possible.
Tickets are limited for your comfort.

⭐⭐⭐ 'Andrew really knows his instruments well and I experienced a big shift during the tribal drumming. I felt uplifted and energised afterwards.' – Kim ⭐⭐⭐

About Andrew:
Andrew is an Accredited International Sound Therapist with the Sound Healing Academy UK. He is also a qualified Meditation Teacher with the Meditation Society of Australia and Kinesiologist.
Andrew has been sharing his special blend of Meditation and Sound weekly for 4 years in South Perth. He has also performed internationally, both in North America and the UK.
In 2021 Andrew was selected to represent the Sound Healing Academy in Western Australia and now runs regular workshops and tutors' students wishing to learn all about sound.

⭐⭐⭐ 'My girlfriend and I enjoyed our first sound healing experience with Andrew and Servane last night in South Perth, and lemme tell you - best date idea ever. Chatting about our experience afterwards, what I found most fascinating was how through every step of our sound healing journey, my girlfriend and I experienced a similar feeling, or similar thought. Andrew walked us through the sound healing journey instrument by instrument after our session, and explained a little more about the theory and reasoning behind the journey, and again - it all lined up with what we felt during the session. I'm looking forward to our next sound healing session with Andrew and Servane from Treemendus Health - it was an uplifting, stress relieving, and life-affirming experience.' – Matthew ⭐⭐⭐

To join, please note:
Mats, pillows and eye masks are provided but feel free to bring your own and/or a blanket for extra comfort.
Tickets are limited for your comfort, please book ahead.
Free parking available at the venue.
Please arrive between 6:50 and 7:00 pm

⭐⭐⭐ 'The sound healing session last night was incredible. Thank you so much.' – Larissa ⭐⭐⭐

If you would like to unwind, relax and experience a special sound journey of your own, then secure your tickets today ➡️
Friday 2 December 2022 - Friday 27 January 2023 (UTC+08)
Location
Treemendus Health at the South Perth Senior Citizens Centre
53 Coode Street, South Perth Western Australia 6151
Sessions
SESSIONS
DESCRIPTION
STATUS